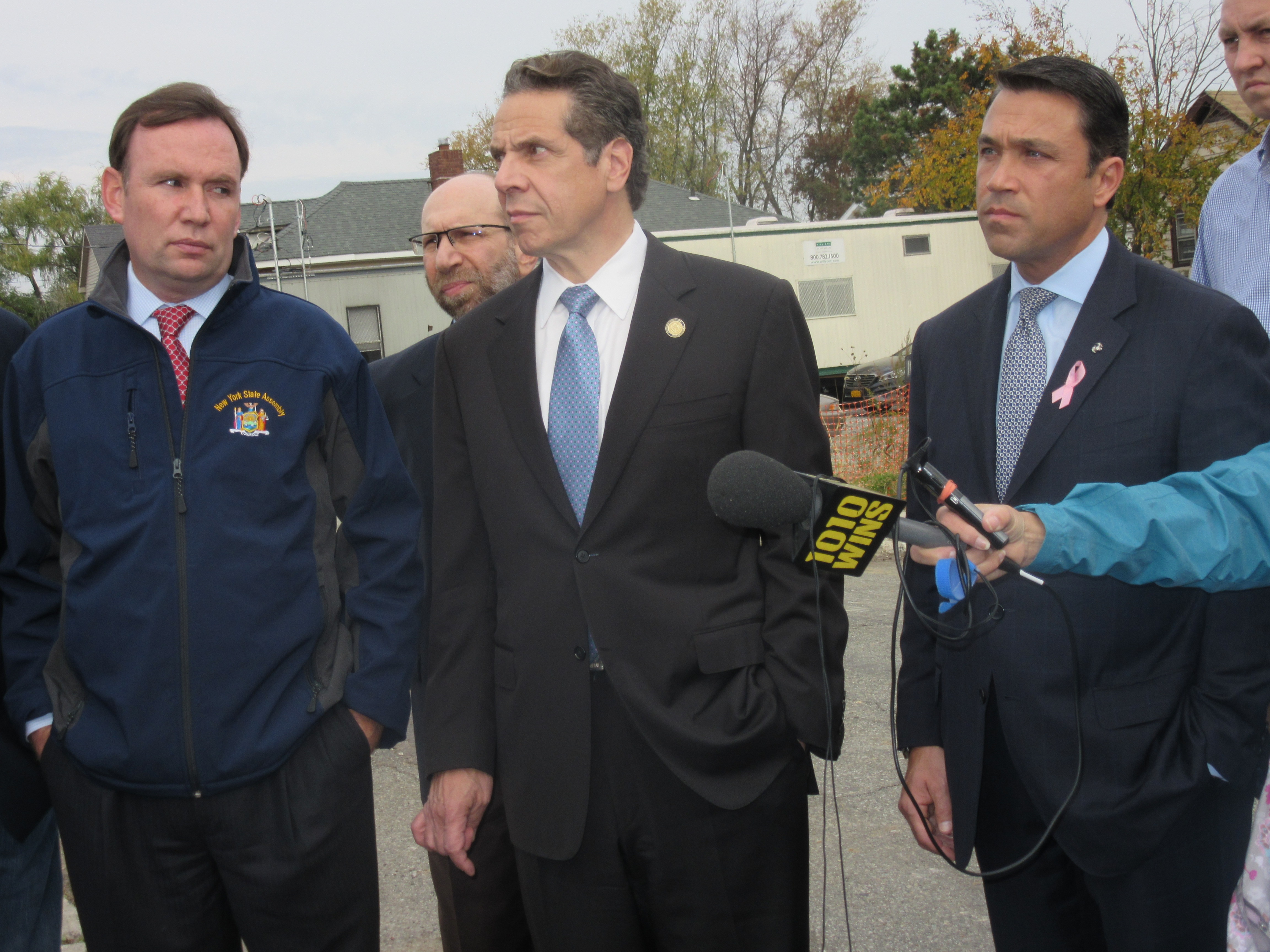 Gov. Andrew Cuomo today said he's backing former Brooklyn Councilman Domenic Recchia's bid to unseat Republican Congressman Michael Grimm, but refused to say if he would stump with the challenger–as he appeared side-by-side with Mr. Grimm at an event in Staten Island.
Mr. Cuomo headlined a Hurricane Sandy-related event this afternoon along with Mr. Grimm and fellow Republican leaders Staten Island Borough President James Oddo, Senator Andrew Lanza and Assemblywoman Nicole Malliotakis–as well as Democratic Assemblyman Michael Cusick and State Senator Diane Savino of the breakaway Independent Democratic Conference. Mr. Recchia, a Democrat, was not present at the press conference, and Mr. Cuomo explained the Democrat's absence by claiming the occasion was apolitical.
"This is a government event. And we don't mix government and politics," said Mr. Cuomo.
The governor said he was endorsing Mr. Recchia, but would not say if he intended to appear with him on the campaign trail, despite repeated questions about it from reporters.
"I support Domenic Recchia, I don't do political events at governmental events," was his only response.
Sources close to Mr. Cuomo's re-election campaign told the Observer that his phone bank volunteers were mentioning Mr. Recchia when making calls in the Staten Island and southern Brooklyn-spanning district, where Mr. Cuomo has in the past enjoyed support. The Recchia-Grimm contest is seen as one of the closest in the country–in part because of the incumbent's 20-count indictment for alleged tax, wage and immigration status fraud in the hiring practices of a restaurant he co-owned prior to his 2010 election.
Mr. Grimm has pleaded not guilty to all charges, and the case will go to trial in February, well after the election.
Liberals have savaged the centrist governor for not campaigning aggressively for Democratic State Senate candidates in tight races, despite his promise to help flip the legislative body into his own party's hands as part of a deal to receive the endorsement of the labor-backed Working Families Party.
Mr. Grimm and Mr. Recchia have both praised Mr. Cuomo for his handling of the 2012 superstorm.