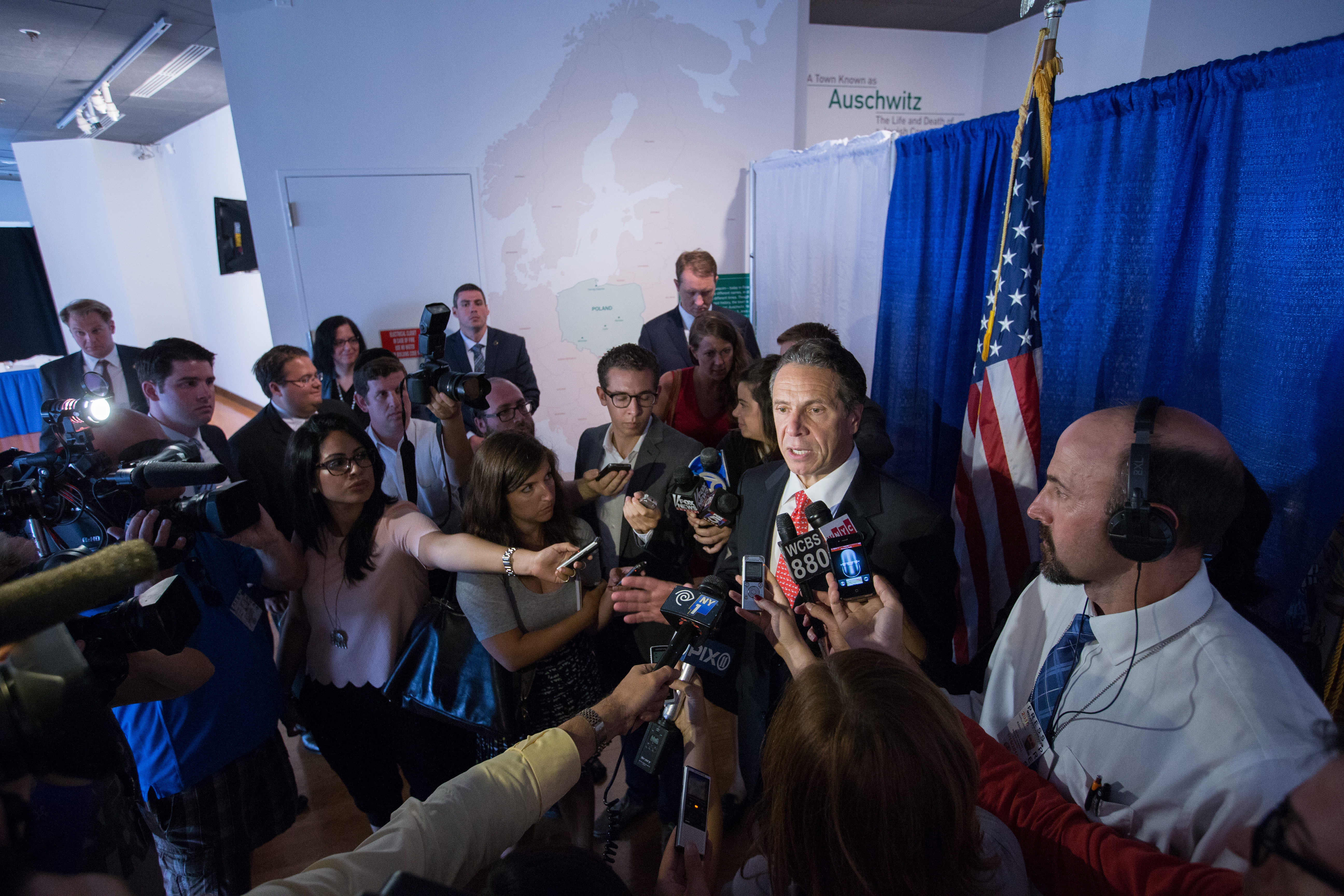 To many Albany watchers, politicos and Twitterati, Andrew Cuomo's nearly 30-point victory over Fordham University law professor Zephyr Teachout in September's Democratic primary amounted to a defeat. The days when Mr. Cuomo was touted as a potential presidential candidate should Hillary Clinton forgo another listening tour appear gone (even if the governor, who is on a poorly attended book tour, remains oblivious to that fact). News outlets are piling on, gleefully noting that Mr. Cuomo's win-loss represented the lowest share of the vote an incumbent governor had won since primaries were instituted in 1970.
Meanwhile, U.S. Attorney Preet Bharara is closely watching Mr. Cuomo. The ambitious, press-savvy prosecutor reprimanded the governor like an unruly schoolboy when Mr. Cuomo decided to prematurely end the Moreland Commission he had created to investigate corruption in all branches of government. Mr. Cuomo repeatedly interfered with the commission's work, raising legal questions that Mr. Bharara—who may have his own designs on elected office one day—is now investigating.
For the first time, it appears that Mr. Cuomo, a taciturn and Machiavellian wielder of near absolute power, is vulnerable.
But appearances can be deceiving.
Despite the stench of scandal and a revolt on his left flank, Mr. Cuomo faces an underfunded general election candidate in Republican Rob Astorino, who is very unlikely to replicate the success of George Pataki, the Republican's last Cuomo-slayer.
"In terms of aura of invincibility, yeah Cuomo is no longer invincible," one Senate Democrat allows. "But that doesn't mean everyone thinks he's a dead man walking."
Bruce Gyory, a veteran Democratic consultant, likens Mr. Cuomo's current status to "halftime in a football game … Let's see how he emerges after November."
Through his first three and a half years in office, Mr. Cuomo seemed all but untouchable. His approval ratings skyrocketed past 70 percent after he deftly engineered the legalization of same-sex marriage in New York. Following two disastrous Democratic governors—remember Eliot Spitzer and David Paterson?—Mr. Cuomo's ability to tame Albany's chaos and pass on-time budgets drew wide praise. At the same time, he railed against the state's ailing business climate, capping property taxes and slashing income taxes.
Mr. Cuomo made a clear calculation, observers say, that as a social liberal and fiscal conservative, he could please the state's left-wing as well as its influential business class. Wall Street and the real estate industry adore Mr. Cuomo. Surely, the governor long figured, it was not an unreasonable political proposition to hew to the center, maintaining the affection of conservatives upstate and the city liberals he grew up with in Queens.
But the calculation, Mr. Cuomo's critics argue, failed.
"By adopting right-wing economic policies, he alienated a big part of the Democratic coalition," said Richard Brodsky, a former Democratic assemblyman and a senior fellow with the nonpartisan policy organization Demos. "He was bipolar in the political sense of the word. Democrats in the legislature won't put up with that anymore."
For lefty activists once marginalized in a state where centrists like Mr. Cuomo and Michael Bloomberg reigned supreme, this is a time of striking optimism. Mayor Bill de Blasio is the new liberal rock star, Ms. Teachout is on her own book tour and Mr. Cuomo, with a lot of arm-twisting, is apparently committed to putting Democrats back in the majority in the State Senate, a top priority for Mr. de Blasio.
The liberal mayor is supposedly a friend of the moderate governor, but as anyone in Mr. Cuomo's universe will tell you, friends are fleeting. The state's two leading Democrats, no matter how much they profess otherwise, are not ideologically aligned. Mr. Cuomo reminded the new mayor of this fact when he denied the tax hike Mr. de Blasio sought to fund his pre-kindergarten expansion and, seemingly just for kicks, rammed in unprecedented protections for Mr. de Blasio's hated charter schools into the state budget.
However, with his national star power, ability to unite the muscle of organized labor and close ties with the Clintons, Mr. de Blasio is not someone Mr. Cuomo can spite any longer. The mayor, who ran Hillary Clinton's Senate campaign in 2000, is as canny a political operator as the governor, who served as his father's fixer.
In May, Mr. de Blasio convinced his liberal friends in the Working Families Party to ditch Ms. Teachout and support Mr. Cuomo for governor. In that bargain, he extracted key promises from Mr. Cuomo: allow the city to hike its minimum wage as high as $13.13 an hour and put the Senate Democrats back in the majority (the GOP and a coalition of five breakaway Democrats currently govern the State Senate). Mr. Cuomo begrudgingly accepted the terms.
Perhaps sensing Mr. Cuomo's seeming weakness, liberals in the state legislature, long cowed by the governor, are likely to become more aggressive in 2015. Some are calling for the repeal of the Urstadt Law, the rule that gives Albany power over the city's rent regulation. Many progressives want public financing of elections, a priority Mr. Cuomo claims to share, though has done little to make it a reality. Ditto the Dream Act, a bill providing tuition assistance to undocumented immigrants that has stalled for years. Many liberals are feeling buoyed by the populist zeitgeist that seems to be overtaking the national discourse, at least momentarily making Mr. Cuomo's fiscal belt-tightening seem passé.
"The primary sent an important message about progressive concerns," said Assemblyman Richard Gottfried, a Manhattan Democrat first elected in 1970. "Hopefully on November 4 we will strengthen that message by electing three or four Democrats to the State Senate so we have a real, working Democratic majority."
Still, the Senate Democratic leadership is treading carefully. Privately, they may grumble about Mr. Cuomo's enabling of a Republican majority, but their public stance is still tacit approval of Mr. Cuomo, a testament to the governor's remaining strength. Democrats—and even most Republicans—had little to say about the Moreland Commission scandal or Mr. Bharara's investigation, for example.
"The current Democratic state leadership is greatly improved over the crooks of Malcolm Smith and John Sampson. They're progressive, but not militant. If we win the State Senate, I think they will work very smoothly with Cuomo and only push back if he moves back to the right," explained Bill Samuels, a Cuomo antagonist and former finance chair of the Senate Democrats' campaign committee.
The rhetoric coming out of the Democrats' camp, with a few exceptions, justifies Mr. Samuels' view. State Senator Michael Gianaris, a Queens Democrat and current leader of the Senate Democrats' campaign efforts, has rattled his saber rather quietly at Mr. Cuomo.
Mr. Cuomo only recently began to lay out an uncontroversial second term agenda: a spokesperson noted priorities like new investment in infrastructure, a proposed import-export bank, 6,000 miles of broadband upstate and his overhauling of how state universities handle sexual assaults. He has yet to openly tout any of the left's priorities, even with his new shotgun marriage with Senate Democrats. A fracking ban in 2015? Never you mind.
His Republican rival, Mr. Astorino, is certainly helping Mr. Cuomo remain in the socially liberal terrain he clearly finds most comforting. An unflagging conservative, Mr. Astorino is not likely to attract any of the disaffected liberals who gave Ms. Teachout such a boost. With only a spirited but long-shot Green Party candidate in Howie Hawkins to pull votes from the blocs that are turning their backs on the governor, it appears Mr. Cuomo is set to knock out Mr. Astorino. For all the talk about the governor "feeling heat in his posterior," as prominent liberal activist Bertha Lewis suggested at a party for Ms. Teachout, an electoral ass-kicking of Mr. Astorino may very well provide the governor with a jolt. A general election laugher could justify Mr. Cuomo's belief that his way of doing business was the right way all along—another unexpectedly poor showing could do the opposite.
"I'm really enthusiastic about Andrew Cuomo," said former city council speaker Christine Quinn, a leading Cuomo surrogate. "His record … is really progressive, because marriage equality exists. I can sit here and fumble with my wedding ring because Andrew Cuomo got that done.
"Look, everybody can always do better, you know, we're human beings in jobs or human beings out of jobs," Ms. Quinn continued with a chuckle. "But I think the governor's record is one that really stands the test of delivering for New Yorkers on progressive values."
Mr. Gianaris, for one, is hedging his bets. Mr. Cuomo's "position much depends on the result of the election. If we're successful and we get a Democratic majority in the senate, the governor's ability to enact progressive achievements will be greatly enhanced," he said. "At the end of the day he's still the governor with the powers of the office."
This story has been updated to reflect that Mr. Gottfried was elected in 1970, not 1971.