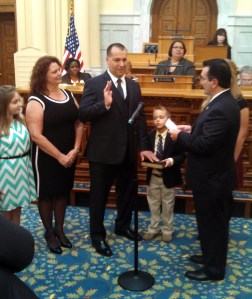 Joe Danielsen of Franklin Twp. assumed the oath of office this afternoon from Speaker Vincent Prieto (D-32) to fill a vacancy in the 17th District.
Upendra Chivukula created the vacancy when he moved to the Board of Public Utilities (BPU).
"The road I took this morning to get to Trenton was not Route 1," said Danielsen, chairman of the local Democratic Party. "It was the path paved by soldiers and fellow firefighters, my siblings, friends and neighbors.
"I will not let you down."
A life-long resident of Franklin Township, Danielsen served in the U.S. Army's 78th Div. Reserve TNG from 1982-1991, as well as a volunteer fire fighter for the past 22 years.
For 14 years he has served on the Franklin Township Planning Board. For the past eight years, he has been one of the state's top individual fundraisers for Childhood Cancer Research through the St. Baldrick's Foundation, shaving his head every year to stand in solidarity with children stricken by the disease. In addition he has been very active fund raising for the Wounded Warrior and LiveStrong foundations.
According to the Assembly Majority Office, Danielsen received degrees from both Middlesex County College and Rutgers University.  The youngest of nine children, the new assemblyman and his wife Christine have three children, all of whom attend the Franklin Township public schools.