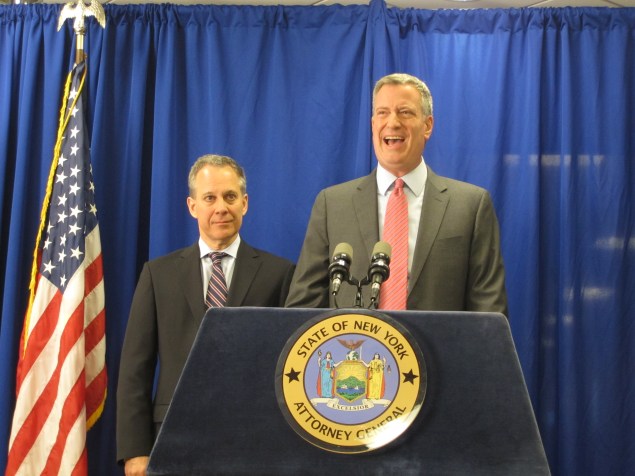 Mayor Bill de Blasio today endorsed Attorney General Eric Schneiderman in his re-election bid against Republican challenger John Cahill.
The mayor announced his support for Mr. Schneiderman at the historic Bridge Street AME Church in Bedford-Stuyvesant, Brooklyn. At the lectern, Mr. de Blasio told the church's black congregation about the launch of his universal pre-kindergarten plan and signing of a new executive order mandating higher wages at city-subsidized companies–peppering his speech with religious references, criticisms of the stop-and-frisk policing policy and expressions of sympathy for President Barack Obama and his struggles with the Republican-dominated Congress.
The mayor cited Mr. Schneiderman as a critical friend to his agenda in the state government, describing the massive settlements he negotiated from banks that bundled shaky mortgages during the 2008 financial crisis, and his efforts to force employers to pay back-wages to workers.
"He has been exemplary, I want people to understand how important it is, if you believe in the things that I have just laid out for here in New York City, if you'd like to see our federal government respond to all of us, if you want more leaders who shared these values and then acted on then, then pay attention to the leader you have right now in the state of New York right now, your Attorney General, because he has acted on those values each and every day," Mr. de Blasio said. "Eric Schneiderman is a true ally of my administration, a true ally, someone we can depend on, someone we believe in, because every single time he will do what's right and progressive."
Mr. Schneiderman echoed the mayor's emphasis on cooperation, as well as his biblical rhetoric–alluding repeatedly to the books of Genesis and Deuteronomy.
"Together we are admonished by God to pursue justice," Mr. Schneiderman said. "It is our duty as Americans, as Christians and Jews, to always be in pursuit of equal justice under the law, and I'm proud to work with you."
The state's top lawyer also touted his multi-billion-dollar relief packages he had wrung from Bank of America and JP Morgan, his prosecution of under-paying employers and his effort to mandate background checks for purchases at gun shows.
"You have no stronger ally than me and the people in my office who think every day of how to make us safer and how to make us truly safe," Mr. Schneiderman said.
Polls show Mr. Cahill–former chief-of-staff to Gov. George Pataki–trailing Mr. Schneiderman by 16 points among likely voters, making it the tightest of all the statewide races. The surveys indicate Mr. Schneiderman suffers from a lack of name recognition, though he leads his opponent by 71 points among black voters and 42 points among Latinos. Mr. de Blasio, meanwhile, enjoys a high approval rating among the city's black and Latino voters.
Mr. de Blasio and Mr. Schneiderman spoke at the church on the same morning as Gov. Andrew Cuomo, also seeking re-election, spoke at two separate churches in Jamaica and Brooklyn.