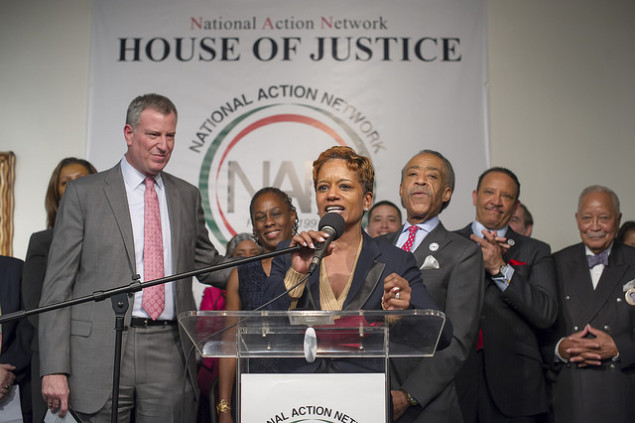 Mayor Bill de Blasio today declared that his wife's controversial chief-of-staff Rachel Noerdlinger should pay her outstanding parking tickets, even as he continued to defend her despite revelations that her boyfriend had a lengthy arrest record and had made anti-police comments on social media.
DNAinfo revealed yesterday that Ms. Noerdlinger, a former spokeswoman for Rev. Al Sharpton's National Action Network, owes the city almost $900 for violating parking regulations in Manhattan and the Bronx. The story followed weeks of controversy after the news site reported that Ms. Noerdlinger's live-in partner Hassaun McFarlan had served prison time for drug charges and manslaughter, and had repeatedly referred to NYPD officers as "pigs."
Mr. de Blasio's defense of Ms. Noerdlinger and refusal to fire her has inflamed existing tensions between the mayor and police unions over contract negotiations and reforms to contentious law enforcement tactics like stop-and-frisk. Mr. de Blasio–who has expressed exasperation over the ongoing media storm– conceded that his wife's staffer was obligated to pay off the fees after a press conference at the Empire State Building, but argued it was hardly an uncommon offense.
"I know a lot of people who have had a lot of parking tickets, and everyone should pay their parking tickets," he said.
However, he reiterated his defense of her service and his decision to retain her on the city payroll.
"I think it's very clear, in everything I've said, that I have faith in her work as a public servant. She's doing very good work for the city," Mr. de Blasio said.
The Department of Investigation found no wrongdoing on Ms. Noerdlinger's part for leaving her boyfriend's rap sheet off of background check documents.
The tickets are not Ms. Noerdlinger's only debt to society. Earlier this month, the Observer found that the Internal Revenue Service hit Ms. Noerdlinger with a $28,190 tax lien, for which City Hall said she had set up a payment plan.