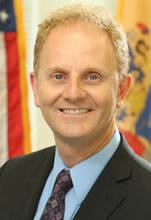 As expected, Assembly Speaker Vincent Prieto on Tuesday formally announced he's appointed Assemblyman Wayne DeAngelo (D-14) as the new chairman of the Assembly Telecommunications and Utilities Committee.
DeAngelo succeeds former Assemblyman Upendra Chivukula (D-17) (newly appointed to the state Board of Public Utilities (BPU)) as head of the committee responsible for monitoring all aspects of the telecommunications and utilities industries in New Jersey, overseeing issues affecting cable television, the Internet, public utilities, telecommunications technologies and the energy industry.
"I am very excited to see Assemblyman DeAngelo take charge of this important committee and begin using his expertise and work ethic to ensure New Jersey consumers get their money's worth," said Prieto. "Assemblyman DeAngelo has long been a leader in our efforts to ensure New Jersey has a strong and reliable energy infrastructure, and he will continue that good work in his new leadership position. I look forward to his efforts."
Elected to the Assembly in November 2007, DeAngelo received his Journeymanship in electrical trades from the Rupert John Trade School, according to the Assembly Majority Office. He is the assistant business manager for the International Brotherhood of Electrical Workers (IBEW) Local 269.
"I thank the Speaker for this appointment and vow to always be the strongest advocate for New Jersey's consumers," DeAngelo said. "As we move further into the digital age with ever-evolving technology, it's more important than ever for New Jersey to have an affordable and reliable telecommunications and energy infrastructure that serves the entire state, no matter the zip code. Superstorm Sandy showed many of our weaknesses, and we still have much work to do to build a better system, but I'm confident we'll make great strides and I look forward to playing a key role in that effort."