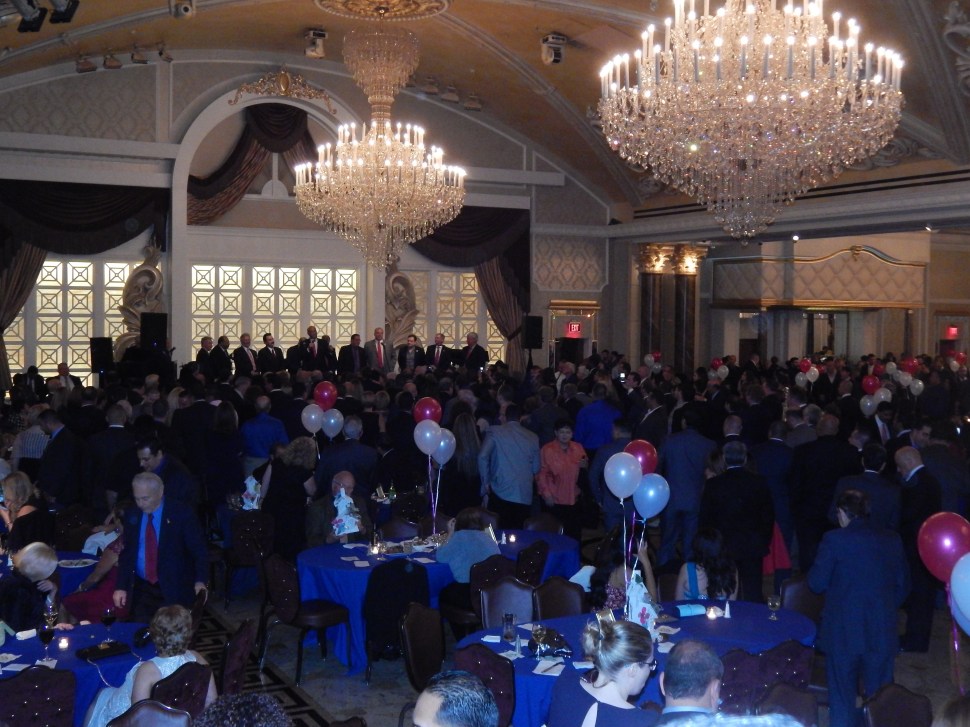 GARFIELD – Of course, Nick Sacco's handlers would point out that they had scheduled their annual mayor's ball months ago, and yet one couldn't escape the optics of Brian P. Stack having had a run of good headlines lately.
Sacco would need a counter punch.
That's the way it goes on Bergenline Avenue. Just when it looks as though the mayor of North Bergen is unbeatable, you can almost hear Howard Cosell's voice exclaiming, "Down goes Sacco! Down goes Sacco!"
Stack turned out the people of Union City last week for a monster labor rally, so it was time for Sacco to unleash his own show of strength.
Phlegmatic, enigmatic, the public Sacco presents himself not unlike other North Jersey bosses from the Democratic Party who speak in slowly uttered slogans in an apparent Confusian effort to impart morsels of wisdom to underlings.
It was, after all, Steve Adubato, who once said of Essex County's alliance with George Norcross III, "I say let the north and south live in peace."
In that vein did Sacco, whose Democratic Party machinery last year supplanted Essex to make Vinny Prieto speaker of the General Assembly, address a crowd of 1,500 tonight at the Venetian.
"It's important," he said, "that we stay together, and we stay strong."
The applause that greeted the line threatened to shake loose a massive chandelier above the crowd, which several well-heeled insiders called the biggest they had seen in the history of the event.
In an acknowledgement of power, state Senate President Steve Sweeney (D-3) stood onstage in a brace of party politicians in the immediate vicinity of U.S. Sen. Cory Booker (D-NJ).
"We need more senators like Nick," declared Sweeney, provoking a quick internal assessment of those senators who were not like "Nick," which by a fast accounting might have been all of them – except Stack, who commands a similar sized automatic army of 10,000 voters.
"I travel the state," said the senate president. "This is the best event anywhere in the State of New Jersey."
From his onstage power perch Booker shoveled bonbon after bonbon into the gaping mouths of Hudson insiders below, Hoboken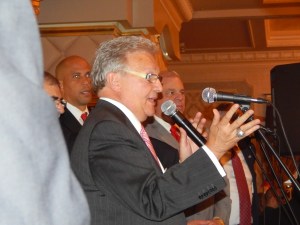 Mayor Dawn Zimmer and West New York Mayor Felix Roque among them.
"The only way to get to D.C. is to go through North Bergen," Booker declared.
A visibly delighted Hudson County Executive Tom DeGise took a moment at the mike.
So did Bergen County Democratic Chairman Lou Stellato, who had to stand there graciously and watch his county swallowed up by Hudson tonight.
"They're teachers," an insider at the bar explained as he squirted a ratty lime into his drink and watched another wave of exceedingly good looking women swarm the marble columned great hall.
"Imagine having teachers like that," the man added groggily, chin practically on the bar, staring after the receding finery.
U.S. Sen. Bob Menendez (D-NJ) was not in the room tonight.
He was in D.C.
People's bidness, someone announced from the stage.
As for Jersey City Mayor Steven Fulop, he was also absent, a strange occurrence at this politically charged event, until one learned – and this information too was imparted grandly from the stage – that Fulop was with Menendez in the nation's capital.
Apparently even those currently in D.C. had to make sure someone mentioned their names in the context of Sacco's North Bergen.