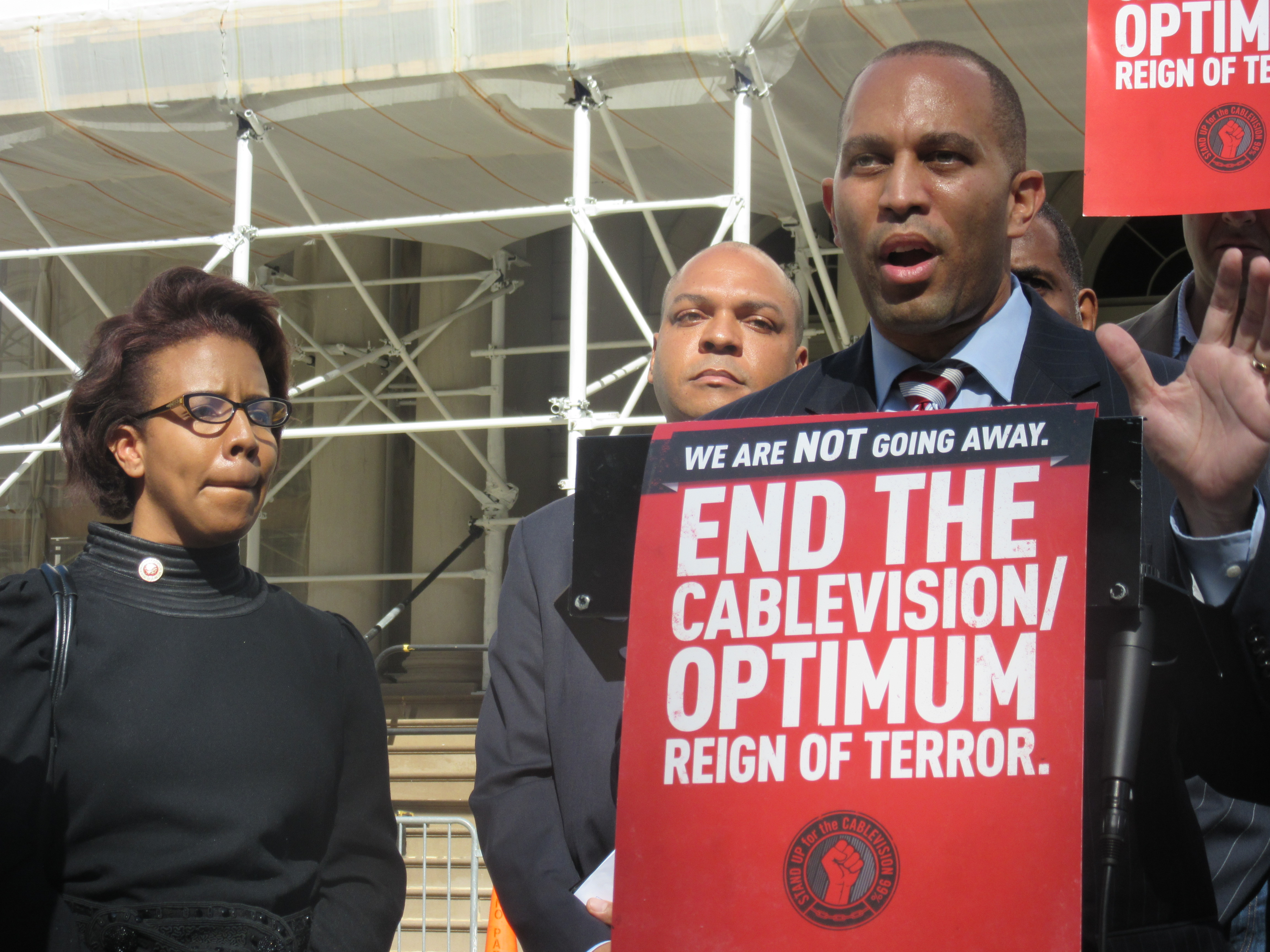 A bevy of elected officials attacked Cablevision and its Chief Executive Officer James Dolan today for what they claimed were anti-union practices in the company's Brooklyn division.
Brooklyn Congressman Hakeem Jeffries, Public Advocate Letitia James, Comptroller Scott Stringer and an array of City Council and Assembly members blasted the company for fighting the Communication Workers of America's organization of 300 Brooklyn technicians and for firing a pro-union employee. The workers voted in the union three years ago, but voted against it this year in a balloting process CWA claimed it was illegally locked out of.
Mr. Jeffries compared the conflict to other struggles between organized labor and companies and state governments nationwide.
"We want to communicate the message that this is not Wisconsin, this is not Ohio, this is not Tennessee, this is not the deep South. This is New York City. This is a union town. We embrace collective bargaining. We believe in the right to organize," Mr. Jeffries said, accusing Cablevision of using unfair tactics in its battle with CWA. "We're sick and tired of the gamesmanship, we're sick and tired of the obstruction, we're sick and tired of the delay, and we're sick and tired of the retaliation."
Mr. Stringer hit the company for firing technician Jerome Thompson, a CWA supporter, after he allegedly compared Cablevision's union practices to slavery in a meeting. The comptroller also recalled a 2013 incident, where the company laid off 22 pro-union workers then rehired them under pressure.
The television and internet giant claims Mr. Thompson was not fired for his remarks, but for damaging company property and for using his company cell phone for personal calls–which the worker, a 10-year Cablevision veteran, denies.
"I'm actually very disappointed to be here today. Because this is the scene that is being played out again and again and again when it comes to Cablevision: firing workers, trying to keep down the very people who are creating wealth at a company. It just doesn't make sense," Mr. Stringer said.
Ms. James pointed out that the company has given raises to its employees in suburban areas who have voted against unionization, but not to its Brooklyn division.
"I don't understand why you are particularly singling out the workers in Brooklyn. New York City was built on the backs of union workers," she said. "Cablevision continues to compensate their Brooklyn workers less than their counterparts in Long Island, Westchester and other company locations. I'm a Brooklyn resident, a die-hard Brooklyn fan through and through, and I refuse to allow anyone to treat Brooklyn differently than any other borough or any other jurisdiction."
Cablevision released a scathing statement in response to the presser, lashing out at Mayor Bill de Blasio–who did not attend the event, but has criticized the company in the past–the CWA-affiliated Working Families Party and CWA's District One president Bob Master, who was also not present at the conference.
"This press conference is nothing more than another malicious attempt by Mayor de Blasio, the CWA, Bob Master, the Working Families Party, and their political pawns to mislead the public about our Company and an ex-employee who was terminated for cause. They are not telling the truth," the corporation said.
Cablevision is suing the CWA for defamation after the union alleged racism in the company's hiring and firing processes.
Mr. de Blasio and the WFP did not immediately respond to requests for comment.
This story has been updated to reflect that Cablevision no longer owns Madison Square Garden and its affiliated sports franchises. However, Mr. Dolan and his father Charles Dolan both sit on the stadium's board of directors.