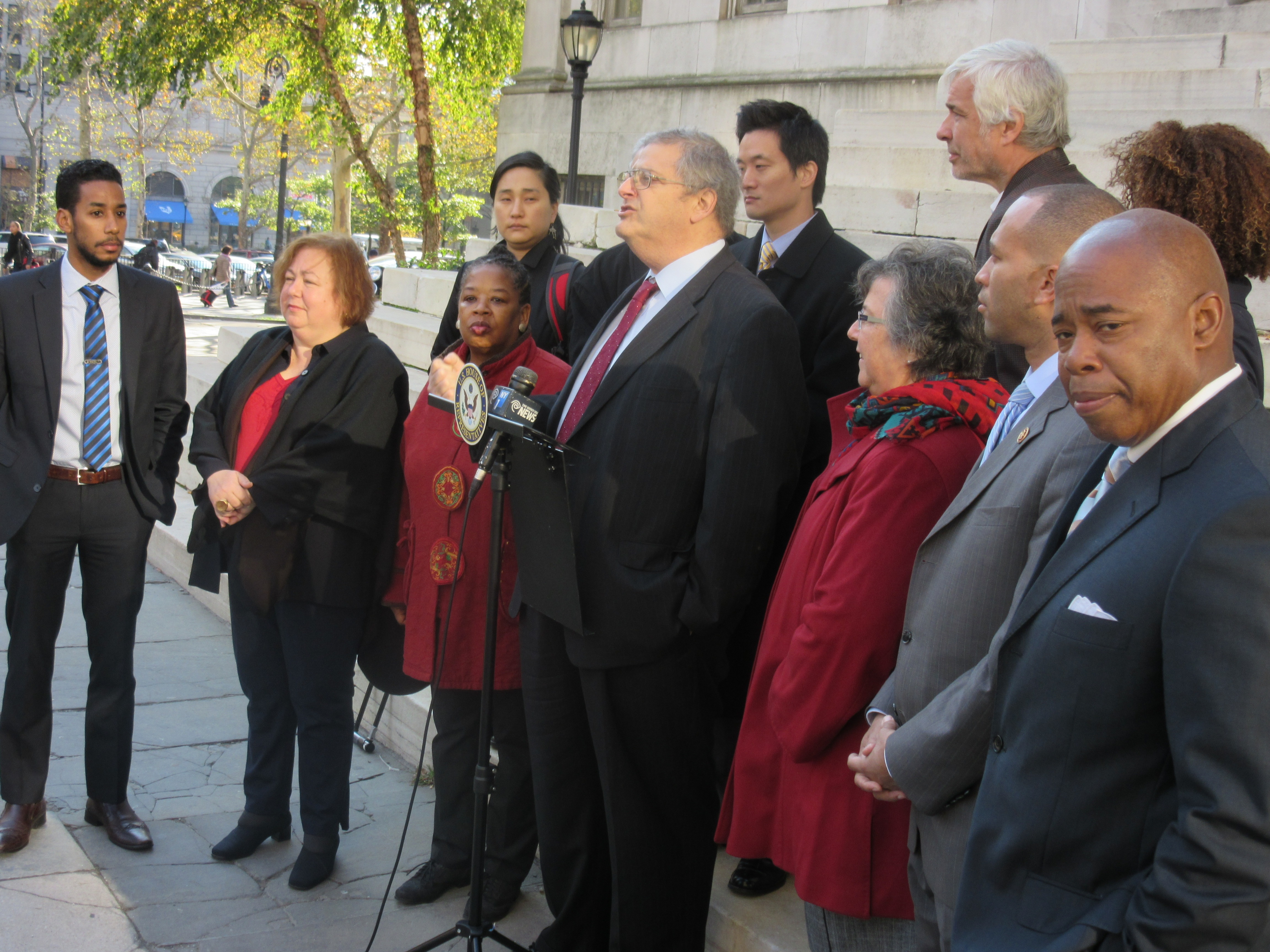 A host of Democratic leaders converged on the steps of Brooklyn Borough Hall to speak out against the controversial ballot initiative Proposition 1–which purportedly would establish independent redistricting, but which critics say will enshrine gerrymandering in the state constitution.
Brooklyn Congressman Hakeem Jeffries, Manhattan State Senator Liz Krueger, Brooklyn Borough President Eric Adams, Brooklyn and Queens Councilman Antonio Reynoso and former Brooklyn Councilman Lew Fidler joined activists in protesting the proposal, which would replace the existing six-person Legislative Task Force on Demographic Research and Reapportionment as district-drawer with a new 10-member panel.
"Prop. 1 is not about reform. It is a wolf in sheep's clothing," said Mr. Jeffries, recalling voting against a similar measure as an assemblyman. "This alleged independent commission is nothing more than an attempt to lock into the constitution incumbent protection. All it will do is continue to allow the practice of elected officials choosing their voters as opposed to voters choosing their elected officials."
Mr. Jeffries reminded New Yorkers to look at the back side of their ballots on November 4 and to fill in the circle to reject the proposal.
"We're urging voters not just to vote 'no,' but to vote 'heck no!'" he said.
The lawmakers objected that the new district drawing board would ultimately differ little from LATFOR as eight of the members would be political appointees and that the old body would enjoy the power to chuck the new panel's turf divisions and redraw the lines.
Ms. Krueger complained that New York's history of gerrymandering has deliberately diluted the power of non-white voters, and repeated Mr. Jeffries' concerns about the permanent changes the proposal would cause to the state constitution. She also took on good government groups like Citizens Union that have endorsed Prop. 1, which claim that the measure will be better than no reform at all. (Other good government groups like Common Cause are opposing the ballot initiative.)
"Some people are saying, 'Well, it was the best we could do, and the clock is ticking.' It's not the best we can do and there's no clock ticking. The next redistricting is eight years from now, in 2022. We have plenty of time to do the right thing in New York," Ms. Krueger said. "Anyone who thinks this will get them the independent redistricting they're hoping for, no matter what their party, they don't understand."
Mr. Reynoso echoed her remarks.
"There is a saying where I come from, a hip-hop saying, that says 'there ain't no such thing as halfway crooks.' This is a halfway proposition. And we don't deserve halfway propositions. We need to get this right," he said.
Mr. Adams, viewed by some as a rival to Mr. Jeffries, cited similar arguments as the congressman.
"This is not a real fix, and you can't have a bogus fix in place, that would allow representatives in government to draw their own lines," Mr. Adams said. "It's an attempt to fix the elections, and that is not the way of New Yorkers, it's not the way of Americans."
Mr. Fidler argued that gerrymandering also hurt the predominantly white and Asian populations of his southern Brooklyn base.
"My community and I are victims of perhaps the worst gerrymandering in the history of the state, that has the worst record of gerrymandering in the country," he said, citing the contrived district of indicted State Senator John Sampson–whom Mr. Fidler supported for re-election–as an example.
"Southern Brooklyn in an obscene jigsaw puzzle. It takes communities that have no in-common interests and puts them together. That means something to you when you go to the polls. We want people to vote, but we minimize their input by taking their districts and we are perverting them. Gerrymandering is a perversion of democracy," he added.