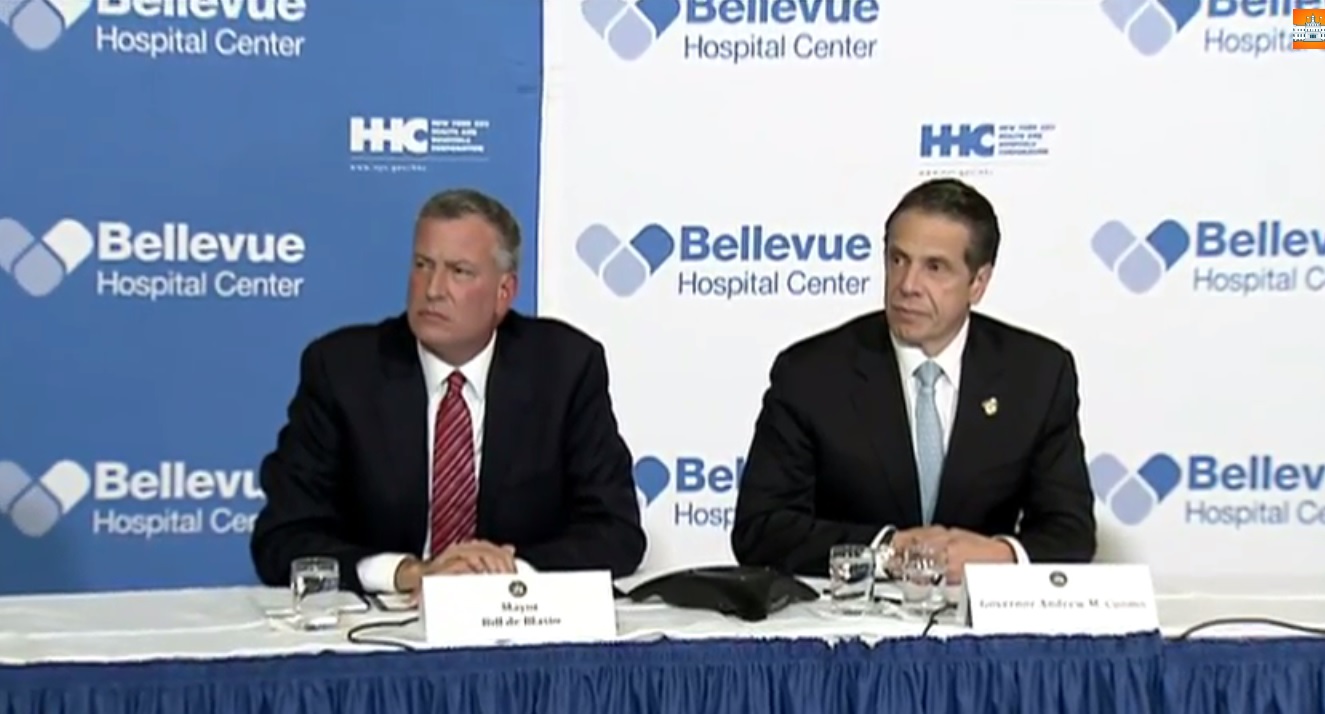 Mayor Bill de Blasio today insisted there has been constant communication between the city and state governments when it comes to handling New York's first case of Ebola — but said he was not informed before Gov. Andrew Cuomo rolled out a mandatory 21-day quarantine policy late yesterday afternoon.
"On the question of prior consultation, no," Mr. de Blasio told the press today.
In fact, the mayor and the governor weren't even on quite the same page about whether they'd discussed the Port Authority's plan to quarantine anyone arriving at Newark-Liberty International or John F. Kennedy International airports who may have had contact with Ebola patients.
"I don't know. You should ask the mayor," Mr. Cuomo told reporters in Brooklyn after a Women's Equality Party event when asked whether he'd given Mr. de Blasio a heads-up.
A day after they offered dueling outlooks on managing the city's first Ebola patient, Mr. Cuomo campaigned and the mayor dined at The Meatball Shop on Greenwich Avenue. It's one of several public stops Ebola patient Dr. Craig Spencer made in the two days before testing positive for the deadly virus, which he presumably contracted while working in Guinea with Doctors Without Borders.
On Friday morning, Mr. de Blasio urged calm and told reporters the city would be monitoring — but would not forcefully quarantine — people returning from West Africa. Just hours later, Mr. Cuomo and Republican New Jersey Gov. Chris Christie rolled out a completely different quarantine strategy they said would be used at the area's Port Authority airports — without consulting the mayor.
Mr. Cuomo, who is up for re-election in less than two weeks and whose opponent has sought to make Ebola a campaign issue, also struck a much harsher tone in speaking about Dr. Spencer, who New York City officials have deemed heroic for his aid work and who Mr. Cuomo has said should not have been out in public after returning from Guinea. Mr. de Blasio, meanwhile, has tried to minimize the risk Dr. Spencer's public outings present — hence his lunch at The Meatball Shop today.
But both the mayor and the governor insisted the two levels of government were working seamlessly — for the most part, anyway.
"This is not about feelings. This is not about personality. This is, you know, a crisis in which we all have to hang together to protect our people," Mr. de Blasio told the Observer after his lunch. "I respect the governor greatly. Let's be clear, what we said at Bellevue on Thursday night: there has been nonstop coordination and communication between the State of New York and the City of New York. The two health commissioners have talked multiple times a day for weeks. I have been speaking to the governor constantly."
Still, the mayor allowed that there had been some blind spots.
"We understand in a fast-moving situation, sometimes there will be moments where the communication is not everything we want it to be," Mr. de Blasio said.
Mr. Cuomo, meanwhile, insisted in Brooklyn that everything the state has done "has worked out exactly right," and touted his coordination with New Jersey and health departments "across the country."
He also hinted that it wasn't necessary to loop in the city on his airport decision, since it concerned the bi-state Port Authority.
"I spoke to the mayor last night, I spoke to the mayor this morning," Mr. Cuomo said. "The city and the state are working hand in glove. And we've been coordinating from day one. The policy we put in was a Port Authority policy dealing with New Jersey. It was an agreement between the New Jersey governor and myself as to how the two states would function. But the city and I are fully coordinated."
Mr. de Blasio, meanwhile, bristled when a reporter asked his health commissioner, Dr. Mary Bassett, for her personal opinion of Mr. Cuomo's plan, which quarantines healthcare workers for 21 days upon arrival home from Ebola-infected nations — something some experts have said will dissuade doctors from going to West Africa to try to end the crisis before it spreads further.
"Respectfully guys, you've asked this question six different ways," Mr. de Blasio said, before a reporter responded that the mayor hadn't given a clear answer. "We've given a very clear answer — that's an editorial comment," Mr. de Blasio chided.
He continued: "The state has a right to make its decisions, just as the CDC does. And we're going to work with them. This is not about personalities, this is not about personal opinions. This is a crisis in which everyone works together."
Asked whether he thought he should have been notified of the governor's new policy, the mayor again insisted it was the same question he'd answered — and said the key to success was constant communication.
"Do we expect that to work perfectly at all times? No. We are talking about human beings in the middle of a crisis, in a fast-moving situation," he said.