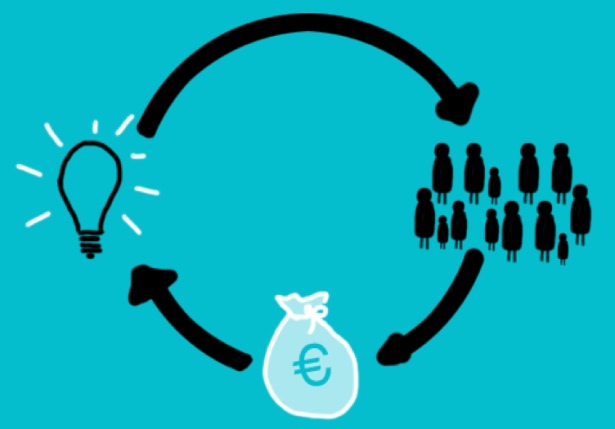 Most of us do contribute to some sites like this.  We write reviews, post pictures, and make lengthy or funny comments.  We even recruit new users for them by inviting our friends, family, and our co-workers to join them.
In other words, we are the reason these sites are so popular.  We are the reason these sites are so valuable.
Our contributions are the reason people come to these sites day after day, so why don't we get some ownership for our contributions.
We should be getting something in return for the hundreds of billions in new wealth we've created at Facebook, Yelp, Google, Apple, Reddit, Instagram, and many many other companies.
Soon we will.
Everything is about to change.
The CEO of Reddit, Yishan Wong, is planning to provide Reddit users the opportunity to participate in the value created by the company:
We have a crazy plan and what we're going to do is create a crypto-currency that is backed by those shares. Then we're going to distribute the currency to the community through some reasonably fair way that reflects the contributions of community. That is one of the more complex subproblems we have to figure out.
In other words, he plans to provide Reddit super-users with shares of a Reddit currency ( a #redditcoin ) that's similar to bitcoin, but backed by ten percent (10%) of Reddit shares.
Sound complicated?  It is.  Here's how he is going to do it.
He's using a loophole in the regulations that Facebook and Goldman Sachs used a couple of years ago to raise money for Facebook prior to its IPO.  The loophole allowed Goldman to Facebook shares to thousands of their most valued clients, far more than than the 499 shareholders the law allows for private companies (more shareholders than that forces a company public).
In that situation, Goldman created what is called a "special purpose vehicle" that they controlled.  That's a fancy name for a company or trust for doing things it can't do inside the main company.  They are sometimes used for activity that is sketchy (Enron used them).
Goldman then put Facebook shares worth hundreds of millions into this "vehicle" which then allowed the bank to enable thousands of their most valuable clients and allies access to impossible to acquire Facebook pre-IPO shares.
Reddit is likely going to use this loophole to do the same thing with their stock, however, instead of selling the pre-IPO shares, they will award them to the users that have made Reddit a success over the years.
The innovation doesn't stop here.
In order to provide tens of thousands of users with "ownership" of some Reddit shares would be a nightmare of expense and complication if done through Wall Street, even with this loophole.
To route around this damage, Wong is planning to create a Reddit cryptocurrency that is based on something similar to the Bitcoin blockchain, except that it is backed by millions of dollars worth of Reddit stock.
A #Redditcoin like this would be instantly liquid, both tradable and transferrable, the moment it is issued, making it the equivalent to the dollars in your pocket.  Value created outside of the control of Wall Street.
Wow.
Think about this for a moment.  This means that the community will get ownership in a company they made successful.  Ownership that they control.
No more crowdslaving on the Web's big plantations.
Ownership that can be sold without going through a bank or Wall Street.  Ownership earned by doing what you love to do.
Think about what that would mean if every site that you spent time on did this?
It would everything that #occupy failed to do (both in terms of creating opportunity and deflating Wall Street). It would start a stampede of new ventures to recreate the Web based on community owners, putting a target on the back of Facebook, Yelp, and many other sites.
It would change everything…
John Robb "is the futurist's futurist" according to Slate.  To find out what John Robb is thinking right now, visit his sites:  HomeFree (peace) and Global Guerrillas (war).