It took all of four-and-a-half minutes for the two men vying to represent Staten Island and part of Brooklyn in Congress to start shouting at each other.
Congressman Michael Grimm, the Republican incumbent, said the Centers for Disease Control should have been better prepared for the spread of Ebola to the United States. His challenger, Democrat Domenic Recchia Jr., a former Brooklyn councilman, said that was Mr. Grimm's fault, accusing him of cutting funding for hospital preparedness.
"That is simply not true," Mr. Grimm responded during the WABC television debate filmed this afternoon.
"OK, you know what, you lied to the FBI, you lied to the U.S. attorney's office," Mr. Recchia began, kicking off the first of several verbal skirmishes in the 30 minute face-off.
Mr. Grimm — who is facing a 20-count indictment Mr. Recchia mentioned repeatedly, once tossing in for good measure Mr. Grimm's televised threats to a NY1 reporter — said he'd never even been interviewed by the Federal Bureau of Investigation (his former employer) or a U.S. Attorney (though he has at least been charged by the latter).
"I am not lying. You're the one who is indicted for lying under oath," Mr. Recchia insisted.
That set the tone for a debate in which Mr. Recchia sought to remind viewers that Mr. Grimm is slated for a trial in December and in which Mr. Grimm sought to capitalize on a number of embarrassing moments — highlighted in the Observer, on NY1 and most recently on the Daily Show — when Mr. Recchia was unable to answer specific questions about legislation. The moderator, Diana Williams, also quizzed Mr. Recchia on details.
Mr. Grimm insisted he could be effective despite the indictment — though he said he'd step down if he were found guilty — and pointed to his work passing legislation to lower flood insurance premiums.
"The flood insurance bill was passed before he was indicted — again he's not being truthful," Mr. Recchia said.
"Which bill are you talking about?" Ms. Williams asked.
"The one he's talking about — the flood insurance bill," Mr. Recchia said.
"What's the name of that bill?" Ms. Williams asked.
"The bill that would lower premiums, okay," Mr. Recchia said.
"The Biggert-Waters Act," Ms. Williams said, legislation that originally hiked premiums which Mr. Grimm later helped amend to forestall hikes and lower premiums for now.
"Right," Mr. Recchia said, "two years prior to that he voted to raise the premiums," he began, but then, the momentum of that point was lost.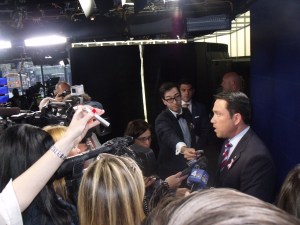 Mr. Grimm himself asked Mr. Recchia for specifics as they discussed why the city's Build it Back program has taken so long to help Hurricane Sandy victims. Mr. Recchia sought to blame Congress, citing the 80 days it took to get an aid package passed, while Mr. Grimm blamed the city government — which Mr. Recchia was part of — for not quickly getting the money into the hands of homeowners.
"Do you remember what the first tranche of money was? What was the first tranche the federal government gave? You were finance chair — how much money?" Mr. Grimm asked.
"You tell me, since you know so much," Mr. Recchia shot back.
Mr. Grimm did: $1.8 billion, he said, of which only $300 million went to restoring the homes destroyed by the storm.
"We did what was best for the interests of the city of New York," Mr. Recchia said.
"You did? $300 million. I don't think that's what was best, and that people are still waiting today because of that mistake," Mr. Grimm said.
The two managed to spar again over tolls, with Mr. Grimm hitting Mr. Recchia for voting on a nonbinding resolution calling for the state legislature in Albany to pass a congestion pricing plan.
"I did not vote to raise the tolls. That is a complete lie, but then look where it's coming from — you lied under oath, you're indicted," Mr. Recchia said.
"Did you vote for congestion pricing?" Mr. Grimm asked.
Finally, Ms. Williams cut in, almost as if she were interrupting two squabbling brothers: "The MTA handles the tolls."
And so it went — Mr. Grimm attacking Mr. Recchia on Coney Island rezoning: "PBS did an entire documentary on how Domenic Recchia sold out Coney Island," and Mr. Recchia shooting back: "Michael, you wish you could match my record. Your record is a 20-count criminal indictment."
They even argued about who was more "Staten Island" — Mr. Recchia, who lives in Brooklyn but whose family lives in the borough and whose children were born there, or Mr. Grimm, who said he has lived there 21 years.
"But you lived in Queens before, until you decided to run," Mr. Recchia said.
"I lived in Staten Island for the last 21 years. I'm obviously not 21 years-old, so obviously I lived somewhere else before the last 21 years," Mr. Grimm said. "Before that I was also in the military, serving in combat, protecting this country."
Mr. Recchia touted plans for a light rail, Mr. Grimm said it was something he should have done while in city government. Mr. Recchia said Mr. Grimm's vote for sequestration in Washington had dried up funding: "Look at the damage you did, Michael!" he shouted.
After the debate — which seemed to feature more cross-talk than policy discussion — both candidates told reporters they'd won.
"It was what I expected from my opponent — he's a one-trick pony," Mr. Grimm said. "It's the indictment and nothing else. He doesn't have any substance."
"I think I did extremely well and we got our message across today," Mr. Recchia said. "This district deserves a congressman that could be effective, that could represent them, that they could be proud of. Michael Grimm is facing a 20-count criminal indictment. They need someone who can get results."
But Mr. Recchia, perhaps destined to forever be pushed for details, was asked about whether he had trouble answering some of Ms. Williams' questions — and whether he knew the name of that insurance legislation.
"Yeah," he said, before at the very least mispronouncing it: "The Britton-Waters Bill.