Send in the clown.
Democrat Domenic Recchia Jr. is portrayed as a circus clown in a scathing New York State Republican Party mailer, lambasted for his vote to raise property taxes and his support of a resolution to endorse a Bloomberg era congestion pricing plan.
"Which one of these clowns raised property taxes 18% and voted to hike our tolls eight dollars?" reads the text on the front side of the mailer. An image of a frowning Mr. Recchia, a former Brooklyn councilman, and a red-haired, red ball-holding clown appear next to the words.
On the back side, Mr. Recchia, who is trying to unseat Republican Congressman Michael Grimm, is shown wearing a red ball nose.
"This clown did. Domenic Recchia voted for the largest property tax increase in city history–over 18%. Then he voted to raise tolls for Brooklyn and Staten Island drivers by eight dollars," the mailer reads on the back. "The last thing we need in Washington is another clown like Recchia."
A spokesman for the State GOP did not disclose how much the mailer cost or how widely it was sent in the Staten Island and southern Brooklyn-based district–this piece ended up in a Brooklyn mailbox–but said residents had "every right to know" about Mr. Rechia's votes. (The State Party also paid for another mailer that photoshopped a dunce cap on Mr. Recchia's head.)
"Staten Island and Brooklyn's hardworking taxpayers have every right to know that Domenic Recchia voted to raise their taxes in the City Council," said David Laska, a spokesman for the State GOP. "The last thing we need in Congress is another Bill de Blasio liberal to rubberstamp every tax hike Nancy Pelosi tries to impose on the American people."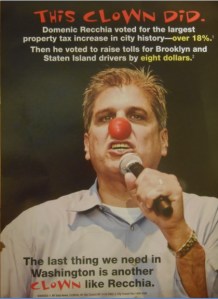 Mr. Recchia has defended his property tax hike vote, in which he joined a majority of the council, as a necessary way to give the city revenue after the devastating September 11 attacks. The mailer's wording, while accurate, is a bit deceptive: Mr. Recchia voted, also in the majority, to support a resolution endorsing former Mayor Michael Bloomberg's controversial congestion pricing plan, not hike already existing tolls.
The Democrat-dominated State Assembly ultimately scuttled the plan to charge cars $8 and commercial trucks $21 to enter Manhattan below 86th Street, though the pricing scheme could have potentially allowed added revenue from new East River bridge tolls to make lowering the high tolls on the Verrazano-Narrows Bridge, connecting Staten Island to Brooklyn, more economically feasible. The Metropolitan Transportation Authority, a state agency, determines how high tolls are on the Verrazano Bridge and Mr. Recchia, as a city councilman, had no direct say over how much tolls increased or decreased.
In response to the mailer, the Recchia camp called Mr. Grimm a "national laughing stock" for the 20-count indictment he will fight in court later this year.
"We've seen time and time again the level of desperation of Michael Grimm's campaign, and this just reaffirms that," said Sarah Weinstein, a spokeswoman for Mr. Recchia. "For an indicted congressman who is planning on being forced out of Congress and is most widely known as a national laughing stock and embarrassment to the people of this district, his weak attempt to distract voters from his poor record and legal troubles is laughable."