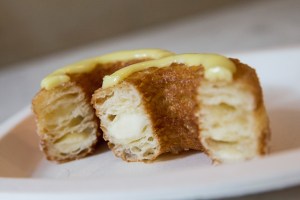 The Cronut hype was only marginally dampened when Dominique Ansel's Soho bakery was temporarily closed by the Department of Health due to a mouse problem last April. Unfazed, the French chef continued to churn out a whole range of summer flavors, and now he has finally revealed his coveted Cronut recipe to ABC News.
But don't be fooled by the simple ingredient list, with ABC rating the recipe's difficulty as "Extreme." Creating your own Cronut will require days of effort and planning, as well as an extensive list of baking tools that includes thermometers, piping bags and a host of different sized ring cutters.
Maybe sitting outside the bakery's Soho sidewalk at 6 a.m. is worth it after all.