Like many successful entrepreneurs, Julie Wainwright's business idea was slightly selfish. "I built the business I wanted for myself," confessed the CEO and founder of The RealReal, an online designer clothes, jewelry and accessories consignment website selling everything from $9,000 Chanel Lego bags to diamond-encrusted Cartier watches.
Just as Net-a-Porter proved people wanted a site for online luxury shopping, The RealReal proved they needed a place to sell the goods on when boredom set in. While eBay wallowed in dubiousness and blatant designer brand rip-offs, The RealReal merchandise was authenticated by a team of experts in New York City. Ms. Wainwright, former CEO of Pets.com and Reel.com back in the late 1990s, capitalized on the notion of luxury fashion items as assets that could be liquefied.
Manhattanite Kate Krone found herself suddenly in charge of her mother's extensive wardrobe after her death. "She collected the best stuff she could afford," Ms. Krone told the Observer. Though her willowy, almost 6-foot frame was too tall for most of her mother's petite clothes, Ms. Krone decided to rescue them after a well-known consignment shop in the city ripped her off. A family friend slapped her, literally, after learning of the pennies she had received from the store for some rare pieces. Ms. Krone's care for the clothes developed into a full-time job.
The Krone archives now live on Howard Street in the same environs as Ms. Krone's nearby Soho apartment. New York's haute-est designers rent pieces from the archive for inspiration, socialites buy one-offs and stylists borrow for their famous clients' red carpet appearances. "I love collecting but hate owning. I feel like I run an adoption agency where it is my responsibility to find these clothes good homes," Ms. Krone said of the nature of her business. She operates on a salon-like basis, by appointment only, so there is no chance of running into anyone else at a trying-on session.
Brit Gill Linton's mission is persevering the subculture of punk through her online boutique Byronesque. The site specializes in avant-garde designer clothing in monochrome colors and dramatic shapes. Just like Ms. Wainwright, she shunned the bricks and mortar standard when opening her store two years ago, opting instead to work with retailers from around the world to feature special vintage pieces all on one website. "There are a lot of ugly old clothes out there. The label 'vintage' has been abused. We [at Byronesque] recognize that people want stuff from this era; not the Hollywood or thrift shop version of designer looks."
The usual boho pieces are missing from Byronesque, too. Sure, there are handkerchief hemline skirts but they are early 1990s Vivienne Westwood. Retro means a Pierre Cardin black cocoon dress from the 1960s, which could easily have been plucked from a recent Helmut Lang or Celine collection. "We operate in the same way as a contemporary fashion brand, our pieces are very hard to find," Ms. Linton explained. With around 10,000 unique visitors a month, Ms. Linton estimated many come for inspiration from Byronesque's risqué editorial, including dominatrix-themed photo shoots named "Occupy Mall Street," "Slow Fashion" and "Grateful Dead."
Each woman faced a battle when starting her business. For Ms. Linton, when she launched in 2011 it was, she said, "taking on the task of mobilizing an entire industry." The vintage clothing market had never really taken off online, due in part to the difficulty with displaying goods. She echoed a worry of Ms. Wainwright's: both were concerned with ensuring that used goods did not look old or tired in photographs. This meant heavy investment in photography for both, though their styles are different. Ms. Linton focused on a digital team and stylists who could best interpret her editorial-type vision.
"The website doesn't look like an online vintage store and that was a barrier to overcome, but people share our understanding and 'get' the kind of vintage we're talking about," Ms. Linton added.
Though The RealReal moves the most inventory of the three companies mentioned Ms. Wainwright was emphatic about launching as a start-up with "a really slow, judicious use of capital. We started with my living room as the staging area, the dining room was the office and the media room was the photography studio where the clean, white product shots were produced." Now, three-year-old The RealReal lives in a 129,000-square-foot warehouse in New Jersey, not her parlor. Comparatively, Ms. Krone runs things as a formidable one-woman show. "My biggest enemies and struggles are the natural elements of light, water and dust and having the time to maintain and organize. Keeping and improving the value of textiles is far more maintenance than, say, having a fine jewelry collection. I need an assistant or two, which I am focusing on getting now in order to properly organize and document all the stuff I have."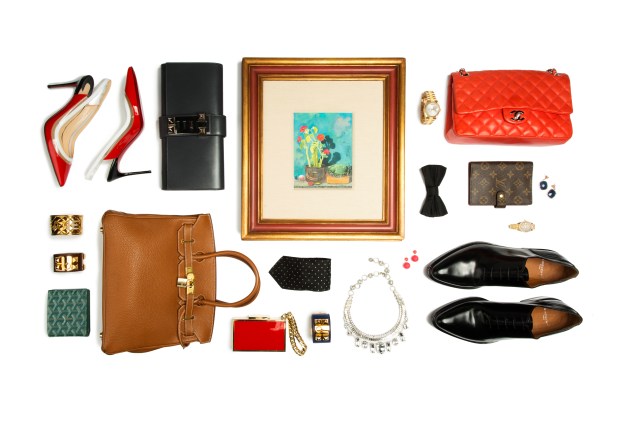 The driving force for each is different, for Ms. Linton it is a life-long rebellion against the norm. "I've always worn vintage because I've always been frustrated with mainstream culture, even as a teenager. It's an attitude and I hope that comes across at Byronesque." She described herself as anti-fashion, a term that's gaining traction and clearly resonates with the Byronesque clientele.
One gets the impression that Ms. Krone is inherently driven by a sense of obligation. "Some days I just open the door to my showroom, put the latest finds in the hall and then immediately leave because I can almost hear all the clothes yelling out to me—'Mend me! Wear me! Photograph me! Clean me! Find me a good home!' and it's too overwhelming."
Ms. Wainwright approaches things purely from the business side. Although a love of luxury spurred the idea for her business, she hired a retail fashion expert with extensive designer brand experience, Rati Sahi Levesque, to verify goods. Ms. Wainwright is constantly assessing gross sales (around $650,000 since June 2011), sales per month ($50,000 in September), and percentage savings from retail value (60 percent off diamond earrings).
The value of fashion, whether cultural, artistic, or monetary, is well understood by Ms. Wainwright, Ms. Linton and Ms. Krone. "Fashion tells the story of how people lived or the politics of the time. My clients buy classics. They're looking for stuff that they can wear for the rest of their lives. It really is art," said Ms. Krone. Ms. Linton recently sold a bustle coat from Yohji Yamamoto to the Met. "We had it in perfect condition but it definitely belonged in the Costume Institute," she admitted.