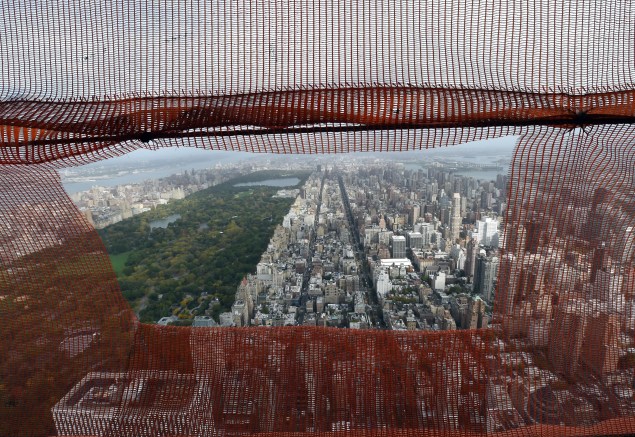 New York's tallest sliver – the skinny condo shooting up at 432 Park Avenue – recently topped out at 1,396 feet, making it the highest residential edifice in the Western hemisphere (to distinguish it from gravity-defying high-rises in Dubai, Malaysia, Abu Dhabi and other Eastern hubs).
Harry Macklowe, the building's brash developer, calls it "the Mona Lisa," an interesting comparison, since the mysterious beauty in da Vinci's masterpiece supposedly smiles at viewers no matter where they stand in relation to the painting. It's true you can see 432 Park from almost any vantage point in the city these days – though to me it seems this outsized middle-finger of steel and glass is flipping New Yorkers the bird.
For sure, 432 Park is part of an historic wave of development that is dramatically altering the city's skyline, pumping in tax revenue and jobs, and enlivening neighborhoods with new retail, restaurants and amenities. If the march of new building represents progress, then New York's current construction boom – even more than Mayor de Blasio's social agenda – indicates we are living in very progressive times.
But it's is also creating frustrating side effects for city workers and residents. Real estate site Curbed counts 42 mega projects across New York either in progress or recently completed – many designed by world-class architects outdoing one another for sky appeal. For those closer to the ground, the appeal is sometimes hard to see.
Virtually every other block of Midtown is obstructed by an enormous hard-hat site, producing "temporary" sidewalk paths that last for many months, along with claustrophobic scaffolding that becomes more confining when the person in front of you is texting and there is no way to do an end around. As tempting as it is to go outside the barriers, you run the risk of being buzzed by a bike messenger or taxi. Don't bother asking anyone about the building itself – workers shrug or give wildly conflicting answers, and project managers wave you along.
I happen to work surrounded by two of the biggest developments now going full bore. Our office at Broadway and 57th sits adjacent to Extell's 88-story tower going up at 227 West 57th Street, which will also be home to a flagship Nordstrom's; sometime in 2018 it will surpass 432 Park as the tallest residential building in the west, reaching more than 1,500 feet. Just around the corner from us is rising Vornado's 950-foot condo at 220 Central Park South, whose 160 luxury residences will include a 17-story "villa" of full-floor homes.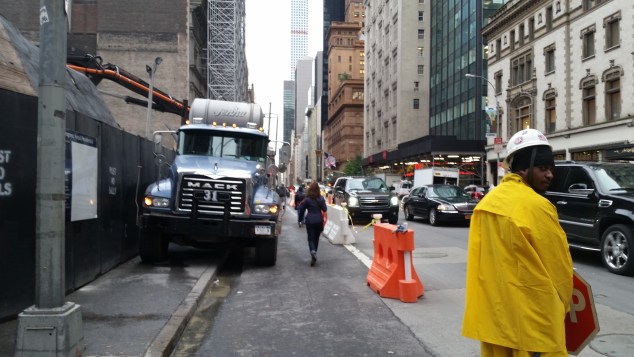 I've never been one to complain about the noise outside my window – the sirens, horns, hollers, union protests, car stereos and street musicians that create a classic urban soundtrack that accompanies a New York life. But my colleagues and I weren't prepared for the daily dynamite blasts shaking our walls and stopping our hearts from Extell's deep dive into the bedrock next door, forming the foundation of the Nordstrom's project. We hear the long whistle toot and brace ourselves for the explosion – and wonder if our own building's engineers are to be believed when they say the seismic jolt is not causing any structural problems. Isn't that what Chevron tells the folks living down the road from the fracking wells?
Combine these sonic booms with an ongoing mix of loud mechanical hoists, rubble removers, rising conveyors and other erector set sounds gone wild and all I can think of is the scene from Annie Hall, in which Woody Allen's character Alvy Singer recounts growing up beneath the Thunderbolt at Coney Island. And this is before actual jackhammer construction has begun! I'd like to say the tumult creates a kind of white noise giving our open office plan a canopy of acoustic privacy. In truth, it creates a group headache, especially when we're on a conference call shouting over a backdrop of demolition derby.
In touring our neighborhood, I visit the ground-floor architectural office at the Gainsborough Studios, the 16-floor apartment house on Central Park South famous for its double-story windows facing the park. Everyone is wearing noise cancellation headphones to block the incessant screeching of machines from the Vornado development taking place literally on the other side of their landmarked wall. One of the designers shares her own movie association – she feels she's constantly reliving the scene from Marathon Man in which Nazi dentist Lawrence Olivier is drilling into Dustin Hoffman's tooth.
Did I mention the dust? We're lucky to have office windows that actually open and I've noticed a pronounced film of thick particles and grime on our desks and ledges since Extell commenced its work. We clean and it returns almost overnight. At the risk of sounding like a quack, it seems my co-workers are sneezing, coughing and clearing their throats more as well.
I think of the long slog ahead and the inconveniences that await us – perhaps an untethered crane. Indeed, our building was shut for a week following Hurricane Sandy because of the crane dangling perilously atop Extell's One 57 beanstalk down the street. Having one of those rigs operating 1,500 vertical feet right next door is not a comforting thought.
No doubt Extell and the other developers are compliant with city building codes – not like 1985, when Mr. Macklowe's company pled guilty to reckless endangerment and paid $2 million after illegally tearing down several Times Square SRO hotels in the dead of night to make room for one of his projects. But there are still plenty of ways these sponsors could make themselves better neighbors.
They could start by upgrading their building sheds, with roomier, better-lit passageway for pedestrians and more real-time information – in fact, any information – posted about their trophy projects. A clear view into the site would also help. I remember when construction pit fences had generous peepholes, giving passersby a chance to gaze into the work zone. People are still captivated by giant bulldozers and Godzilla-like earth movers – give us some places from which to watch the show.
Owners should also send representatives to meet with tenants in surrounding buildings before and during critical stages of construction. Let them experience the IMAX-like tremors and non-stop racket their work causes for just one afternoon. Over the course of many apartment renovations, my wife and I had to comply with restrictions on contractor work hours, deliveries, chemical smells and noise. How is it that the banging and rattling at the Nordstrom's often continues past 6 PM?
Luxury developer web sites present glam renderings and photos of their penthouses, lobbies, kitchens and basketball courts. They should be required to give updates and timelines of the buildings under construction – you won't find a single word about the Nordstrom tower on Extell's site yet, since it's not ready to market to potential buyers. That's no excuse not to inform the thousands of us who are impacted by the building every day.
Now come reports that Extell is negotiating to acquire development rights at the site of two other dowdy West 57th Street properties, the Calvary Church and Salisbury Hotel, causing concern that more dark shadows – and dynamite blasts – will fall across Midtown.
It amazes me that anyone would choose to live 80 or 90 stories up – imagine the wait time for Chinese food or when you forget your money clip on the way down. But if I had $100 million to burn I'd probably feel entitled to a villa in the clouds – more power to Harry Macklowe, Extell and the others for finding a way to serve this most rarefied home buyer. All I ask is that as these developers continue to build their stairways to heaven, they don't make it a hellish experience for those of us on the ground floor.
Allan Ripp runs a press relations firm in New York.