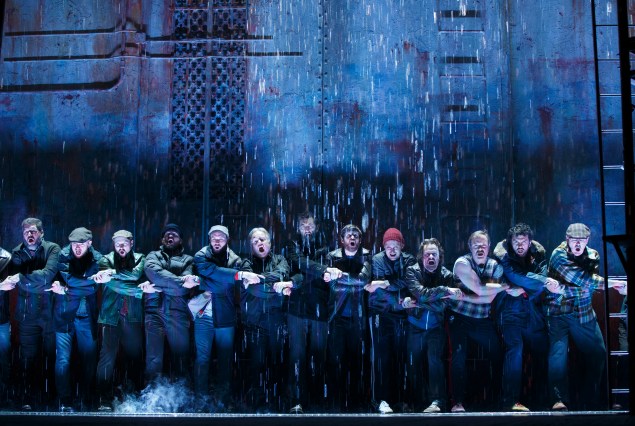 Sensational!
I usually try to avoid superlatives like that, but if the shoe fits, wear it proudly. The shoe—as well as the costumes, the sets, the beautiful and passionate score by Sting, and the most heart-stopping voices on Broadway that go with it—fits like a charm in The Last Ship, a wonderful, ebullient surprise full of heart and soul that lights up the New York theater season like fresh fireworks. "It's so … gray," groused a woman near me who nevertheless gave it a standing ovation. Well, yes. It takes place in a shipyard! If you want Las Vegas, go elsewhere. But if you want greatness that makes your heart soar with emotion and joy, go to The Last Ship and do it fast.
To tell you the truth, this revelation surprises me. I don't know what I expected. A pop-rock parade of jukebox tunes guaranteed to send me snoozing, I guess. But above all, The Last Ship proves what a versatile, serious and immensely talented artist Sting really is. I've heard him sing with artistry and nuance before, but nothing prepared me for this. (O.K., we share the same birthday, so I already regarded him as a special fellow Libra.) But Sting is so much more, and now I know it.
The triumphant new musical at the Neil Simon Theatre, directed with mountains of skill by Joe Mantello, chronicles memories of the town in Sting's youth, and the hardscrabble lives of the people in it, living and dying in a once-prosperous section of England famous for turning out the great ships that graced the seas in the 1950s. A bloke named Gideon Fletcher, a third-generation member of a proud shipbuilding family who turned his back on tradition, pursued a dream of seeing the world on his own terms and disgraced his father by leaving home to conquer new vistas as a sailor. He left behind a loyal girlfriend named Meg, 15, who was pregnant with a baby Gideon didn't know about, promising to return for her when he made a success of his life in the outside world. Fifteen years later, when he comes home to visit his father's grave as the grownup Gideon (remarkable, charismatic and totally enchanting Michael Esper), he finds the villagers impoverished shells of the men they used to be, the shipyard closed and Meg (golden-voiced Rachel Tucker) working in a saloon with a son to raise, engaged to the well-meaning but unpopular former shipyard worker Arthur Millburn (Aaron Lazar) who is trying to convince the workers to give up the skills and honors of a dying industry and support their families by selling scrap metal to a wealthy businessman.
Although a failure whose dreams never came true at sea or in port, it's up to Gideon to restore his town's self-respect, shoulder the responsibility for his rebellious teenage son's future, and win Meg's love all over again. How? By re-opening the shipyard and building one last ship the way their forefathers did, the scruffy labor force forms the roughest, toughest gang of stevedores who ever graced a chorus line. With no money or sponsor, they bring out the cables and the welding irons and their industrial tools paid for with funds "diverted" from the church treasury by the colorful, chain-smoking, hard-drinking and beloved parish priest (a merry, scene-stealing Fred Applegate) as the stage fills with a cornucopia of songs, bustle, sparks and heavy-stomping choreography that is fresher than anything on Broadway. I dare you to control the constant urge to stand up cheering.
The metallic scaffolding that turns into a ship ready to christen with champagne by production designer David Zinn is augmented by crude, authentic-looking wooden sets that include a waterfront and a rural pub with real working pumps for ales, lagers and draughts. The pulsating songs provided by Sting extend far beyond his fame as a pop icon to a vast musical canvas of great complexity. The songs embrace heated dance beats, soul-searching, character-driven monologues bordering on arias, and lush ballads that stir the heartstrings. One great number, "When We Dance," is as good as anything I have heard in the theater in decades—a three-part expression of the values and hopes of Meg in which the two men she loves declare their devotion to her in equal measure, laced together in a pas de trios by subtle touches of the hands as the three members of the trio move in and out of meticulous dance movements as tender as connecting tissue. Thrilling to watch, and haunting to hear.
It takes extraordinary talent to bring a show this complex to life, and The Last Ship is populated with talent, half-American and half-British, so intense you won't know where to look or what to watch in order to absorb it all. Everyone is perfect, but I reserve special encomiums for the three stars, the endlessly ingratiating Mr. Esper in particular. He sings like a dream, and moves with the imperfect body of an earthbound person, not a terpsichorean who works out daily in a show-business gym. The men move and turn like real characters you might find in a factory in Leeds. Choreographer Steven Hoggett emerges as another stage discovery with star quality.
All hail The Last Ship. May it sail to glory for seasons to come. I rarely see anything twice, but if I'm lucky, they might invite me to see it again—and often.