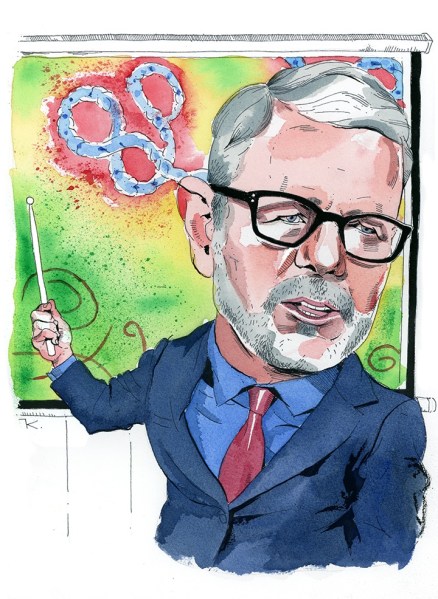 Ebola is having a moment, and so is Richard Preston, the author of The Hot Zone, the 1994 best seller about the origins of the virus. Ridley Scott is now adapting the non-fiction eco-thriller for television, and in this week's New Yorker, Mr. Preston revisits his old subject to detail the scientific battle to stop Ebola's spread. In a recent conversation, he discussed the nature of the virus and what we can do to contain it.
What's the likelihood that Ebola will spread to big cities in the developing world? That's a very scary possibility. We've seen Ebola cases travel into the United States and Spain, and we could easily see something like this happen in Lagos, Nigeria, or in Kolkata, India, or any of the large super cities where people often live in close quarters and don't have good access to doctors.
Will Ebola reach New York? I could easily imagine imported cases, meaning somebody comes in on an airplane. But the health authorities in the city are very smart people. They know what they're doing, and I'm very confident that if Ebola comes into this city from somewhere else, the authorities here are well able to prevent the spread of the disease.
Could we catch Ebola on the subway? I love the subway, and I would have no fear of flying on a plane, either—no concern whatsoever. I would, however, be afraid of catching a common cold on the subway. The concern that I have is, as the virus expands into more and more people, it's mutating steadily and, in effect, it's learning more and more about the human body.
Might it become airborne? What the experts are telling me is that there's very little chance that Ebola is going to mutate into something that could spread directly through the air. The real concern is not whether Ebola could go airborne but whether it could spread faster.
Will Ebola ever go away? No, it won't. And the reason is that Ebola is coming out of some unknown creature that lives in equatorial Africa. The virus has been circulating in that natural host for a long, long time, and every now and then, a human being comes in contact with the natural host and the virus spreads. The virus isn't aware; it doesn't have any consciousness, but it's biologically clever. If we beat down Ebola this time, there will be a next time.
Do we know what the host is? Marburg, which is a similar virus, has been tied to fruit bats. But Ebola hasn't been tied to anything directly. So one possibility, if you think about this, is that the virus might actually survive in a little insect that lives on the body of a bat.
We'll have to stay away from eating bats, then. It turns out, from what I hear, that roasted fruit bats are delicious.
Is there a vaccine on the horizon? Yes, and one or two of them are now being tested. There's a big scramble to develop a vaccine and get it through the testing process as fast as possible, and we could see an investigational vaccine by the end of 2016.
How does one survive Ebola without drugs or vaccines? Nobody knows at this point. It might be that some people have some kind of genetic resistance. If you want to survive Ebola, you need to be young. If you're in your late 30s, the death rate is about 80 percent, and if you're over 45 then the death rate goes up to about 90 percent.
Why are you so fascinated by viruses? As life forms, viruses are just inherently interesting. It's the microworld—this universe of life too small for us to see—but it's profoundly complicated, and immensely powerful. Ebola is like a beautiful and frightening predator. There is a wonder in the operations of nature that can't be denied, even when we're the losers.