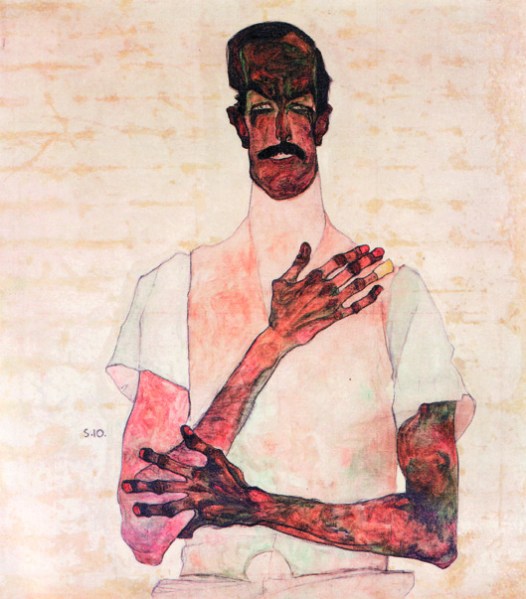 Gustav Klimt—a historic artist in his own right—once described Egon Schiele's talent as "viel zu viel" (much too much!). Artists like Schiele who are blessed—or cursed?—with the ability to passionately communicate to an audience while simultaneously innovating their medium are few and far between: Kurt Cobain, David Foster Wallace and Jean-Michel Basquiat are a few that come to mind. Often the community is not ready for the raw nerves that this type of artist can touch; they possess an urgency that can ultimately destroy the artist.
Egon Leo Adolph Schiele, the Viennese wunderkind who died from influenza at the age of 28, has had many acclaimed posthumous exhibitions dedicated to his work (there are in fact three up right now on both sides of the Atlantic), but "Egon Schiele: Portraits" at the Neue Galerie at East 86th Street and Fifth Avenue is the first in America to look exclusively at Schiele's portraiture, his most iconic and influential work.
The show was curated by 80-year-old scholar Alessandra Comini who, through intimate knowledge of Schiele's family and background, has amassed an immaculate and awe-inspiring collection of rare artworks.
The third of four children, Schiele was immediately drawn to art as a child but didn't receive much encouragement until his teenage years. His father died from "syphilitic madness" when Schiele was just 14 and soon after, free from the disapproving judgment of his blue-collar father, he entered Vienna's Academy of Fine Art as its youngest student. Schiele soon found an ideal mentor in Gustav Klimt, a fellow Viennese painter 28 years his senior who delighted in erotically contorting the female sex within his luminous symbolist paintings. The fatherly Klimt helped his acolyte to focus his lustful appetites and unleash some of the most unabashed yet poetically nuanced artworks of the modern era, many of which still manage to shock and arouse today.
It's hard to imagine exactly how Schiele's lurid images could have been received in Catholic Vienna at the beginning of the 20th century, but his insistent desires did eventually come to a head when he was accused of statutory rape, kidnapping a minor and public immorality. The first two charges were dropped unpon investigation but he was sentenced to imprisonment for exhibiting pornographic works of minors, with the judge burning one of his art works during his trial. He served nearly a month in jail. (Was it justice? A decade ago, on the occasion of another Schiele show, The New York Times wrote: "There is enough evidence to get him charged, if not convicted, as a pedophile by today's standards.") 
Some of his models were indeed teenagers and younger, and sexual desire is clearly a major theme for Schiele, but what really stands out from this breathtaking collection of stark and elegant figure drawings, paintings, and even sculpture is how Schiele sought out the life force of every single human he came into contact with. He found it mainly in women, but he could also find an inner flicker of taut vitality in the oldest of men; through piercing eyes, flaming lips and knotty fingers weathered from use. What really seemed to have driven this artist was a ravenous hunger for life in all of its rawest forms.
This first becomes evident in a striking painting of Dr. Erwin von Graff, a local gynecologist, which he completed at the young age of 20. As the story goes, the portrait was commissioned by von Graff in return for an abortion needed by Schiele's girlfriend at the time.
The doctor was taken with the precocious Schiele, and he supposedly let the artist visit his office as an opportunity to view pregnant women and newborns. In this grim yet humorous depiction, Schiele's wonderment at feminine potency is virtually worn by the elder doctor, whose sinewy arms and hands (his primary vocational tools) are browned and ruddied as if to symbolize the efforts of his trade. Portrait of Dr. Erwin von Graff, 1910, is one of the first paintings in which Schiele finds his own voice after a few years of admirably aping. With the von Graff portrait, Schiele subtly moves from the lyric drawing style of Klimt to choppier, energetic linework that express the kinetic nature of the figure, something that was elaborated on in later years by the Italian Futurists.
After two mostly sober rooms of familial and commissioned portraits—followed by a sparse room containing the humbled artistic labors of his prison term—the final and largest room of the exhibition erupts with a trove of signature Schiele works. Here we find Schiele's id in full bloom via lurid portraits of his lovers and a group of intensely contemplated self-portraits. Works like Girl With Black Hair, 1911, show us the magnificent sexual theatre Schiele invented around his female models. With almost exclusively black line and washes on paper, Schiele stacks blocky masses of skirt, stocking and undergarment as if they were imposing stone barricades. Meanwhile, slight areas of delicate color announce the prized girlhood behind these stiff garments. Cheekbones, lips and a half-hidden vagina—all in a seeping rouge—emanate from amplitudes and wisps of flourishing, black hair. Here we see Schiele learning to adeptly shroud his beloved female vibrancy with an almost holy sense of significance, letting the viewer feel the seriousness of his extreme passion.
Man and Woman I (Lovers I), 1914, also contains drama, albeit with a more advanced structure. During this time period, Schiele starts to engage the full picture plane, elaborating tangles of well-worn sheets and blankets in areas that the artist would've left predominantly blank years earlier. Here Schiele paints flesh and linens in similar tones (gray, pale cream and tan), all of which are harnessed within his high-strung, black outlines. Here again he uses spot color within his snarls of musculature and cloth for a decidedly heightened effect. The young woman in the picture, head buried downward (in ecstasy?), burns with flecks of hot orange around her nipple, fingertips, and other manifold locations, while the mostly nude man glares out at the viewer with lips stained the same illicit orange.
Unfortunately, all of Schiele's desires were cut short by the Spanish flu epidemic that first took his wife Edith and her unborn child, and then Schiele himself. Nonetheless, Schiele's erotic works still give a literal or metaphorical shock today—even in our "anything goes" society.
Accentuating Ms. Comini's rigorous academic work for the exhibition is an inspired installation design by Federico de Vera, who has cleverly furnished each gallery with a neat, black trim that shepherds the eye around various paintings and clusters of artworks. These borders, which smartly echo the molding of early 20th century Viennese decor, further delineate Ms. Comini's group of already scrupulously framed wall works into an ultra-strict arrangement, making Schiele's intense spectacles seem even more palpable and explosive. ν