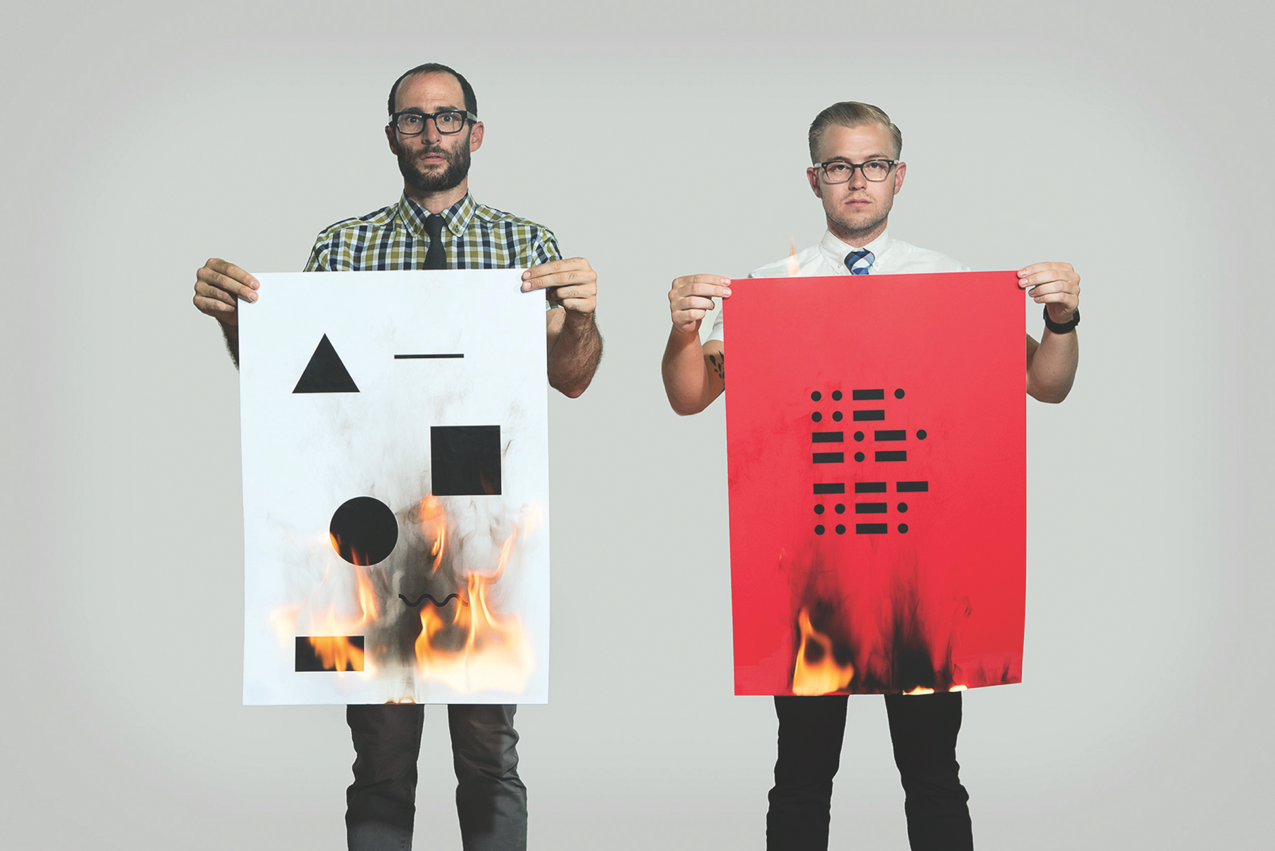 Ello, an ad-free Facebook alternative, was originally built as a virtual, invite-only walled garden and private gallery for a few thousand artists and designers. Users would trickle in a few hundred at a time at most. But the whole enterprise was pretty low-key, and its founders were happy with that.
Until Tuesday, September 23, when the Ello founders checked in on their budding site and found that the invite list had suddenly started to pile up, first at 500 per hour. A few hours later, it was 1,000 per hour. "We were like, 'What the fuck is happening?' " Todd Berger, one of the co-founders and leading designers on the project, told us. "We couldn't trace it back to any one thing."
Just that Monday, the founders had met to map out their game plan for the rest of the year. By the time Wednesday morning came around, their modest plans seemed quaint and obsolete. Someone pulled up Twitter. There were new tweets about Ello every 20 to 30 seconds, and then every few seconds, and then dozens every minute.
The collective attention of the Internet had turned its eyes toward Ello, and in the span of 48 hours, the Ello team saw what had started as their pet project become the fastest-growing social network in history.
"It's like one of those scenes in Star Trek, when the engine speeds up, and Scotty's in the basement fixing the dilithium crystals with a screwdriver," said Paul Budnitz, a co-founder, "and suddenly everything jumps into warp speed."
Facebook, the incumbent social networking titan, has 1.3 billion like-addicted users worldwide. Every so often, it runs some Machiavellian emotional experiment on its users or redesigns the layout to cater to advertisers, but before last month, it had never done anything to spark defections en masse.
But in early September, Facebook started enforcing an old policy that says users have to go by their real names. While the rule was meant to cut out trolls and spammers, it wound up freezing the accounts of gay and transgendered users who were protecting their identities with pseudonyms.
Taylor Hatmaker had been covering the blowback for The Daily Dot, and in an article called "The great gay Facebook exodus begins," tapped Ello as the destination for fleeing users on Monday, September 22. Soon, Ello was getting 4,000 requests to join every hour. That number would be 27,000 an hour by Wednesday evening.
Twitter exploded with people begging for invites to Ello—the team had given each new user 35 invites, so just tweeting the request turned back multiple replies, further fueling the virality. EBay had a black market for where invites were listed for hundreds of dollars. "Ello" was Google's sixth hottest search of the day. A real estate broker Mr. Budnitz hadn't spoken to in five years emailed him asking about an invite.
It was more than Mr. Budnitz had asked for, or even wanted. The coding team, Mode Set, told us that the server was nearly pulling apart at the seams trying to manage the sudden traffic.
That night, Mr. Budnitz stepped off a plane in Vermont to discover more than 200 press requests in his inbox. He told us that he was putting a halt to all new user intake first thing in the morning—the coders hadn't slept in days and the servers were groaning under the demand.
"It seems like we've got a big portion of the U.S. and much of Europe all trying to get on Ello at the same time," Mr. Budnitz said. "We're going to turn off the spigot for a while. We're not Facebook, our mission isn't to grow fast."
The morning came, and along with it were 34,000 requests to join every hour. But the velvet rope hadn't yet gone up in front of the Internet's hottest new club. When noon hit, we gave Mr. Budnitz a second call. It turned out that the Mode Set crew had called in a favor from its hosting service, and was managing to keep the site alive. Ello would carry on, even as requests-per-hour approached 40,000.
"We're still at warp speed," Mr. Budnitz said that afternoon. "It's a little bit like the Starship Enterprise—Scotty always says he can't do it, but then he does."
Ello is the product of a super-group of seven designers and coders led by Mr. Budnitz, a boutique toy maker and bicycle designer. His toy company Kidrobot has storefronts in San Francisco, Las Vegas and Boulder. In 2008, 13 toys designed by Mr. Budnitz in collaboration with illustrator Tristan Eaton were accepted into the permanent collection at MoMA.
Mr. Budnitz messed around with programming video games on a Commodore in high school, and in 1996 became one of the first filmmakers on record to cut a feature film on a consumer-grade computer, picking up film festival awards at the time. Other than having been a self-taught enthusiast, Mr. Budnitz is distinctly not a techie.
Ello started as an insider's hideaway for Mr. Budnitz and his designer friends, closed off to the general public. For about a year they eased off of Facebook to share media and collaborate on projects using Ello before taking it down to build it into an open network.
The first step in Ello's semi-public debut was to quietly release a manifesto. The Ello Manifesto is a brief, anti-Facebook screed telling you that "you are the product that's bought and sold" when other social networks track your browsing and sharing habits for the sake of marketers.
"We believe there is a better way," the manifesto says. "We believe in audacity. We believe in beauty, simplicity and transparency. We believe that the people who make things and the people who use them should be in partnership."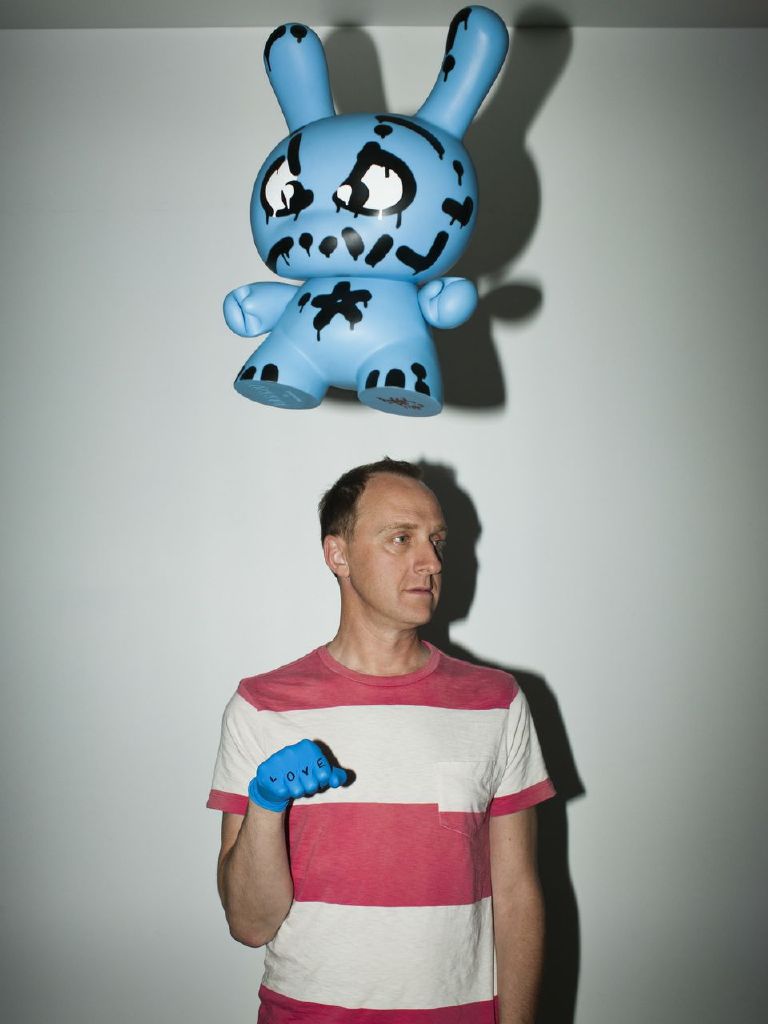 Click "I Agree," and you're encouraged to share the manifesto. Click "I Disagree," and you're directed to the page where Facebook keeps its privacy policy. The manifesto sat on a landing page with Ello's logo, an eerie black smiley face with no eyes and a Cheshire Cat grin, and collected email addresses before their private beta began in July.
That manifesto would be quoted over and over again, both by the users who took it up as a rallying cry against Facebook's invasive privacy practices, and the tech media, who would use it to bludgeon Ello over their idealism.
Where many new tech companies strive to make apps with "delightful" or "seamless" interfaces, Ello's is almost inconvenient for the sake of elegance. Many of the basic buttons on the site are nearly invisible, and to get the most out of using Ello, you'd practically need a user's manual to explain it.
Ello's sparse layout is an expression of Mr. Budnitz's psychological aversion to clutter, which he believes is one of the great management challenges of our age. Mr. Budnitz, who splits his time between New York City—the ninth level of hell for outdoor advertising—and Vermont, where roadside billboards are strictly illegal, prioritizes elegance and order in Ello's interface.
When building Ello, the team experimented  with posting "the most horrible, ugly, tasteless content" they could find and built a platform where even garbage could shine. All of the site's text is shown in a command-line courier, and the layout is dominated by white space.
Ello's features are borrowed largely from other networks. Profiles are limited and visual like Twitter's. When you add friends, you place them into one of two categories: "Friends" for a large format, Facebook-style news feed, or "Noise," which is like browsing a condensed Tumblr archive.
Ello is also still in a beta testing, which means it is fundamentally an incomplete product. Many features implicit to fully developed social networks, like reblogging and private messaging, are still on Ello's public to-do list. There are even buttons that simply don't do anything when clicked. But most glaringly, there were no options to allow for private accounts, which put Ello at odds with the people who left Facebook seeking shelter from abuse or harassment.
The Facebook refugees were mostly understanding when Mr. Budnitz immediately promised that privacy features were on their way.
The media, not so much.
Once the Ello buzz on social media became a furor, a few tech publications took note. They were soon joined by anyone who had a tech vertical, and then The Wall Street Journal, The New York Times, The Washington Post and The New Yorker. Vox wrote an explainer on Ello, and the typically scathing ValleyWag gave Ello a glowing review. Hundreds of snarky first-looks and breaking news items were written about the sudden rush.
And then came the blur of critical think pieces. Some poked fun at Ello's manifesto, and some just called bullshit on their claim that they'd never take ad money. Then, on Ello itself, a tech blogger drew sudden attention to the fact that Ello had received $435,000 in venture capital from a small-town VC firm in Vermont called FreshTracks Capital.
The investment wasn't a secret, and anyone could see where the money had come from by checking publicly available databases like AngelList or Crunchbase. But the Twittersphere treated it as a salacious breaking news development, and took it as a sign that Ello can't and won't hold true to its values.
To the venture-obsessed tech media, a VC investment always raises questions of the scalable, long-term growth of a company. Tech blogs typically justify their coverage of early-stage start-ups by examining their business model and speculating about the exit strategy. The question for the armchair critics wasn't if Ello would sell out, but when, and how.
"I'll be frank," Mr. Berger, Mr. Budnitz's gruffer Colorado counterpart, said. "We do not have an exit strategy."
Another popular shot at Ello was that the founders couldn't be taken seriously as businessmen. Wired's take on Ello, called "'Facebook Killer' Ello Doesn't Care About Money — So It Won't Work," pointed out that despite his reputation of starting Facebook as a hoodied nobody, Mark Zuckerberg had been an advertising war hawk since Facebook's inception. They argued that Ello's manifesto was "unrealistic, and will cause the project to fail" as long as Mr. Budnitz puts his values ahead of Ello's bottom line.
Mr. Berger has grown impatient with the critics. "We're not idiots, we have a business plan," he said. "We're trying to throw a party. If you want to leave, get the fuck out! Go hate some other thing."
So if the plan isn't to sell data or run ads, how do they expect to turn a profit? The answer to that is a freemium features model. Ello will always be free to use, but eventually, it will start offering cosmetic upgrades for a few dollars each, like the option to link multiple Ello accounts, or to reverse Ello's color scheme so that it presents white text on a black background—a sought after feature for Ello's German and Japanese users, Mr. Budnitz said.
Freemium might be untested as the core model for a social network, but it's tried and tested on dating sites, LinkedIn and, notably, WhatsApp, which sells custom emojis and stickers, and was acquired by Facebook for $19 billion.
Mr. Budnitz and the other founders have retreated from the public eye to keep the site up and running while building up the most wanted features list. Users are crying out for enhancements like reblogging, messaging and better search so that they can find their friends. But Ello's priority is the initial group of Facebook refugees: the LGBTQ community. 
The coders have put private profiles and abusive content flagging at the top of the upcoming features list, even if it's at the cost of more exciting tools that could retain the larger wave of new users—another way Ello's principles could possibly hinder their sustained success.
"Those other people can wait," Mr. Berger said. "There are higher priorities—we have people here with needs, and we want to give them safety and security."
Mr. Budnitz didn't want to build a Facebook-killer so much as a small alternative. If only a tenth of its new user base sticks around, Mr. Budnitz will happily make do with the small community left behind.
"People assume we want to take over Facebook, and it's flattering and strange, but that's not what we're trying to do," he said. "Success to us just means that Ello works and that people use it. There's no way we're not going to survive."