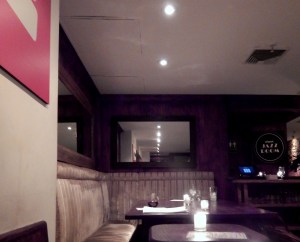 Follow the sound of trumpets and drums down the cobblestone of Gay St. until it meets Christopher and you'll stumble into the Whynot Jazz Room. Theo Croker, celebrated trumpeter and grandson of Doc Cheatham, found it that way.
When he's in the area, Mr. Croker has a permanent Thursday night set at the Jazz Room with his band DVRK FUNK. "At other places, people pay for tickets and are expecting something. Here, it's like let's show people what we've been working on," he says.
This relaxed, experimental style is encouraged at the Whynot Jazz Room. "It's not a club; it's a room," says owner Emil Stefkov. "Many musicians who play here love this place simply because it's very intimate, very small. The guests when they come here and they listen—they can feel it."
In its short history, Whynot Jazz Room has done minimal advertising, save promotion standard of today, Facebook, Twitter and a website. Currently, they have two partnerships: a promoting agency brings in bands on Saturdays, and there's an experimental series on Sundays. But the usual crowd is mainly locals and regulars that trickle in through word of mouth.
The Jazz Room opened in December of last year, while its upstairs neighbor and affiliate, Whynot Bistro, opened in May 2013. The restaurant's basement eventually became the Jazz Room. "We thought, maybe the best thing in this neighborhood is to make a jazz room. We wanted to do something which was natural in this area," he said. It helps that many of his friends, including the manager of the room, Aleksandar Petrov, are musicians themselves.
Mr. Petrov says people often compare the Jazz Room to "the old Zinc Bar." The room resembles some of the Village's more storied venues. Its is small and dark, littered with tablets and lit by candles. Posters from the Skopje Jazz Festival decorate the walls, a tribute to the men's home country of Macedonia. Mr. Stefkov emphasizes the natural wood—on the floors, the tables, the bar, and the walls—comparing it to a shell. Each note that Mr. Croker and friends play sends a vibration through the wood floor and benches.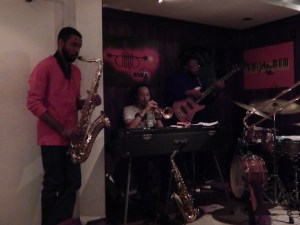 Mr. Croker is not the only artist to experiment at the Jazz Room. The room has a rotating schedule of musicians—Mr. Petrov estimates about 70 different bands per month. He says that each day has a different theme. Wednesdays are for "World Music," Sundays are for experimental music, and Thursdays are "jazz jazz." They book based on connection and recommendation, but aren't afraid to take a chance on someone new.
There's a $10 cover charge for every show (with 85 percent of profits going to the musicians), but according to Messrs. Stefkov and Petrov, it isn't about the money. "It wasn't so much as a business project, but a place to celebrate music and life," Mr. Stefkov adds.
The two men have plans for expanding. They want to add more shows and stay open later, redesign the jazz room, and maybe create their own exclusively-vinyl recording studio. They're optimistic about the Whynot Jazz Room's future, but realistic about the market. "Jazz is the opposite of business," Mr. Stefkov jokes.
They're content as long as the musicians are happy. For Theo Croker, he'll keep coming back as long as the relaxed vibe stays the same.
Tonight's lineup includes: Mareike Wiening Quartet at 7:00 p.m., and Uri Gurvich Quartet at 9:00 p.m.