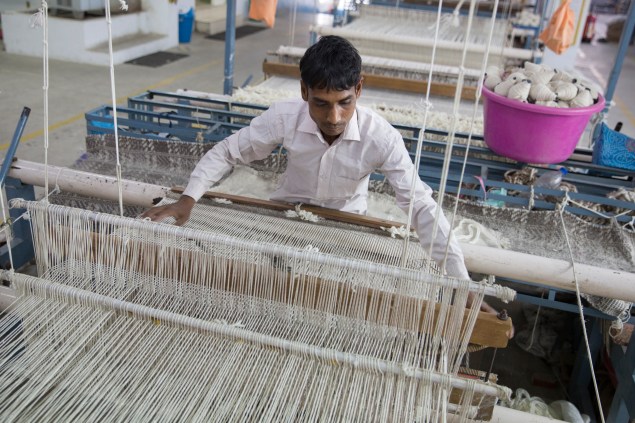 "New York is all about small business, and Fair Trade is all about small business," said Dr. Karl Wald. He is the owner of Mr. Ellie Pooh, a small Brooklyn-based Fair Trade business. It is easy to see that New York oozes small business – take a step outside of Times Square and you will see – but the definition and connotation of Fair Trade can be confusing. During the month of October, top Fair Trade organizations have been looking to remedy this confusion for the 11th Annual Fair Trade Month.
According to Fair Trade USA, one of the more well-known third-party Fair Trade certifiers, 45% of the population are still unsure what Fair Trade means. That is probably because it is not government regulated. The term is free of copyright, so multiple definitions create confusion. During Fair Trade Month, education of consumers is the goal.
The general understanding is that Fair Trade entails just compensation for the workers who create or grow goods, along with social projects that improve their standard of living. Businesses who are Fair Trade-certified pay a fee and adhere to the standards of non-profit, third party organizations, like Fair Trade USA or the Fair Trade Federation (F.T.F.). Generally, it is like the "teach a man to fish" mentality – by exposing underprivileged workers to the international market, they can improve their lives.
But the definition gets trickier: there is a divide in Fair Trade culture over what is most beneficial, between the certifying organizations and between the certified versus uncertified. Between Fair Trade USA and the F.T.F., both include socio-economic standards within their guidelines. But there is one critical difference: one certifies companies, and the other certifies products.
The aforementioned Mr. Ellie Pooh is a member of the F.T.F., the word member being critical. The organization is reluctant to use the term "Fair Trade certified". According to Renee Bowers, executive director of the F.T.F., certification usually refers to individual products. Said Ms. Bowers: "A Fair Trade Federation member only sells Fair Trade products and only works with artisans and farmers in developing countries." Their model is of a membership organization, one where the companies are all 100% committed to Fair Trade. Companies undergo a screening process before they can call themselves members: they must disclose their business plans, financial information, submit references from the workers, and adhere to nine Fair Trade principles. "Certification in the fair trade world usually means an on-site audit of the worksite," said Ms. Bowers. The F.T.F. instead audits the businesses, while the businesses are expected to demonstrate strong long term relationships by being "on the ground, every day, every season, every year."
For Mr. Wald of the aforementioned Mr. Ellie Pooh, it is the certification that makes Fair Trade so powerful. "You have to be transparent. You have to open your books and allow the F.T.F. to go over your funds," he said. His company creates paper from elephant dung in Sri Lanka, and Mr. Wald personally visits the country twice a year to ensure that the fair treatment of the animals is "personally witnessed by [him]."
Fair Trade USA, by contrast, functions through a system of product certification and auditing. By certifying individual products, larger brands can join their ranks by selling a small number of certified products and gradually increasing the number. Recent companies include home retailer West Elm and outdoor clothing company Patagonia. But according to Katie Barrow Schneider, the Senior Manager of Communications for Fair Trade USA, what sets them apart the most from other certifiers is their Community Development Premium. "It's a little bit of extra money on top of every purchase goes directly into the workers' bank account. They can spend it on things that we might not have thought were important," she said. The Community Development Premium is spent after a vote by the workers.
When West Elm and Indian rug manufacturer Raj Overseas created the first-ever Fair Trade rug factory, the workers initially wanted to spend the money to finance a worker's son's wedding. They later decided on health care. Sumeet Nath, the owner and managing partner of Raj Overseas, told the Observer: "Recently the wife of a weaver was treated for an illness under this scheme and the worker was very happy as he did not have to spend money on the treatment. Such facilities are not available in the industry as this is not the industry norm."
This positivity contradicts recent reports claiming that Fair Trade is not so fair at all. The most recent report, summarized in The Economist, was conducted by the School of Oriental and African Studies in London. Surveying UK-based Fair Trade certified workers versus uncertified workers in similar circumstances in Ethiopia and Uganda, the certified workers reportedly made less and had worse working conditions. Take those findings as you will (there was no survey of the American organizations which require in person visits to their sites), but the speculation has lead some companies to forgo certification and place the responsibility for fairness on themselves.
Shoe and accessory maker Fortress of Inca is one of those companies. According to company partner Dory Benami, the organization is wary of fee-charging, self-governing third-party certifiers. Instead, Mr. Benami said, "We do self-auditing of Fair Trade principles. We only work with factories where we can verify that they pay workers a fair wage." During production time, they visit their factories in Peru for four months out of the year. Their location in Peru was chosen because there, they can better monitor the conditions of the workers in their factories compared to other countries. Peru also has strict requirements on working conditions – workers can only work eight hours a day, six days a week, and receive a 35% increase in hourly wage for overnight work.
Think Coffee also became disillusioned with the certification process, but only after being 100% certified. "We started traveling to the coffee farms and learned the Fair Trade certification wasn't what we thought," said Matt Fury, now in charge of farmer relations and sustainable practices for the company. Back then, he was even on the board for the New York City Fair Trade Coalition. Upon traveling to the farms, Mr. Fury was disappointed to find that mostly large co-ops and plantations were certified, and the money was hard to trace back to the farmers. His job now is to buy direct from small coffee farmers, and to monitor the factories while engaging in social betterment projects. Similar to Fair Trade USA's premium, Think Coffee works with their partners to find "culturally acceptable" solutions. The projects range in involvement. In Mexico, workers only wanted accounting help. While in Ethiopia, they helped put 770 girls back in school by providing them with reusable menstrual products. "We only buy coffee from these places if we can have this kind of a relationship," said Mr. Fury.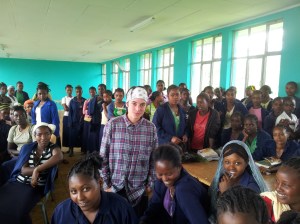 It's easy for businesses to make these claims without backing them up. But Think Coffee is unique in its method taking responsibility its words. The business offers to take anyone who asks with them on trip to their partner coffee farms – Mr. Fury travels to one about every six weeks. "We offer if they buy the plane ticket, we'll pay for everything else," he said.
Transparency is the key element in trusting an organization, certified or not. The certified think the third-party is necessary to keep them honest, the uncertified think they should be honest without an enforcer. Said Mr. Fury, "We're just trying to be responsible to the world around us." The consensus from all is that consumers should be too.