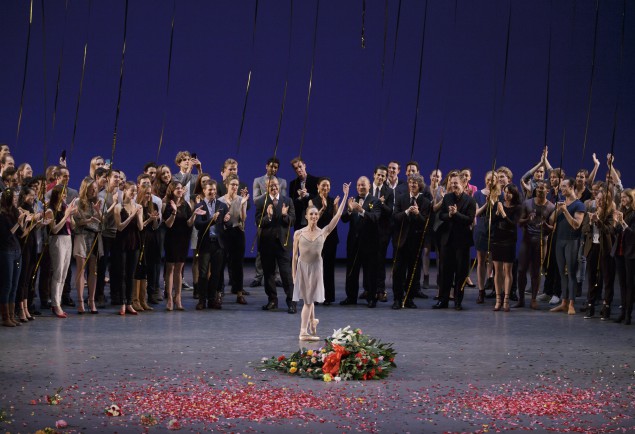 Fall for Dance has come and gone: five programs, 20 dance pieces from 20 companies—and a bunch of exhausted dance critics. Exhausted not from trekking to City Center so many times in two weeks but from seeing so much while being exhilarated by so little. Every year there are highs and lows, of course, and occasionally really happy surprises. This year there were very few highs, too many lows and no surprises at all.
It certainly wasn't a surprise that the finest work we saw was Frederick Ashton's Les Patineurs, his enchanting Victorian skating ballet set to the music of Meyerbeer. I first saw it in the Sadler's Wells production in New York, with Margot Fonteyn as the Girl in White. It was magical then, it's magical now. Sarasota Ballet are Ashton specialists, and seeing them dance Patineurs so devotedly was some compensation to me for having had to miss their Ashton season at home earlier this year.
To get a sense of this lovely ballet, watch the YouTube presentation of an ABT production of the '70s. The color photography is ghastly, but the central performance—of Fernando Bujones as the Boy in Green—is a thrilling reminder of what an exceptional dancer he could be.  Sarasota's Boy in Green, Logan Learned, was hardly on a level with Bujones, or Baryshnikov, who also danced this role spectacularly, but he worked hard and pulled it off. (He would have better if he'd been less relentlessly cute.) The music, unfortunately, was over-amplified. Although Patineurs is a robust ballet, its spirit is delicate.
Easy to identify the finest work, and easy to identify the worst: Benjamin Millepied's Closer, an endless duet to Philip Glass piano music. We owe this piece to the BJM—Les Ballets Jazz de Montréal. Millepied is about to take over the Paris Opéra Ballet, and from the first moments it was clear that Céline Cassone has all the self-love, the look-at-me-isms of the average Opéra ballerina. She's tall, she has hair dyed a hideous crimson and shellacked to a distracting gleam, and she's living proof that the Sylvie Guillem disease (born in Paris) that swept the ballet world in the '80s—the distorting extensions, the aggressive attack—has not vanished from this earth.
It wasn't hard to guess that the biggest audience hit would be Rennie Harris' Students of the Asphalt Jungle. And why not? Eight fantastic hip-hoppers giving their all are a wondrous thing to behold. They dance on their hands, their heads, their bottoms, their elbows, and, oh yes, their feet. They somersault backwards and forwards, they dive, they thrash, they crash—it's a wonderful show. (First among not-quite equals was a young guy named Shafeek Westbrook: a phenomenon.)
There was something a little more slick, a little more formulaic than in earlier Harris extravaganzas, something a little further away from that asphalt jungle, but still this was fun, a quality not in great supply at Fall for Dance. I do wish, though, that Harris wasn't billing himself as Dr. Rennie Harris (he's been given a couple of honorary degrees). Dr. Harris, that is very uncool.
And then we had another uncool phenomenon: Sara Mearns & Company, the "company" being eight chorus boys on hand to hoist her, fling her, parade her, stare adoringly at her, while she pranced and strutted to the Gershwins' Stairway to Paradise—"choreography" by Joshua Bergasse. Mearns has always been an extroverted dancer, but this was tipping extroversion into exhibitionism. Yes, it was meant to be pure retro showbiz, but it wasn't commenting on itself, it was just corny. Or you could say cheesy. Or you could say tacky. It did, however, serve to show off Mearns' redefined body—someone's been working on her, or with her, to shave off the pounds, refine the thighs, improve the carriage. She's clearly pleased with the results, and so was I. I just want to never see this item again.
We had the National Ballet of China's version of the famous Chinese drama The Peony Pavilion, to a mishmash of a Western score—Debussy, Ravel, Respighi, Holst, Prokofiev—with ultra-elaborate (and beautiful) costumes, more swirling red-and-gold brocade than you've seen ever before. There's a young, heroic man who looks as if he stepped out of a propaganda poster—we haven't seen anyone this clean cut since the old Arrow Shirt ads—and the young enigmatic woman he loves. They're torn apart by forces inexplicable to us Westerners, and then united by other forces inexplicable to us Westerners. None of the dancing looks Chinese, or at least my idea of Chinese: the movement vocabulary is ballet pastiche. Are we supposed to take this kind of thing seriously?
There was Black Grace from New Zealand, whose offering, called Minoi, featured seven powerful men in an astounding display of synchronized everything—dance, gesture, sounds, all so polished, so perfect, so professional that it was hard to connect it with its obvious folk origins. They pounded, they clapped, they stomped, to drums and chant—very impressive until you'd had more than enough. And then they did a second piece.
Post-Modern? Yes, first a piece by Lucinda Childs (Concerto), then one by Trisha Brown (Son of Gone Fishin'). Since I missed out on the whole Judson Church experience I have no nostalgia for this kind of thing. In both pieces a number of capable dancers walk and run around, group and regroup, repeat simple gestures, create elaborate patterns that instantly morph into other patterns—it's a wonder they don't lose their bearings and bang into each other. I understand that there are refinements to these simplicities, but I don't know enough to grasp them.
Aakash Odedra is a young, up-and-coming dancer/choreographer from England who gave us an extended solo, Nritta, in the Kathak mode of classical Indian dance. Dressed all in white, he displayed brilliant virtuosity with this work whose most dominant feature is the slapping of bare feet on the stage. The elegance, the timing, were impeccable. It was as if a fine tap dancer were tapping with his entire foot. This was not folk dance but a sample of a sophisticated art form: the real thing, whatever that thing is.
What seemed like the longest piece by far was Far, from Wayne McGregor's Random Dance company. It started with four flaming torches and an anguished duet, then went on, as Wayne McGregor will, to a furious melée of aggression, mostly of men to women. On and on and on they went, battering each other, until one woman died the death and lay alone on the stage as the curtain descended.
What should have been the high point of the season was a Mark Morris world premiere, Words, to a selection of Mendelssohn's Songs Without Words, some of these exquisite piano piece supplemented by violin. There were 16 Morris dancers, ranging from seniors like Michelle Yard and Lauren Grant, to a number of new (to me) faces, but everyone dancing with the spirit and gumption the company is famous for. It's a lighthearted piece, punctuated by the recurrence of two dancers crossing the stage carrying a large rectangular placard from behind which other dancers pop out, then disappear behind—a kind of vaudeville effect. I enjoyed everything that everyone was doing, but for me it didn't add up to a focused statement. Words is designed to be divided up for smaller groups, so that two Mark Morris splinter companies can be touring it around the world at the same time. Clever!
I decided this year to cover only those FFD offerings I could remember, unlike past years when I dragged you (and myself) through every single piece. Blame exhaustion.
The big event closing the City Ballet season was the "Farewell to Wendy Whelan" extravaganza—le tout dance world was on hand to celebrate her 30 years with the company. Not many ballerinas can match that record: Allegra Kent, Patricia McBride, Merrill Ashley, Kyra Nichols. And don't think longevity isn't a virtue: it's a sign of large ability and large ambition, and it makes audiences feel at home.
Whelan's career is the hinge between eras: she arrived just after Balanchine's death but before Peter Martins' reign had really taken hold. She's been there year in, year out—at first something of an oddball, with her singular body and super-thin limbs. What was she? Never really a Balanchine dancer, although she tried her hardest—I remember how two years after her disastrous first assumption of the ballerina role in Tchaikovsky Piano Concerto No. 2 (Ballet Imperial), she found a convincing way to perform it. That took guts, fiendishly hard work and intelligence.
Her great good fortune (and ours) is that the company's two most talented post-Balanchine/Robbins choreographers, Christopher Wheeldon and Alexander Ratmansky, were inspired by her unique particularities and gave her a formidable repertory in which she looked better than anyone else ever will.
Wheeldon, especially in Polyphonia and Morphoses, deployed her formidable strength, elasticity and daring to immense effect, really identifying her for us for the first time half-way through her career. Ratmansky found a spiritual, lyrical quality in her that again changed the way we thought about her. (He's featured her in all four of the works he's created for City Ballet.) As other dancers burned out or faded away, she took responsibility for giving the company an image audiences could hang on to and celebrate.
Her gala opened with what was an unimpressive performance of Balanchine's wonderful story ballet, La Sonnambula. Whelan, pale and intense, gamely bourréed around the stage (her bourrée had been one of her glories), but she couldn't undo the damage done by others.
The excerpt from Dances at a Gathering was more satisfying, Whelan even taking some big chances in the climactic three-couple waltz. And she looked as good as ever in the famous duet, After the Rain, that Wheeldon made for her. But she was at her finest—her most luminous and moving—soaring in the grand duet in Ratmansky's Concerto DSCH. What a wonderful ballet, and what a superb thing Whelan made of it. A final little pièce d'occasion by Wheeldon and Ratmansky, By 2 With & From, added nothing to the evening except a sweet nostalgia. But with the Ratmansky in our mind's eye, we could say goodbye to this admirable dancer with respect and affection.
Earlier in the season, Ratmansky gave us a big new piece, Pictures at an Exhibition, to Mussorgsky's famous piano score. It's for 10 dancers, in bright costumes, in front of a series of constantly changing Kandinsky-inspired shapes projected against the back curtain. There's a ravishing duet for Whelan and her superb partner Tyler Angle—her debt to him is enormous—and solo and group outbursts for Mearns, Tiler Peck, Abi Stafford, Gretchen Smith, Adrian Danchig-Waring, Gonzalo Garcia, Amar Ramasar and Joseph Gordon.
Since we're at an "Exhibition," each dance episode seems new and fresh, motored by the "Picture" Ratmansky is reacting to. (Not literally; we don't see them.) He never runs out of steam—the ballet just keeps building. What will happen next? It's revelation after revelation, none more revealing—and poignant—than when he has Whelan kneel down and touch the ground, in homage to the famous moment when the boy in brown does the same thing in Dances at a Gathering. It confirms the links between Wendy Whelan, the very Russian Ratmansky, and the history of our cherished New York City Ballet.