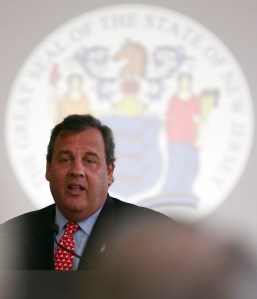 Governor Chris Christie's job approval has dropped to 41 percent, with 47 percent now disapproving, the worst ratings since March in the wake of Bridgegate, according to this morning's Fairleigh Dickinson University poll.
These numbers are flip-flopped from September, when 46 percent favored and 40 percent disapproved of his leadership.
"The governor faces what many second term incumbents face — voter fatigue," said Krista Jenkins, director of the poll and professor of political science at Fairleigh Dickinson University. "But when it comes to Governor Christie, his political ambitions make any drop in his approval fodder for his critics. They'd prefer to see his post-governor years end in political retirement, rather than continue on a national stage."
Christie Job Approval: Second Term
The
poll
finds that Christie continues to polarize more than unify registered voters. In a question that asks what people like and dislike about the governor, about equal numbers say they like everything (32%) about him as dislike everything (35%) about him. In the heady days for Christie in the post-Sandy era, when most were impressed with his leadership regardless of their party leanings, sizably more liked everything (48%) than disliked everything (17%). Since the Bridgegate allegations broke, those numbers have found more equilibrium, which is where they largely remain today.
"Governors and presidents are unique in that they're among the few, or in the case of the president, the only, elected official with a statewide or national constituency. Unity is therefore a good trait to demonstrate to prospective voters. The governor would no doubt much rather have numbers on this question from before Bridgegate than after," said Jenkins. "That said, with a preponderance of Democrats in the state, the fact that he's still pulling in a third of voters who like everything about him is a fairly respectable showing."
Likes and Dislikes about Christie – Trend
Finally, voter confidence in the health of the state continues to drop. In September, right direction/wrong track numbers were also upside down. Forty percent of respondents were optimistic and 44 percent said the state was headed down the wrong track. Those lines now diverge even more, with 37 percent optimistic and almost half concerned (49%).
"Continual downgrades in the state's bond ratings, concern over the inability of elected officials to work together to solve big problems like the growing pension fund shortfall, roads and bridges in disrepair — the list goes on. People are clearly looking around and not liking what they see," said Jenkins.
Fairleigh Dickinson University conducted the poll of 1107 registered New Jersey voters by telephone with both landline and cell phones from October 13 through October 19. The poll has a margin of error of +/-2.9 percentage points.