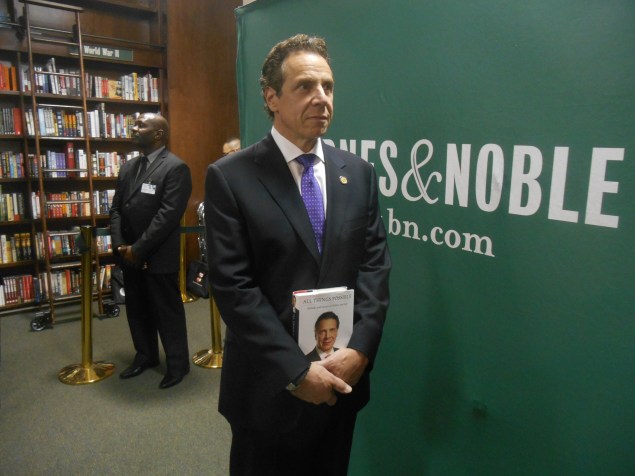 The enthusiasm was curbed.
Despite a turnout of more than a hundred people, few waiting in line for Gov. Andrew Cuomo's book signing in Manhattan tonight appeared overwhelmingly excited about meeting the Democratic governor. Dozens of irate anti-fracking activists crowded the sidewalk outside the Barnes and Noble in Union Square and those inside either didn't want to speak to reporters or were in line to deliver some kind of rebuke to Mr. Cuomo, who released a memoir weeks before Election Day.
"You want to keep letting him know what issues are important to people," said Barbara Zellner, an HIV doctor from Hamilton Heights, Manhattan. Ms. Zellner, along with a friend, held up Mr. Cuomo's memoir–titled "All Things Possible: Setbacks and Success in Politics and Life"–with a "Ban Fracking Now" sticker slapped on the jacket.
"I admire the work he's done with the stop AIDS campaign, but he hasn't done any clemency for prisoners since he became governor," she added, explaining another reason why she wasn't pleased with Mr. Cuomo.
Six people in both the VIP and non-VIP lines inside the store refused to speak with the Observer. "We're not the people you want to talk to," two young men in suits clutching books said.
Ron Verni, a tour guide from Brooklyn, was at the book signing because he said he collected politician's signatures.
"I have a presidential library at home," Mr. Verni said. "I met Andrew Cuomo years ago, around 1990. He was just starting out–he was wearing a guinea t-shirt underneath his dress shirt."
Allen Roskoff, the president of the Chelsea-based Jim Owles Liberal Democratic Club, was also in line to apparently antagonize the governor. The liberal activist, whose club recently snubbed Mr. Cuomo for his Green Party opponent Howie Hawkins, also fumed about Mr. Cuomo's lack of clemency granted to prisoners since he was elected.
"He's heartless," Mr. Roskoff said.
Even when Mr. Cuomo drew praise, it was likely not the kind he was hunting for when he penned his memoir, a personal tale of his relationship with his father, his political rise and his messy divorce from Kerry Kennedy.
"He was on David Letterman last night. That's pretty cool. He must be doing something right," said actress Nadja Pionilla, referring to Mr. Cuomo's recent David Letterman Show appearance. She claimed that she had thoroughly enjoyed the governor's book.
"It was like fiction, sort of, like a novel," she said. "It was informative."
A few pols, like Congressman Joseph Crowley, the chair of the Democratic Party in Mr. Cuomo's home borough of Queens, and ex-Queens Councilman James Gennaro showed up to see Mr. Cuomo. Once Mr. Cuomo started signing books, reporters craning from a roped off section to hear Mr. Cuomo's comments caught mostly friendly exchanges–representatives from Barnes and Noble only permitted reporters and cameramen to witness Mr. Cuomo's interactions with VIP attendees, hustling many of them out long before Cuomo antagonists could confront him on stage.
(After the book signing, a representative from HarperCollins, Mr. Cuomo's publisher, emailed the Observer to argue that "enthusiasm" at the event was high as "countless students, small business owners, and others wait[ed] in line until 9pm until we wrapped up.")
Mr. Cuomo delivered brief remarks, telling the audience that writing the book was the "hardest project" of his life. "It sounds easy, to sit down and write a book," he said.
Channeling the cadence of a self-help speaker, Mr. Cuomo explained that setbacks like his 2002 gubernatorial defeat and his divorce were all emblematic of losses that winners like himself must endure.
"The truth is, you're going to lose more than you win and winners are those that overcome loss," he said.
Outside in the rain, affection for Mr. Cuomo was in short supply.
"Who's there tonight?" one man, surveying the police and media presence, asked a reporter.
"Governor Andrew Cuomo," the reporter told him.
The man shook his head angrily and walked away.
Updated with comment from HarperCollins