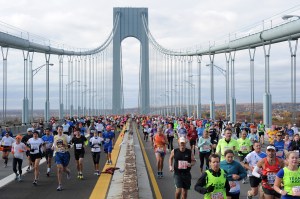 Earlier this week the Wall Street Journal  reported that this year's New York City Marathon will have drastically fewer charity runners than in previous years. The number of charity partners has been cut, and each of this year's partners are buying fewer slots for runners, lowering their fundraising goals.
Hurricane Sandy caused officials to cancel the 2012 New York City Marathon, but runners who'd fundraised on behalf of a charity partner were admitted into the 2013 race automatically, without the standard $3,000 fundraising requirement.
In turn, this actually forced charity programs to scale back their 2013 pledge numbers and many were stuck with empty slots for the race.
Chris Weiller, vice president of Media and Public Relations for New York Road Runners (the nonprofit that hosts the marathon), told the Observer that approximately 7,000 runners in this year's marathon have gained entry by pledging to fundraise for a charity.
According to the Journal, this is "several hundred fewer than in pre-Sandy years."
The NYRR has also cut the number of charities listed as partners by 30–from 320 down to 290.
But according to Mr. Weiller, "that is not quite what has happened."
"We did not add new charity partners. The partners from 2013 were allowed to come back. A handful of partners left the program because of infrastructure that cannot support charity runners," he said, implying that while the NYRR did not actively reduce the number, it also didn't fill empty slots.
"Last year was challenging for the charity partners, and we were included in those challenges," Liza Munson, senior vice president of campaign development for the Leukemia and Lymphoma Society's Team in Training, told a reporter for the Journal. Last year they failed to sell almost 150 entries that the charity bought, while this year Team in Training bought 200 fewer slots.
Alicia O'Neill, director of Endurance Events for the Multiple Myeloma Research Foundation, told the Wall Street Journal that the marathon is not as profitable as it used to be. "We have to be smarter," she said. The charity cut their runner's slots dramatically this year, and invested to become the exclusive charity partner of the Ironman Lake Placid triathlon–which yielded $865,000. Almost double the goal for MMRF's New York City Marathon runners.
Yet despite these cuts, many charities have reached their goal for the year. Team for Kids, the NYRR charity that supports fitness programs, actually increased their charity runners allotment by more than 200.
Mr. Weiller commented on the increase in their own charity slots, stating, "What we don't want to do is flood the market with charity running slots in the marathon. That is counterproductive for the thousands of charity runners and partners. There is a sweet spot and we are always trying to find that sweet spot. We are comfortable and confidant that we will surpass the total fundraising goal from last year–which was 25 million dollars."
As charities are floundering to fill their fundraising quota, runners who gained entry to the November 2 race have been encouraged to support a charity group of their choice to keep the marathon worthwhile for the benevolent non-profit groups.
A list of charity partners can be found on the New York City Marathon's website.