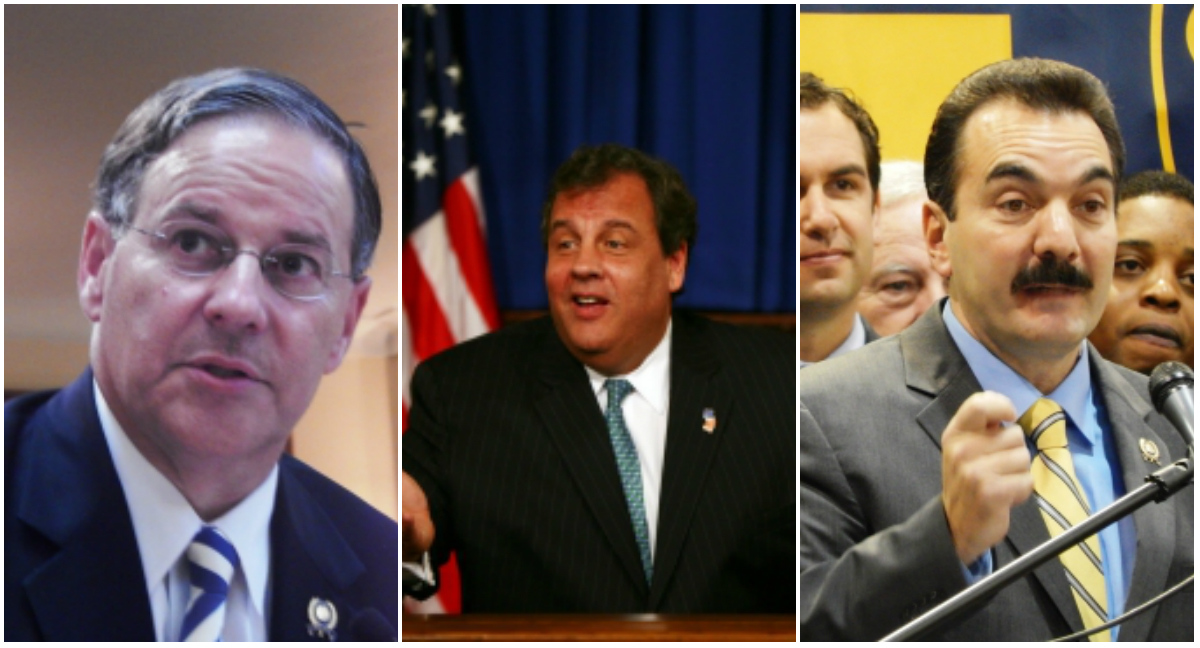 One stood dressed in formal evening wear, clutching a glass of some nondescript liquor in one hand and bemoaning Gov. Chris Christie's chokehold on Republicans in the Assembly's lower house and its ability to stunt bi-partisan legislation. The other was in casual wear, still picking the straw out of his back pockets following an afternoon hayride and granting that there were "some mistakes, some missteps," but maintaing the he couldn't "see why anyone would get mad" over using prudence when it comes to the legislative process.
Regardless of the circumstances, both Assembly Speaker Vinnie Prieto and Assembly Minority Leader Jon Bramnick were forced to wonder aloud when asked by PolitickerNJ this week about what happened during Monday's spirited Assembly meeting, when Democrats — and a few rebellious Republicans — failed to override a veto from the governor's office on a debt affordability analysis bill that many had considered uncontroversial … until it wasn't.
The verdict? It's complicated.
The Background
Proposed earlier this year with sponsors on both sides of the aisle, A961 would have required the state to issue 10-year projections on the affordability of its obligations along with its annual debt report. According to the bill, the goal was to "enable a more fully informed fiscal policy discussion on the State's long-term debt portfolio to ensure sufficient financial capacity for essential capital projects," particularly in light of its current financial predicament, which includes the question of how to handle the $90 billion worth of debt for the state's pensions and benefits system and approximately $40 billion debt for other outstanding funding. The bill passed both the Senate and Assembly with unanimous support in both Houses — but was later vetoed by the Christie, who argued in his veto message that "to produce a speculative report that would be of little value in making future debt determinations, but may adversely and erroneously affect the State's bond rating."
Republicans and Democrats fought over an override of that veto Monday, with most Republicans, lead by Bramnick, lining up behind Christie's directive and Democrats, lead by Prieto and Assembly Majority Leader Lou Greenwald, scurrying to peel away the necessary number of caucus members from across the aisle to support the measure. The issue was complicated, moreover, by a note handed down from the front office to the body warning it that the original bill might violate certain mandates set by the Securities and Exchange Commission, which, according to Christie's office, asserts that it is inappropriate for the state to issue a debt affordability analysis while also being the issuer of debt. Democrats — and the three Republicans that joined them — were livid, mainly because Christie had left no such warning in his original veto message of the bill.
What's At Stake
Greater transparency when it comes to dealing with the state's financing and debt load. Command of the legislature's lower house. Assembly Republicans' independence from Gov. Chris Christie and the front office, which has been routinely questioned by Democrats who see the two as too-comfortable bedfellows. Bragging rights. It depends how you look at it.
One politically intriguing thing that the issue does shine a light on is Christie's clout when it comes to influencing legislation in the legislature's lower house, especially among the Assembly Republicans' caucus, which has been seemingly unable to stand against the executive even on legislation a majority of their party supports. Since Christie took office in 2010, the legislature has tried to override 57 vetoes from his office, failing each time to do so.
In this case, there were a few Republicans — Assemblymen John DiMaio, Erik Peterson and Jay Webber — who joined Democrats in standing against Christie on the bill. Notably among them was Webber, a co-sponsor of the legislation, who told Prieto on the floor of the Assembly Monday that "I am standing with you and against my governor and against my party." He told PolitickerNJ two nights ago at a fundraiser in Whippany that it was a difficult choice to make, but that "sometimes you need to stand by your principles."
"I think the governor understands that sometimes that's necessary," Webber said, adding that the two "have a good relationship."
Sparring At A Distance
PolitickerNJ managed to catch up with both Prieto and Bramnick following Monday's battle, asking what lead to the failed override, how the issue was resolved, and what plans, if any, they have for revisiting the legislation. Both leaders expressed some confusion over the whole thing.
"Nobody contacted me, nobody contacted us, you know, up to the point," Prieto, who was a co-sponsor of A961, said. "This was the first step of a veto override. If there was issues, we could have brought them up in the Senate and taken care of them there. But like I said, I don't know if there was any legal issues, I think [passing this bill] was the right thing to do, and we had bipartisan support — but just like every other bill that we have normally tried to override, once the administration says no, they fall in line and we can't get there."
Prieto argued that any problems with legislation could have been dealt with in the Senate, where responsibility of producing the affordability analysis, if it was a problem for the front office, could have been shifted to the Office of Legislative Services or a similar party. He also expressed frustration that the Assembly wasn't notified about the issue earlier — a feeling that was echoed on the floor Monday by the bill's primary sponsor, Assemblyman Troy Singleton, and Greenwald, who complained about Christie's "continual lack of respect to us…a co-equal branch of government."
"Listen, I give him the benefit of the doubt that he was told that, I think he's a straight shooter, so I'll give him the benefit of the doubt," Prieto said of Bramnick, who was the most vocal of Republicans in defending Christie's veto and warnings and pushed to postpone the vote. "But I don't see that as a problem. There's 11 other states that do this. I'm kind of suspect to hear that now given that we hadn't heard it all along. That call could've came to us."
Bramnick, for his part, maintained that he had no knowledge of the Treasury's warning that the bill could cause legal problems, nor could he speak to why the governor h
adn't included it in his original veto message. But he said the SEC mandates that "material in a 10-year prediction be objective" — something he, as well as Christie, argued would be "absolutely impossible" to do given the period of time and the state's constantly changing debt load.
"The administration, until the bill got to the desk of the governor, they apparently did not see this serious problem — that the issuer of debt, issuing a report that would be deemed to be material representations as to the risks on the debt," Bramnick said. "So I was told by the treasurer and people who work for the treasurer and counsel for the governor, that there is no state that issues a report, as part of the state debt report, that can be relied on by the public and investors."
It was nothing personal on Prieto or Greenwald, Bramnick said ("nothing's personal unless you talk about my wife," he joked), and apologized to the majority leader who he said was "mad" about the whole thing. But he did scoff at Prieto's suggestion that the kinks in the bill could have been ironed out in the Senate or elsewhere.
"They're screaming and yelling, but there were two mistakes," Bramnick said. "One, it should have been known earlier, and the second mistake was I think the treasurer and others probably should've contacted the sponsor as well as the speaker. I was under the impression they had been asked, but I figure I'm normally the last one to know, and they didn't. So there were mistakes made, missteps, but I can't see why people get mad. I did not believe it was intentional."
"I am going to vote for something that I've been told is a risky, litigation possibility for the state? Once you learn, regardless of how you learn of the mistake, or the risk … I mean, come on. I can't vote for that, I abstain," he added.
The Verdict
Prieto said he will return to Singleton, the bill's sponsor, to "arm ourselves with the facts to see if what [Republicans] were saying was factual or not," and see whether the two will propose a similar bill or leave it alone. Bramnick offered less in the way of a next step, saying "it's a great idea, it's a great bill, but you have to get OLS or some other entity to issue this 10 year report." What is clear is that if anyone lost a battle this week, it might have been the legislature as a whole, forced to forfeit — once again — a bill that had the full support of both parties and houses to the whims of Christie and the front office.