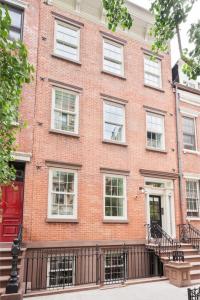 For many these days, the purchase of a townhouse in Park Slope represents the realization of aspiration,  rather than the budget-conscious compromise it once was—a tacit admission that Manhattan is just too pricey. But for others—belonging to a smaller group—a 3,600 square-foot place in one of Brooklyn's most rarefied neighborhoods is no more than a starter home, even if said starter home once featured prominently in a film wildly popular with the residents of Brooklyn's most rarefied neighborhoods. Marius Meland, the owner of Portfolio Media and founder of the legal news service Law360, it seems, belongs to the latter contingent.
Mr. Meland, who bought a Park Slope townhouse that appeared in Noah Baumbach's The Squid and the Whale in 2012 for $3.45 million has, together with one Eng Kian Ooi, just grabbed up yet another townhouse across the bridge at 112 Washington Place for $11 million, according to city records. Christopher Riccio and Matthew Pravda, of Leslie J. Garfield, had the listing.
Built in the early 1830s for a moneyed corporate type, the home retains a handsome red brick exterior, though beyond a wood burning fireplace, the interiors appear to have been renovated in highly-modern fashion, leaving them closer in character to today's ground-up luxury condos than single-family mansions of old. That's not necessarily a bad thing, of course—the sellers, WP 112 LLC, bought the fully-renovated product in March for $8.85 million and turned it right round for a sizable profit.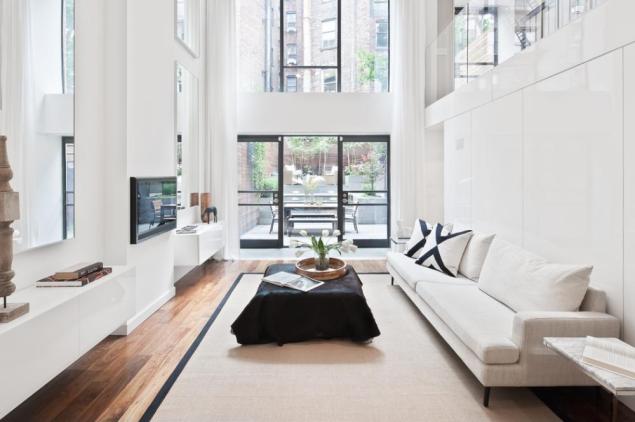 It's not difficult to see what attracted the new owners' interest, old world charm or not. The home is 20 feet wide, with a rear garden, finished basement and an irrigated roof deck of Ipe wood featuring evergreen boxwoods and vibrant seasonal plantings. Living spaces are sleek and high-ceilinged, with large windows and generous intakes of light. A great deal of glass and other expensive shiny surfaces bolster the place's 21st-century stylings, as do extras like a media room and rain shower. One of the four bedrooms even has a chalkboard wall, on which the sellers appear to have memorialized a quotation from Green Eggs and Ham.
Likely, Mr. Meland will update that particular accent, though we might suggest that Dr. Seuss remains au courant, quite irrespective of borough or age.