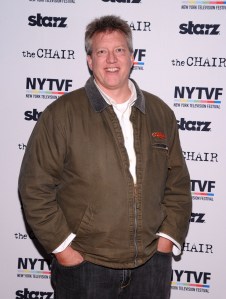 "TV is where, creatively, storytelling is happening, right now," TV and film producer Chris Moore told me, quite boisterously, at the New York Television Festival's event for The Chair on STARZ, for which he serves as executive producer. And Mr. Moore has a track record over the years for having an eye for popular creative storytelling. He was a co-producer on Good Will Hunting. He also joined up with Good Will stars Matt Damon and Ben Affleck to executive-produce the revolutionary filmmaking series, Project Greenlight. He even  produced all four American Pie movies (The real ones. Not, like, Beta House.)
And it's true that he sees the real progressive narratives making their way to the small screen, where creators have the freedom to flesh out stories not over hours but weeks, months and years. Mr. Moore, with his producer's eye, has also seen some missed oppotunities. Like, of all things, the much-talked-about, much-much-written-about David Fincher movie Gone Girl, based on the novel by Gillian Flynn.
"I saw Gone Girl, a lot of people saw Gone Girl, I think Gone Girl is like a six episode, maybe ten episode television show," Mr. Moore told me. "It would've been a shit load better! There are a ton of decisions that get made in that movie. Like what [Rosamund Pike's Amy Dunne] is thinking when she kills that guy, what [Ben Affleck's Nick Dunne] is thinking when he decides to stay with her — that's a give away if you havent' seen it yet – that to me, I would've liked a lot better if I got to see all that play out. To show that even in two and a half hours is hard."
As we hold our breath for "Gone Girl, coming to CBS this Fall," Mr. Moore is working on The Chair, which i made the mistake of calling a reality show while talking to another Chair producer, Zachary Quinto. Mr. Moore was beyond happy to join in on the reality v. documentary debate.
"The Oxford English dictionary would have a very different definition [of reality]," Mr. Moore laughed. "This whole idea of reality television has become a genre where I think the average viewer would admit that there is probably some writing, production and manipulation happening behind the scenes to try and get these people to do the crazy shit they seem to be doing. For me, we're trying to keep this arbitrary line, this is a documentary, we let it happen the way it was going to happen. I'm really not 100% sure the Real Housewives of Beverly Hills is full documentary."
Of course, an unscripted realit…documentary series fixated on anyone making films is going to draw comparisons to the original Project Greenlight. Greenlight's last season was in 2005 but Mr. Affleck and Mr. Damon recently announced they were bringing the show back for a fourth season. Yet Mr. Moore embraces the comparisons, despite "not knowing anything" about the new incarnation of Greenlight.
"I love Project Greenlight. It was a big part of my life, and I'm glad Matt and Ben are bringing it back," Mr. Moore said. "And no, I didn't expect there not to be comparisons. I mean it says, from one of the guys that did Project Greenlight. Probably on that sign over there."
Mr. Moore pointed to a giant The Chair sign, emblazoned with the words From the Producer of Project Greenlight. "Oh yeah, there it is. So I wasn't exactly trying to hide it. And I definitely think there's room for both."