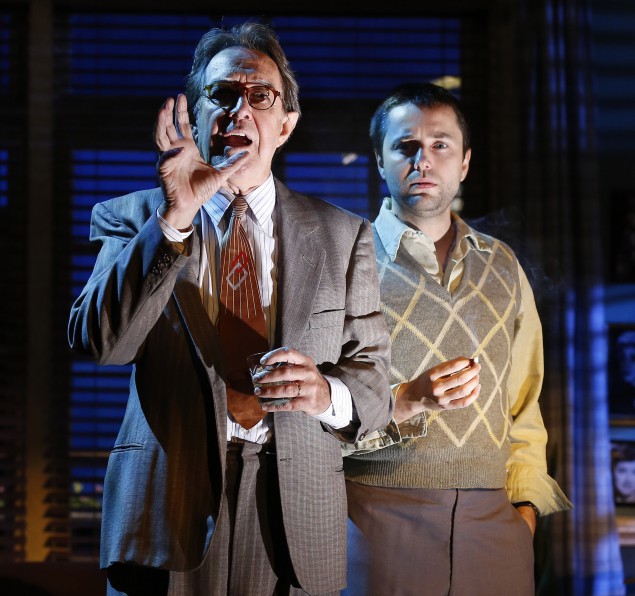 Theirs was a marriage made in Hollywood (meaning it wasn't made to last). Indeed, the volatile, walkout-ridden teamwork of Billy Wilder and Raymond Chandler barely made it through one film. But that one film was a gem, and it kicked off a genre no one had a name for until years later when Cahiers du Cinema christened it film noir.
"Some people have a mistaken idea about film noir, that it's detective movies," playwright Mike Bencivenga told a talkback audience last week after a performance of his Billy & Ray. "What was different about film noir—and what made Double Indemnity a [noir] film—was that the hero and the heroine of this picture commit adultery and decide they'll bump off the husband for money. That was what was shocking and startling to people. It really had never been done. Instead of making them a drooling psychopath and a gang moll, it could be the nice insurance guy and that lady who lives down the road. There were some films before it, but this is the one that had it all."
And "that's one of the reasons that I took this job," injected the gentleman beside him, Garry Marshall, the creator of sunshine-y sitcoms like Happy Days who now finds himself directing this play, which opens October 20 at the Vineyard. "If you know my work, you know that I do more film blanc than film noir."
But then, this chaotic saga about the making, unmaking and remaking of Double Indemnity has equal measures of comedy and drama, given the combative two-of-a-kind title characters. In one corner is the kinetic Wilder, a womanizer who fuels his razor-wit with martinis; he's played here by Vincent Kartheiser, perhaps the oiliest of the ad men in Mad Men, ambitious, magnetic creep Pete Campbell.
The other, the buttoned-down, pipe-smoking, professorial Chandler, played by Obie winner Larry Pine, starts out a teetotaler and backslides swiftly from stress into secret nips and, eventually, violent benders.
Truth to tell, Wilder had only himself to blame for this artistic misalliance. Double Indemnity was a particularly rude interruption to one of the longest winning streaks ever enjoyed by a screenwriting team—Wilder's with Charles Brackett: 12 years and 13 films, from Bluebeard's Eighth Wife to Sunset Boulevard.
Their great divider was Double Indemnity, James M. Cain's quite frontal novella about an insurance salesman seduced by a sultry client with a gold anklet into murdering her husband for the policy he's peddling. Wilder saw the chance of raising Cain to high movie art, but Brackett balked, dug in his heels and refused to go there. Colorful words were exchanged, and a flying ashtray wound up in their office wall. Quickly, hands all over Hollywood flew up to take his place. Wilder held out for a pulp-fiction professional.
With Cain busy, Wilder went with the next best thing: the creator of Philip Marlowe. Financially strapped, Chandler haughtily announced he'd do the screenplay in 10 days for $1,000 if he could have a script to use as a template. Only one line survived the first draft ("I never thought murder could smell like honeysuckle"). Wilder dismissed the rest with an expletive, hired him for $750 a week for as long as it took, and they got down to war.
"These guys were oil and water—they always were—but they managed to get through it," said the Chandler of the occasion, Mr. Pine, who won his Obie playing Walt Disney and was last seen as a judge in Casa Valentina (a day in Hollywood / a night in the Catskills). "Chandler didn't know anything about movies. He was an outsider. When you see him sitting at the typewriter typing away at a mystery, that's when he's in heaven. Screenwriting was totally a different thing to him. He says at one point, 'I don't consider that writing.'
"He had a terribly dark side because of his alcoholism. Plus, he'd been wounded in World War I and suffered from what they now call 'post-traumatic stress disorder.' A bomb went off in the trenches close to his ears so he was sensitive to loud noise."
Despite (possibly, because of) the pre-production agro, Double Indemnity emerged a hard-edged masterpiece, with Fred MacMurray and Barbara Stanwyck as the deadly, sexy duo and Edward G. Robinson as the claims-adjuster Javert in lukewarm pursuit.
Cain went on record as preferring the Wilder ending over his own, which had the couple committing suicide. In the film version that was in wide release, they shoot it out. But a preview audience saw the original ending, which had MacMurray going to the gas chamber while best-friend Robinson grimly watched. It didn't sit well with Wilder because, according to playwright Mr. Bencivenga, the director had family in Europe and gas-execution rumors had reached these shores. Instead, Wilder ended the film with MacMurray dying in Robinson's arms.
In 2007, the American Film Institute ranked Double Indemnity No. 29 among The Greatest Movies of All Time. In 1944, it lost the Oscars for Best Picture, Best Director and Best Screenplay to Going My Way. On Leo McCarey's third trip to the Oscar podium, Wilder tripped him. The following year, he really tripped him, winning in all three of those categories over McCarey's The Bells of St. Mary's with a film that had been inspired by Raymond Chandler: The Lost Weekend.