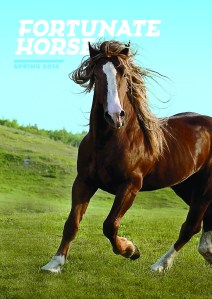 "Horses. Horses are the perfect expression of the human will to trot over everything—to be tall," Lane St. Saint, editor-in-chief of Fortunate Horse, told the Observer. "Horses are an expression of wealth but also humility, 'cause a horse is beautiful but a horse cannot speak. A horse is always quiet, and in that sense I think the horse represents the best and brightest of us."
"There's no other animal that I think calls from within me such hope, such passion, excitement as the horse," she continues. "But I do have some serious questions for parrots."
Ms. St. Saint, born and raised in Westchester, began her magazine in a fit of adolescent rebellion. Now, she's 48 (and has been for a while), engaged and heads a successful publication with a readership the size of her hometown in the '70s. Both her nephews, in lieu of Naval service, keep it running, day in, day out. The comp StableBoy™ used to do the dirty work at her ranch/office, but alas, he didn't come with directions and she forgot to feed him. May he rest in peace.
Though Ms. St. Saint doesn't have a horse herself, she has touched one before, and she loves "to feel the thrum of such an incredible life in a beast that's taller than you but also its eyes are larger than your eyes."
Ms. St. Saint is a Brony's dream girl. When we got together, she wore a high-collared, jewel tone synthetic blouse with a delicate horse-hoof pant. "Horse prints—horse prints. Horse prints. Horse prints," she says of her style.
Unfortunately, she hasn't been able to attract much attention from horse fashion's bigwigs.
"You know, I have been chasing those assholes at Ralph Lauren for 10 years," she sighs.
* * *
Are you following this? If so, you're likely Taylor Moore's target audience. A few weeks ago, when we sat down for a chat, he spontaneously created the character of Lane St. Saint, just so we could interface with a representative from the fictional publication that he and 12 comedy compatriots made in his apartment earlier this year.
"The writers and the designers were told in the morning what the name of the magazine was, and that we had to finish it by the end of the day," Mr. Moore said.
He met the other mostly-established humorists while performing at Upright Citizens Brigade. After the faux magazine went into print, he and his colleagues strategically slipped copies where they might catch hold of wandering attention spans. Dentists' offices, doctors' waiting rooms, newsstands—Fortunate Horse conquered NYC one reader at a time. The parody was especially popular at Pratt, where the institute's librarians tweeted it out as a new favorite.
"What I fantasize about is people finding this in the wild and thinking it's real, and, just for a moment, the world becomes this insane, surreal place," Mr. Moore said.
Given that Fortunate Horse's ads include one for slave stable boys, it seems impossible that anyone could believe the absurdity that lies within its pages. But some do. When Mr. Moore works at the front desk at Kickstarter, he watches as visitors thumb through his pride and joy.
"They must have been reading for like a paragraph at least," he said. "And then they will quietly and calmly put the magazine down and get up and go about their business."
Mr. Moore was partially inspired by satirist Kurt Braunohler, who also turns things topsy-turvy as he distorts reality. Once Mr. Moore thought up the founding concept for Fortunate Horse, the content came naturally.
"It's very easy to look at magazines and think, 'Oh, this is ridiculous,' and then you get plenty of ideas," he said.
Parade was an especially helpful research tool.
Sadly, Fortunate Horse's Spring 2014 issue will be the only one known to human—and horse—kind. But never fret, there's more to come from Mr. Moore's laugh-out-loud imagination. His team is planning to get back together soon, and who knows what their next topic will be?
"McSweeney's for the burlesque crowd," Mr. Moore joked, eager for the next brainstorming sesh.