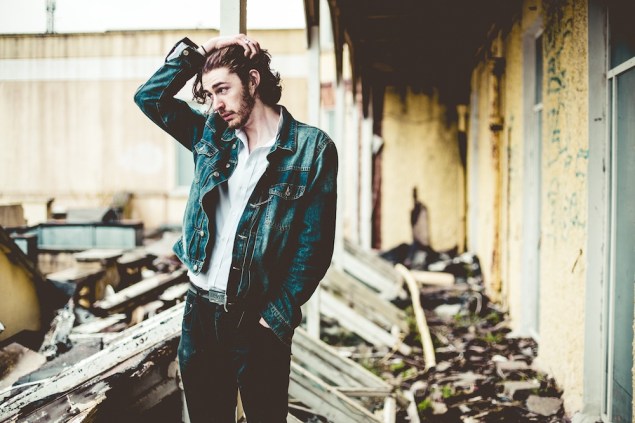 Fresh off a flight from London, 24-year-old Hozier (real name Andrew Hozier-Byrne) just arrived in Nashville for the start of what will be a six-week tour. "I haven't really had a chance to see the American South yet, I'm looking forward to checking out more," he says while finally resting in his hotel room. "Right now I'm kind of in the midst of a fogged and jet-laggy state." For Hozier, his hectic travel schedule isn't the only thing that's disorienting.
Since it was posted online as a free track last year, his smash hit single, "Take Me To Church," has been a breakout success around the world, first in his native Ireland and then throughout Europe, and finally here in the States where it's become a Top 10 alternative hit and has earned the young singer-songwriter raves. "I never thought it would take off because it doesn't sound like a radio hit," he says of the track he wrote and recorded in the attic of his house in Bray, County Wicklow, Ireland (about an hour south of Dublin). "I did not foresee it becoming successful at all, so I'm very fortunate that people just connected with the song. It was very, very shocking [when it became a hit]. My first time playing in America and seeing that the crowd knew the song and knew the lyrics was quite a rewarding experience. I'm still getting e-mails now saying that it's being played on radio stations in Atlanta and all around America; places I have never been to."
For a perceived overnight success, Hozier's sudden music stardom is anything but. Interested in the craft throughout his high school years, it was while attending Dublin's Trinity College he was performing a Bee Gees cover at a student concert when a rep from Universal Music Ireland was in the audience and promptly signed him. (Says Hozier, humbly looking back: "He just liked my voice, I suppose.") From there, the 18-year-old was faced with a choice: drop out of school and pursue music or take the safe route and continue on with his studies. "My parent's idea of success was academic success, and that's how I was brought up- to achieve academically. There was a risk and they were worried, and we had these conversations about dropping out which were difficult." However, when Hozier skipped out on his first year exams to record some demos for Universal, it sealed his fate and he left Trinity shortly thereafter.
---

"Everyone has to pursue the life they feel they need to live and I was lucky to be in a position to have the space and time to figure that out for myself."


---
"If I didn't try, whether it took me five or 10 years, the cost of not doing it was far too great. I couldn't be 10 years down the line with a successful job and college education and still live with asking myself, 'What if?,' " he remembers. (His parents eventually supported his decision and they remain close.) "Afterwards, I was lucky enough to get a publishing deal to help me keep going, but there wasn't a lot going on, so it was a quite disheartening time in many ways, too. A slow, quiet time."
The silence of Hozier's struggle was broken in a big way when, two years later, he wrote and recorded "Take Me To Church" in that aforementioned attic in the seaside community of Bray. The song, which was written after he broke up with his first girlfriend, immediately resonated with listeners; not only for its sound, but also for its jarring music video, which focuses on the homophobic backlash to a same-sex relationship. The track rocketed to the top of the Irish Singles Charts exactly one year ago this month, and since then has brought Hozier worldwide acclaim and countless career highlights. "Playing the Newport Folk Festival was one of my happiest and biggest moments so far," he explains. "I spent a huge amount of time as a teenager watching all the footage that I could of the festival, so it was a bit of hallowed ground for me."
Along the way, he's even earned some celebrity fans, too (both Adele and Taylor Swift have attended recent shows) and even a coveted spot as the musical guest on Saturday Night Live this weekend—the pop culture importance of which isn't lost on him. "The show makes its way over to Ireland, so I'm equal parts excited and freaked out and those equal parts change all the time," he notes. "I'm a big Bill Hader fan and my brother is flying to New York to see the show, too. We're both looking forward to it." Oddly enough, it was the Blues Brothers movie that got Hozier into music in the first place. "That film was a big part of my education growing up," he says. "I used to watch it again and again like it was a Disney film."
With the American release of his eponymous debut album this week and singles on top of the charts, the young singer-songwriter is thanking his lucky stars concerning that fateful decision to ditch school. "I knew it was going to be painful and it was a tough couple years, but I said to my parents that I didn't care how long it took me," he explains while on his way to rehearsal for his tour. "Everyone has to pursue the life they feel they need to live and I was lucky to be in a position to have the space and time to figure that out for myself."
[youtube https://www.youtube.com/watch?v=MYSVMgRr6pw&w=560&h=315]