On a recent afternoon in late August, Jason Flom was about to listen to one of tens of thousands of songs that have passed through his ears, with or without consequence, since he joined the music business in the late 1970s. Mr. Flom, now 53 and the head of Lava Records, receives dozens of song links via email every day, about half from "reliable sources," as he calls them—friends, lawyers, managers, employees—and the rest unsolicited. This one had come in over the transom from a "very brilliant" acquaintance outside the music industry whose taste Mr. Flom respects, so he clicked through to a YouTube video and decided to hear the band out.
The video, impressively done, was a horror movie in miniature, shot in crisp black and white. It featured a kind of post-apocalyptic cityscape with eerie imagery: writhing bodies, lonely streets, creepy faces. The song itself felt frantic and unsettling, with lots of screaming and intense electronic pulsation throughout—Aphex Twin meets Ozzy Osbourne, a generous assessment could conclude. It was the kind of music that might be heard at a vampire rave.
As the song ended, a moment's pause went by before Mr. Flom, slouched behind his desk in an eighth-floor office in Midtown Manhattan, delivered his verdict. "I think the video is incredible," he told me, gnawing on an unlit cigar. "But the song is not much of a song—it's more like a groove." He dashed off a quick response, explaining that the music wasn't … commercial enough—it had no melodic hook, no afterglow, didn't rest in the mind the way a good pop song should—and thanked his friend for passing it along.
It is difficult to say exactly what occurs inside Jason Flom's modestly sized head when he hears a hit—what alchemical process, which neural receptors alert him to the fact that his ears have landed on something big. "My hope when I turn something on is that it's going to suck or it's going to be great," Mr. Flom said. "Because if it sucks I can delete it, and if it's great I'll call you up and say where do I find this guy? But the other ones, they're close."
'My hope when I turn something on is that it's going to suck or it's going to be great,' Mr. Flom said. 'Because if it sucks I can delete it, and if it's great I'll call you up and say where do I find this guy? But the other ones, they're close.'
The song we had just listened to was indistinct and un-poppy, which made the decision easy. Of course, we'd all like to assume that, in the moment, we could identify a hit pop song, too. How hard is it to figure out that Whitney Houston's "I Will Always Love You" is indelible? But the art of identifying hits does not consist onlyof discovering good songs. A true record man—women, it's worth pointing out, are in short supply at the top of the industry—must have the capacity to spot not only a top 100 tune, but the raw talent to sustain a career. "David Geffen calls it an instinct, and I don't know how else to describe it," Mr. Flom told me somewhat mindlessly, as though he were reluctant to dwell too much on a good thing. "You either have it or you don't. Of course, it's all subjective. Until they're on the charts, it's all subjective."
Lately, Mr. Flom's instincts have treated him particularly well at Lava. Last year, he signed the young New Zealand prodigy Lorde, now 17, whose debut single, "Royals," won two Grammys and was perched atop the Billboard Hot 100 for two months. He found her through an email. "Not sure if it's for you but wanted to pass along," read the note, which came from a trusted industry source and included a single link to the artist's Soundcloud page.
Most recently, Jessie J, the English pop star whom Mr. Flom signed in 2011, has surged in the charts thanks to "Bang Bang," the critically acclaimed, gospel-inflected single featuring Ariana Grande and Nicki Minaj. The tune, which has rested firmly in the top 10 of the Billboard Hot 100 for eight weeks, will be featured on Jessie J's upcoming album, Sweet Talker, to be released later this month. On July 31, two days after "Bang Bang" came out, it hit No. 1 on iTunes as Mr. Flom was hiking in Aspen, an outing that happened to coincide with his 35th year in the record industry. "I was like, 'Hmm, I guess I still got it,' " he said.
While it is safe to assume that most pop music fans are not interested in record executives and their machinations—the covert scouting that goes into creating, and manipulating, stars—their influence in American culture is practically immeasurable. Pop music, unlike the latest Steven Spielberg film or Donna Tartt novel or David Mamet play, is inescapable. You don't have to choose it; pop music is there by default, pouring out of speakers at nightclubs, blasting from passing car stereos, purring gently into your psyche at a shopping mall.
While wildly successful, Mr. Flom—a kind of Wizard of Oz of mainstream music—is probably the most undersung hitmaker of the past 30 years. Why is not entirely clear. Maybe his relatively mild lifestyle precludes attention, or it could be that his position at an underdog label brings him an underdog status. Perhaps he does not possess the charisma of a David Geffen or the eccentricity of an Ahmet Ertegün or the mysterious aura of a Clive Davis. Whatever it is, Mr. Flom, who arguably possesses one of the biggest pop culture footprints of the past three decades, deserves a place in that rarefied pantheon.
***
Throughout his career, which began at Atlantic Records, Mr. Flom has signed and broken a veritable who's who of top-selling artists and groups including Tori Amos, Stone Temple Pilots, Twisted Sister,  Matchbox 20, Jewel, Kid Rock, Sugar Ray, Hootie & the Blowfish and Katy Perry. Mr. Flom specializes not only in acquiring talent, but discovering it, an old-school trait that has been somewhat diminished in the digital age. No longer do talent scouts wander into Greenwich Village cafes to find the next Bob Dylan. The Internet is comprised of 1 million Greenwich Villages. But curators are still a vital asset at a time when any artist, regardless of talent, can throw his or her songs onto iTunes or YouTube or Soundcloud to see what sticks—and good music is drowned out by the din of mediocrity.
"Jason's definitely in a rare league of people who find artists and make hits," said Glenn Peoples, a senior editorial analyst at Billboard magazine. "He can attract good talent, he can work with that talent and he can turn it into success."
Though he downs five shots of espresso every morning —"That's not an exaggeration," he said solemnly, "always five"—Mr. Flom, a college drop-out, gives off a slacker's vibe and seems unusually sedate in an industry where brashness is the norm. He is funny, vulgar, self-deprecating, absent-minded and exudes the kind of anti-establishment nerdiness one might find among the tech entrepreneurs of Silicon Valley.
At his office not long ago, his 2-year-old bulldog, Lulu, sat on a couch in the corner, ripping a foam football to shreds. Mr. Flom wore a pair of thick-rimmed rectangular glasses, a tattered Black Crowes T-shirt and blue jeans. He is obsessed with Instagram and talks about it incessantly, pointing out new jokes he's made—Mr. Flom has dabbled in stand-up comedy—or funny pictures he's discovered. An engraved metal nameplate sitting at the front of his desk crudely declares: "Fucker in charge of you fucking fucks."
The punk rock ethos does not feel disingenuous. Mr. Flom, who was born and raised in New York City, once wanted to be a rock star, and he likes being around them. "I've always been focused on signing rock stars," he said, "as opposed to records or songwriters or singles." He gave up on becoming a guitarist in his late teens, adhering to a deal he made with his father, the late corporate attorney Joseph H. Flom, who told him he could take one year to make it big as a musician. After failing to do so, the young Mr. Flom enrolled at New York University and got a job at Atlantic Records as a field merchandiser, putting up posters in record stores back when there were lots of them. He made $4 an hour, plus free records.
"I thought it was the best job in the world," said Mr. Flom, who is a father of two locked in an acrimonious divorce battle over his reported $100 million fortune. We ate a dinner of chicken and salad prepared by a friend who takes care of his dog, at his 67th-floor apartment across the street from the Lava offices near the very un-punk Columbus Circle. (He lives above Puff Daddy, a friend.) We sat in his dining room, which is decorated with photos of him posing with rock stars as well as musical memorabilia, like the guitar autographed by Steven Tyler that reads, "Jason 'Flom This Way.'" The living room, which overlooks Central Park, is filled with upbeat Pop Art.
During dinner, he had a couple of glasses of wine, which he only started drinking again five years ago. He succumbed to drugs and alcohol in the 1980s and got sober at a Minneapolis rehab, setting off years of abstention from all things mind-altering. "I got tired of Diet Coke," he told me simply. "That's a lot of Diet Coke."
At his first interview at Atlantic for a position in the A&R (artist-and-repertoire) department, Mr. Flom had not yet learned to balance his anti-authoritarian flair with the more polished aspects of corporate culture. Doug Morris, then the president of Atlantic and a mentor to Mr. Flom, was not amused.
Mr. Flom discovered Lorde through an email. 'Not sure if it's for you but wanted to pass along,' read the note, which came from a trusted industry source and included a single link to the artist's Soundcloud page.
"He looked like he was—what's another word for a bum?" Mr. Morris, now the head of Sony Music Entertainment, told me by phone. "He had dirty clothes on, his hair actually was down to his butt—seriously, I give you my word, maybe a little past his butt—and I said to him, 'Jason, I really am not a person to criticize anyone's appearance. That goes against everything I believe, but you look fucking terrible, and I'm a little taken aback.' "
Mr. Morris told him he would never make it in music if he didn't cut his hair. So the next day, Mr. Flom reappeared for the interview in a suit, hair substantially above his butt, and got the job. He hasn't grown it out since, though he does wear sneakers with his suits on occasion. (He also jokingly complains that Mr. Morris then hired Val Azzoli, who had a mullet, as Atlantic's chairman.)
Mr. Flom's first big break in the industry came after signing the New Orleans rock band Zebra, in the early 1980s. Mr. Morris had been reluctant to do so until, driving home to Long Island one night, after listening to a Zebra cassette that Mr. Flom had made for him, he heard the then-unsigned group on WBAB radio. The DJ announced that it was the most requested song in the history of the station, and Mr. Morris realized his young charge might have a more promising pair of ears than he'd suspected.
Mr. Flom quickly proved himself to be something of a prodigy in the industry and rose through the Atlantic ranks, eventually running the A&R division for several years before founding Lava in a partnership with the record company in 1995. Still, the label's inception was not heralded with the kind of fanfare one might expect of a new corporate endeavor. Mr. Flom had had a successful run, signing such acts as Twisted Sister, Skid Row, Hootie & the Blowfish and Collective Soul, but music was changing, and the higher-ups seemed to think his tastes were outdated.
"They set it up because I was sort of a rock head," Mr. Flom told me at dinner as he forked slices of jalapeno into his mouth. "I think they thought that music was changing and becoming this indie rock sound and that I didn't know what I was doing. So they wanted to move me to the side without firing me."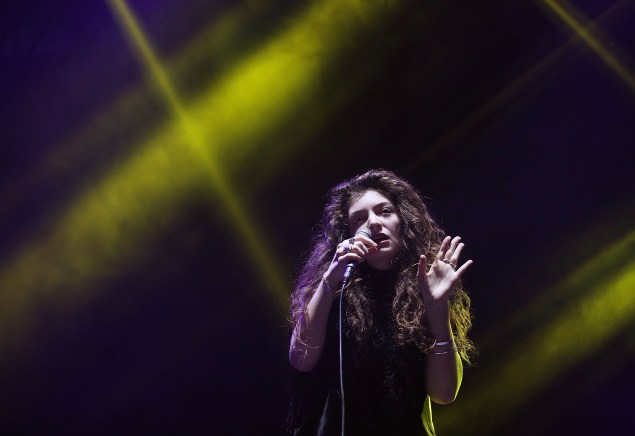 He was given three employees and very few resources. "They thought it was going to fail," Mr. Flom said bluntly. Instead, Lava sold hundreds of millions of records in eight years, after which Mr. Flom became head of Atlantic. Business was so good, Mr. Flom told me, that a sales clock was placed in Lava's reception area to count the number of people served, rapidly increasing like the Metronome installation in Union Square.
One of his biggest artists then was Kid Rock, who was not an easy sell, as it happens. He was a virtual unknown when Mr. Flom found him, despite three records. No one but Mr. Flom and a couple other employees took him seriously, though Mr. Flom was convinced he had found a rock star.
For Kid Rock's first Atlantic showcase at SIR Studios in New York, Mr. Flom made sure that the artist would make a lasting impression on the audience full of skeptical execs. At one point, Joe C., Kid Rock's late dwarf sidekick, rode into the room on a pony, in a pimp suit, holding a pistol. "It was met with utter disdain and essentially disgust from the Atlantic staff, most of which walked out after," Kid Rock's manager, Lee Trink, recalled. "To me, it was the funniest thing ever." The album, Devil Without a Cause, has sold close to 11 million copies since its release. A signed, framed poster circa 1999 that rests in the bathroom in Mr. Flom's apartment reads: "Thiers [sic] no way 2 ever thank you enuff… u got all my respect. thanx. Kid Rock."
Mr. Flom's track record is not unbroken. Unlike some executives, he has to genuinely like the music to get behind the artist, a position that can lead to occasional regrets. He passed on 3 Doors Down, the early 2000s grunge-lite band known for "Kryptonite" and "Here Without You." "There was research that showed it was going to be a hit because it played on the radio in this one market, and it was blowing up," Mr. Flom recalled. "But I went to their show, and I was like, 'I can't do this.' I just didn't like it, and then it sold millions and millions of copies, and I was like, 'Well, that was dumb.' "
Mr. Flom is relatively unreflective in conversation, partly, one assumes, because that is the way he is, but it may also be because second-guessing is a debilitating activity in his industry. I asked him how many platinum records he thought he'd missed in his career. "Oh, I don't know," he told me, somewhat exasperatedly. "I go to therapy so I don't have to think about that."
He estimated that he's batted about .300 so far, which isn't all that bad, considering Derek Jeter just ended his career with a lifetime batting average of .310—and Mr. Flom isn't through with his run. "The music business is like baseball," Mr. Flom said. "No one bats .500, ever."
***
Lately, Mr. Flom has been on a winning streak. He became the chief executive officer of Atlantic in 2005 and left shortly after to head up Virgin Records—where he signed Katy Perry—and, after a merger, Capitol Music Group. Lava was put on hiatus, but in 2009, he re-established the label, which is now operated through Republic Records, a division of Universal Music Group, the largest music corporation in the world.
I asked him how many platinum records he thought he'd missed in his career. 'Oh,
I don't know,' he told me, somewhat exasperatedly. 'I go to therapy so I don't have to think about that.'
Things at Lava are not unlike how they were before. The label is still an underdog, and Mr. Flom has three employees, none over 30. He hasn't asked for more manpower, despite his success, claiming that one must be "lean and mean" in a protracted business that, he says, is slowly recovering from the threat of piracy in the early aughts. "Everything about the music business has changed," Mr. Flom said. "It's all pretty fucking confusing, but the good news is people still like to buy music."
Mr. Flom, who is active in a number of philanthropic endeavors, said his proudest achievement was when he had dinner with Bill Clinton, in the last year of his presidency, and successfully petitioned Mr. Clinton to grant clemency to 17 nonviolent drug offenders who were serving sentences that ranged between 15 and 85 years. He still keeps in touch with Mr. Clinton as a result of that dinner. Mr. Flom is a founding member of the Innocence Project, an organization devoted to exonerating the wrongfully convicted through DNA testing. His interest in the cause was piqued in 1992 after reading an article about a kid who was serving 15 years to life for a nonviolent cocaine offense. Mr. Flom, with the help of a lawyer friend, was able to get him out of jail. "It was a pretty transformative experience," he said.
As far as his music industry achievements are concerned, a good portion of them he chalks up to being in the right place at the right time—the Lorde email, for instance, which he could easily have overlooked, or Doug Morris hearing Zebra on the radio. He discovered Tori Amos when he found a cassette that was sitting on another person's desk in the Atlantic offices. He picked it up, listened to it, and that was that. He does, however, give credit to his own persistence and, of course, his instincts.
Not all of the artists Mr. Flom has signed on the latest iteration of Lava have produced blockbusters, like Lorde and Jessie J, and because he has so few resources, he has to be very careful about signing weak artists to a roster only 10 acts long. They include the goth-pop band Black Veil Brides, the Norwegian singer Ida Maria, the Swedish outfit Royal Concept and the Trans-Siberian Orchestra, whom Mr. Flom described as "the biggest Christmas act in the history of Christmas—since Jesus, anyway." So far, no major blemishes.
Mr. Flom has found a recent niche discovering and molding young female pop stars, including Ms. Perry, Lorde and Hayley Williams, whom he signed, in 2003, at the age of 14, and who went on to form the pop-rock band Paramore. "I think that's a coincidence," Mr. Flom said of the trend. "I never set out to look for a particular thing."
Russell Simmons, the music and fashion mogul who co-founded the hip-hop label Def Jam, said that for years he had known Mr. Flom as the guy who signed rock bands. "Then suddenly he started making these pop records that my little daughter liked," Mr. Simmons said. "And I was like, 'Oh, shit, he makes this other stuff, too.' "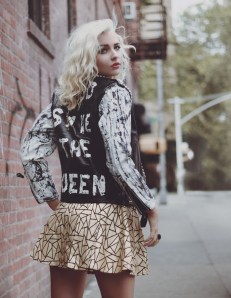 At his office, Mr. Flom was talking up a few upcoming happenings at Lava, which recently celebrated its "lucky 13th" anniversary—eight years at Atlantic and now five years at Republic—with a party at Tao. Lorde performed to an intimate crowd that included Salman Rushdie, Usher and Eric Schneiderman.
He clicked around on his desktop for a moment and played me an as-yet unreleased song by Ida Maria, which was bouncy, simple and infectious. The chorus went, to a basic four-four rhythm: "Can you make love like a Scandinavian / Can you make love like a Scandinavian / All night long." It was easy to remember, and I found myself tapping my foot. Mr. Flom was pleased that I liked it and put on another song by the same artist, entitled "I'm Gonna Steal Your Boyfriend." He said he was thinking about releasing the song to a couple of radio stations to see if it stuck. It was loud and aggressive and catchy and I didn't like it as much as the one before it, but it had power. I could see why Mr. Flom would want to put it out first.
As for his other artists, Black Veil Brides will release a new album at the end of the month. Mr. Flom has especially high hopes for the group's lead singer, Andy Biersack, who is rebranding himself as Andy Black for a solo venture. Mr. Flom played me a music video the 23-year-old put out in May.
Mr. Biersack, with many tattoos and piercings, usually dresses like a ghoul. But here he was wearing a black button-down shirt and tie for the video, and his hair was slicked back into a handsome pompadour. He sang "They Don't Need to Understand," an anthemic tune about self-determination that one could imagine emanating from a stage at Madison Square Garden.
"I've got very big plans for him," Mr. Flom told me. "I think we can make him into a generational superstar, because he's got the whole thing. He's already bigger than the band."
Rick Krim, formerly of VH1 and now the executive vice president of artist development at Republic, walked in to say hello, and Mr. Flom put the video on again. "It feels like he took the best of 30 Seconds to Mars, Nickelback and The Killers and threw them all together," Mr. Krim said admiringly.
Mr. Flom said he had recently signed a 17-year-old singer-songwriter named Maty Noyes, a Mississippi native. He is very excited about her talent and her name, and believes strongly that she will be a star. He put on a song by her. It was sultry and seductive and, much like Lorde, did not sound at all like a teenager. "You find these girls who don't sound their age, or look it," Mr. Krim joked.
Before I left, I asked Mr. Flom to play the Ida Maria tune from earlier, which was still looping in my head. "That's interesting that you responded to that," he said, somewhat mystified. He put it on again, and I walked out with an earworm, courtesy of Jason Flom.