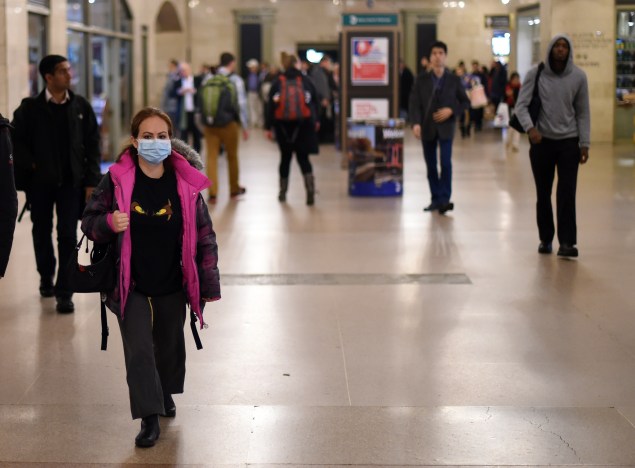 New York City's first Ebola patient, Dr. Craig Spencer, traveled on a number of subway lines, enjoyed a night of bowling and took an Uber taxi before he was quarantined at Bellevue Hospital on Thursday evening.
But while officials stressed it is entirely safe to take the train and Uber confirmed the driver and vehicle were uncontaminated, many New Yorkers are still preparing for the worst.
The New York City Preppers Network, an emergency preparedness group and local division of the American Preppers Network, has reported increased membership in recent weeks, and companies specializing in protective gear are seeing sales spikes.
Lakeland Industries, a publicly traded protective equipment manufacturer that has signed a deal to provide the government with 160,000 hazmat suits, has experienced a stock boom of 16.22 percent since the news of Dr. Spencer's contamination broke.
And Quake Kare, which specializes in a variety of pandemic flu accessory kits ranging in price from $11.95 to $69.95, has seen sales soar for protective gear. The priciest option contains a coverall suit, goggles, a respirator and antimicrobial wipes, among other things.
From October 1 to October 23, Quake Kare sold 1,500 accessory kits, according to Brian Houser, the company's director of sales, compared with an average of 88 sold per month between February 4 and September 30. As for respirator masks, 500 are usually sold per month, but 1,200 have been snatched up so far this October.
Scott Kelley, a preparation expert with Graywolf Survival, has noticed a "huge upsurge in people increasing their preparations."
Though Mr. Kelley recommends New Yorkers consider purchasing masks, goggles and medical gloves, he believes they should focus on what they may need in the case of an unexpected quarantine, including a supply of water, a filtration system, food for a month for each member of the household, a ham radio and entertainment options to keep from going stir crazy.
Jason Charles, the head of the New York City Preppers Network, says that while go-bags can be useful, stocking up on suits and facemasks is not entirely necessary.
"The problem with the Ebola suit is once it is contaminated, that suit is no good," Mr. Charles said. "You have no way of decontaminating it, so you have to throw out a suit you spent good money on. You don't know when it has been exposed."
Shane Hobel, founder of the Mountain Scout Survival School, notes that the bright yellow hazmat suits, worn by doctor's in West Africa, could actually bring more harm than good in New York.
"Having a suit is a good form of protection but you can also adapt with garbage bags if you need to," Mr. Hobel told the Observer. "If you put on a bright yellow suit, someone might want to take a bright yellow suit from you when you are dealing with masses of people."
More than anything, Mr. Hobel, who teaches urban survival classes to New Yorkers in Central Park, stresses the importance of building a community as a mode of preparation.
"In New York, you don't know your neighbors well enough to know if your neighbors travel, what their jobs are, where they volunteer, what church group they just came back from," Mr. Hobel said. "The web of social interaction in this city makes the world much smaller than they actually realize, and therein lies the threat. We can't be fearful of our neighbors; we need to increase love and support of them. If we are going to be preppers, let's be preppers together."