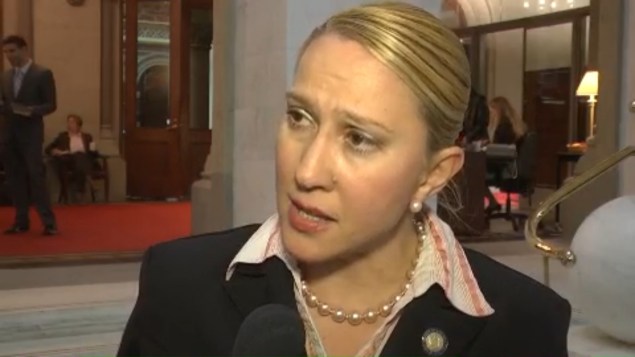 Former Assemblywoman Gabriela Rosa wept in a federal courthouse today after a judge sentenced to a year and a day in prison — and made no comment as her supporters tried to shield her from a mob of press waiting outside.
Ms. Rosa, a native of the Dominican Republic, pleaded guilty earlier this year to getting married in 1996 only in order to become an American citizen, lying to immigration officials about her reasons through 2005, as well as failing to disclose income and assets on a bankruptcy filing in 2011.
Supporters of Ms. Rosa, who resigned in June when the guilty plea was announced, joined her in court, including State Senator Adriano Espaillat, Assemblyman Luis Sepulveda, Councilman Ydanis Rodriguez, and Ms. Rosa's former boss, Assemblyman Herman (Denny) Farrell Jr. Mr. Farrell declined to comment on the sentence, but when Ms. Rosa walked out of the courtroom in tears, he shook his head sadly, and Ms. Rosa rested her head on his shoulder and wept.
After a brief trip to the clerk's office, Ms. Rosa huddled with supporters again, as they assured her she had many friends who would ensure she would be OK. Finally, Ms. Rosa, who was the first Dominican-born woman elected to state office in New York, emerged outside to face a throng of television cameras that were significantly more aggressive than the print reporters who had been inside the courthouse with her.
Her supporters chanted that were standing behind Ms. Rosa, and tried to push back the press, particularly the cameras, away from her. One woman shouted at a camera man to respect Ms. Rosa and her supporters, adding "This is not a circus." Another supporter used profanity in informing the camera-wielding reporters — some of whom represented Spanish-language outlets — that they were not in Mexico.
There was no car waiting for Ms. Rosa, and the crowded sidewalk scene stretched on as Ms. Rosa and her legal team refused to comment. Supporters resorted to shielding her from cameras by holding up papers to block her face, before finally trying to push through the mob scene to get Ms. Rosa into a cab hastily hailed off the street. Even then the press continued to follow, surrounding the car in the middle of the street — so her supporters attached what appeared to be a suit jacket to the back window of the taxi, blocking the view of the overwhelmed Ms. Rosa, as the yellow cab sped off from the crowd.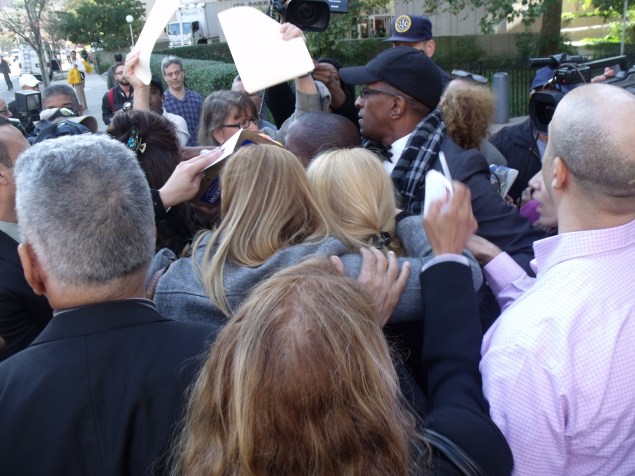 The yearlong prison sentence comes after attorneys for Ms. Rosa had asked for probation in the case. Her legal team provided several character letters, including from elected officials, asking for leniency. And in her own letter to the judge, Ms. Rosa called her crime "the worst errors in judgement I have ever committed in my life."
"My intention in getting involved in this offenses [sic] was related to my naive vision of creating an ideal situation for my family. I was following the American dream," Ms. Rosa wrote.
In his sentencing memorandum requesting 12 to 18 months in prison time, U.S. Attorney Preet Bharara argued that Ms. Rosa's scheme was anything but naive — and to imply as such was also insulting to other immigrants.
"[T]he notion that the defendant's crimes represented a naïve effort to pursue the 'American Dream' shows disrespect to those who pursue that dream through lawful means, or who struggle because they are not willing to lie and break the law to further their dreams. She chose to achieve her version of the American Dream by paying another person to help her perpetrate a fraud on a federal agency so that she not only could remain in the United States rather than return to her country of origin, where she reported being raised in middle-class circumstances, but could obtain citizenship, and the all of the rights and privileges associated with it," Mr. Bharara wrote.