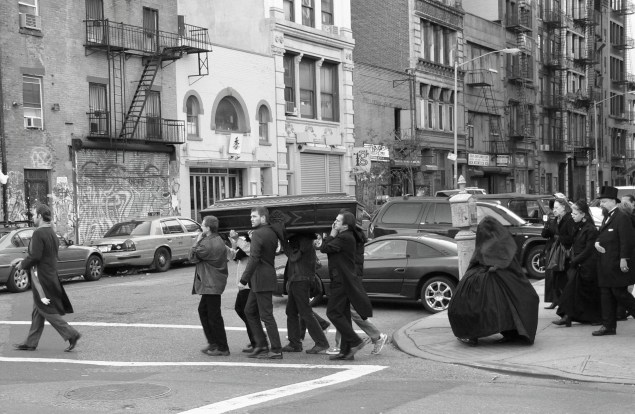 What better time than Halloween to commune with the spirits of the dead—i.e. the historic figures who once populated our fair city and their bygone way of life—than the day in which the veil is (allegedly) lifted between the living and the dead? It is, even for non-superstitious sorts, a time of year in which it is particularly easy to learn more about the eerie rituals of the past. To that end, the city's museums, historic houses and graveyards are offering an abundance of historically-themed Halloween events these next few weeks, from Victorian funeral processions and exhibits featuring the elaborate mourning dress of yesteryear, to lectures, tours and demonstrations that revisit the era of seances, spiritualism and photographic hoaxes.
Victorian Funeral Procession, Candlelit Ghost Tours, Ghost Hunting 101 and more, the Merchant's House Museum, October 21-31. As in years past, the Merchant's House Museum is offering a full complement of spooky activities, from a ghost hunting lecture (on October 21) to staging a full funeral procession circa 1865 from the house to the rarely-opened Marble Cemetery (on October 26th). Candlelight ghost tours—with varietals for children and adults—and dramatic readings of 19th Century gothic literature on Halloween itself round out the program. "From the time the museum opened in 1936, there have been various reports of paranormal activity," said communications director Emily Wright. "We've been able to use that hook to bring people into an exploration of previous practices. And it's always fun to see the faces of people when we do the funeral procession—all the people at brunch turning their heads as we walk down the Bowery."
Everyday Inferno Presents: The Turn of the Screw, the Morris Jumel Mansion, October 23-November 2. The Morris Jumel Mansion, which is also said to be haunted—by the child-hating ghost of Eliza Jumel—hosts a "haunting" adaptation of Henry James' novella, presented by the Everyday Inferno Theatre Company, in a site-specific staging. As the museum's write-up describes the scene, "figures  pass through the shadows and stare into windows, watching the children, waiting to take them away. Their young governess stands ready to protect them – but do they want to be saved?"
Death Becomes Her: A Century of Mourning Attire, the Metropolitan Museum of Art, October 21-February 1. This Costume Institute exhibit features approximately 30 ensembles of mourning attire, many on display for the first time, that showcase "the sartorial dictates of bereavement rituals as they evolved over a century." As curator Harold Koda wrote in a description of the exhibit, "The predominantly black palette of mourning dramatizes the evolution of period silhouettes and the increasing absorption of fashion ideals into this most codified of etiquettes… The veiled widow could elicit sympathy as well as predatory male advances. As a woman of sexual experience without marital constraints, she was often imagined as a potential threat to the social order." Historic and potentially quite useful for Halloween costume ideas.
An Evening of Ghostly Intimations, the Alice Austen House, October 26. For those who aren't afraid to travel to Staten Island, the Alice Austen House offers an evening with a bevy of spooky activities, from a screening of Zoe Beloff's Shadowland, a 3D film based on the 1897 autobiography of a medium who could produce ghostly apparitions to recorded oral histories and photographs of haunted houses across the U.S., to ghost stories about the Alice Austen House dating back to the Civil War (which is also supposedly haunted!), told by museum caretaker and curator Paul Moakley.
Haunted Brooklyn Heights, Boroughs of the Dead Walking Tours, October 24, 25, 31. True, the prospect of taking a walking tour is terrifying to many a New Yorker, but learning about the "wealth of gory, ghastly, haunted, and horrific tales" of a neighborhood where blood-curdling screams are mostly tied to infelicitous wallpaper choices, this Boroughs of the Dead tour seems worth the while. And if it might be well worth the price of a ticket if you learn a macabre tidbit that might allow you to bargain down some of the prime neighborhood's real estate prices.
Green-Wood Cemetery, Year round. Green-wood Cemetery's seasonal programming is so strong this year that the historic Brooklyn cemetery's specifically spooky events have already sold out (a "spirited tour" tour promising tales of "murder, mayhem and the utterly bizarre" is scheduled for October 25 and a catacombs and cocktails event on November 5 is also closed). But a few trolley tours of the cemetery remain open between now and Halloween and the cemetery is, as ever, open for strollers. Or barring that…
Wonder, First Encounters with Green-Wood, Brooklyn Historical Society, through January 15. Visit the Brooklyn Historical Society's exhibit of photos taken by City Tech teacher Robin Michals' students, who shot the cemetery on their first visits, capturing "the cemetery through fresh eyes."
Hometown Halloween, Trinity Church, October 31. And for tots who love both graveyards and history, what better way to mark the holiday than in the charming and very historic graveyard of Trinity Church, where Alexander Hamilton and John Jacob Astor are buried. Better yet, there's trick-or-treating with the graveyard's "permanent residents," hot apple cider and a photo booth. Adults will enjoy a screening of the 1925 silent movie Phantom of the Opera with a "chilling" organ improvisation played by Julian Wachner, the church's director of Music and the Arts. And for those who enjoy old graveyards, Trinity's is open for self-guided tours year round.
Dinner With the Dead, Lyndehurst, Tarrytown, October 27. For those willing and able to travel a bit further afield, the Sleepy Hollow Cemetery and Historical Association resurrects the dead for a dinner at a Hudson Valley estate. The Carnegies, robber baron Jay Gould (now that's scary) and Washington Irving will number along the guests back from the grave. And for those who can't get enough of Sleepy Hollow legends, there's also a dramatic re-enactment of Washington Irving's tale at the Old Dutch Church on October 25, 26, 27 and November 1 and 2.
Cemetery Walk and Ghost Stories in the Double Parlors, Bartow-Pell Mansion, October 30. There's really not a better setting for a horror movie—or a night of pre-Halloween prep—than an old mansion with a family cemetery on the property. And the Bronx's Bartow-Pell Mansion is more than accommodating for those in search of a scare: besides a guided, candlelit cemetery walk and a staged reading of ghost stories by the City Island Theater Group, the house is also rumored to have, according to one old newspaper article, a possible angelic presence in the north parlor, a child's ghost on the third floor and another ghost fond of leaving indentations on a particular bed.
Guided Tours, The Edgar Allen Poe Cottage, Ongoing. Alas, the Edgar Allan Poe cottage won't be hosting any eerie events this year, but the modest Bronx dwelling where the writer once lived, and where his beloved Virginia died, is a worthy stop for fans of "The Raven" and "The Tell-tale Heart." (He had hoped the country air would cure his tubercular wife.)