When Joan Rivers, the beloved comedian and host of E!'s Fashion Police, died in early September, the cast of her hit show stopped their plans to help each other cope. Co-host Giuliana Rancic, who was supposed to head to New York City for Fashion Week, focused instead on helping Rivers' daughter, Melissa.
"Melissa was Joan's world," she told news outlets. "I've been friends with Melissa a really long time and I'm just trying to help her out."
Ms. Rancic called Rivers' death "the shock of a lifetime," adding that she had just seen Rivers 48 hours before she learned of her death. "I still think she's going to walk through the door and yell, 'Giuliana, get back to work' … Joan was larger than life."
While Ms. Rancic, fellow host Kelly Osbourne and others from Rivers' inner circle have said no one will truly replace Rivers on Fashion Police, or even in the entertainment world at large, producers are still scrambling to find someone to fill her place by January. Rumored replacements include the comic Kathy Griffin and the Atlanta Real Housewife NeNe Leakes.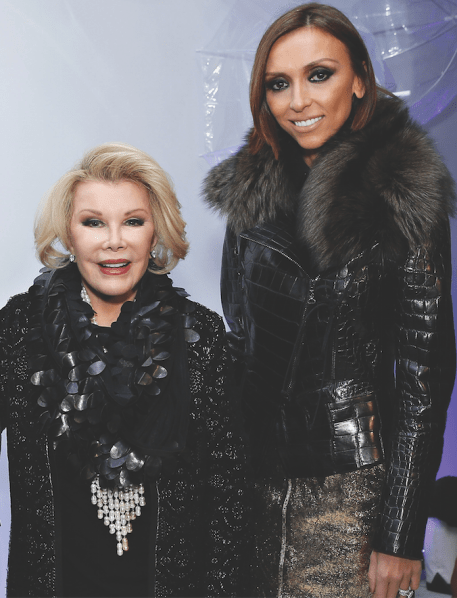 "I know Joan would want the show to go on and Melissa gave her blessing," she told the Observer at a red carpet event earlier this month. "I have no opinion on it as far as who should be on the panel but I know they'll figure it out."
But neither Ms. Griffin nor Ms. Leakes appears to possess the red carpet fashion knowledge that was Rivers' specialty. Comedians and reality stars might make for good TV, but what use is a host who doesn't know the difference between Prada and Zara?
For the show to press on, it must possess a singular blend of fashion savvy and humor. Ms. Rancic has both in spades. Funny as they are, Ms. Griffin and Ms. Leakes are far from fashion world mainstays. No, turning up on red carpets in shiny satin, Bravo-commercial cocktail frocks doesn't count.
Rivers has left the show in good hands with Ms. Rancic. In addition to her fashion savvy, she has quietly become a media powerhouse in the past few years. This witty girl-next-door presides over a mini-empire.
In fact, the only TV personality with more side projects might be Oprah Winfrey.
Ms. Rancic's TV résumé is lengthy. It includes co-hosting spots on Fashion Police and E! News and a new 60 Minutes-style interview show called Beyond Candid with Giuliana. She also has a reality show with her husband, Giuliana and Bill, currently in its seventh season. She explained to the Observer how she turned her E! News co-hosting gig into multifaceted stardom.
"When I first started at E!, I was different from everyone else and that's why I got the jobs," she said. "People told me, 'Stop asking such personal questions, stop being so crazy or dancing with celebrities or flirting.' I was like, 'It's funny, who cares? I'm being myself.' "
"So thank God I didn't listen to them," she continued, "because then I got the job [of co-anchor] on E! News out of 40 people who auditioned."
Ms. Rancic got her TV start after college as a reporter covering the Pentagon and the White House before she joined E! in 2002. The difference between Ms. Rancic and most other entertainment news anchors, though, is her flaws-and-all, relatable nature. Her TV demeanor might remind one of the most approachable girls in the cool clique in high school. For this, she has amassed a huge and devoted fan base, with 3.3 million followers on Twitter alone.
All of that attention has seemingly emboldened Ms. Rancic to move beyond being an impartial observer and reporter of celebrity happenings, into a commentator. Earlier this month, she spoke out about the rumors of bratty behavior surrounding Ariana Grande. In 2013, the budding pop star elbowed Mrs. Rancic to get her to swap places during a red carpet interview. Ms. Grande's people seemed to be strong-arming Ms. Rancic into dealing with the conditions or giving up the interview, the host recounted on E! recently.
"If it's Mariah, you know, I'll get on any side, I'll bend down, I'll climb a ladder, whatever it takes to get Mariah to do an interview," she said on the air. "But when you're new on the block, when you're trying to earn your stripes, you're young, you just gotta do what you gotta do, try to get a great reputation, try to go overboard to please people."
Ms. Rancic confirmed to the Observer that now that she's been on the air for 13 years, she has no qualms about calling out stars that are less than gracious.
"You have to keep in mind that you're lucky," she said. "The reason Clooney and Sandra Bullock and Julia Roberts are the biggest stars in the world and have longevity is because they never lost sight of who they were. If someone wants to shake your hand or take a picture, do it."
She also blasted celebrities who open up their personal lives for public dissection when they're promoting a concert or movie, and then complain about personal questions from the media.
"I think that's hypocritical," she said. "It's all or nothing. If you want to open up to get people to see your movies and buy tickets, you shouldn't shut down when you have nothing to sell, but someone wants to take your picture."
Aside from presenting, hosting the Miss USA and Miss Universe pageants has proved lucrative for Mrs. Rancic, but the most satisfying portion of her career is not the performing. Instead, Ms. Rancic seems to get most pleasure from her nonprofit Fab-U-Wish, which gives women hair, makeup and beauty treatments while they're battling breast cancer.
A breast cancer survivor herself, Ms. Rancic was in New York City recently to host a gala celebrating Fab-U-Wish's partnership with the Pink Agenda, a New York City nonprofit geared toward getting young people interested in breast cancer awareness, prevention and research.
Ms. Rancic gave a speech to everyone assembled at the gala. She founded Fab-U-Wish after being diagnosed with breast cancer, aged 36, she said. She confessed it was very difficult—nigh, impossible—to focus on her glamorous self during the months after her double mastectomy.
"I've been on E! for all these years with free hair and makeup every day," she said. "I was milking that stuff. Every day, my hair was blown out. The weekends were a little rough … but I always felt pretty."
It wasn't until she returned to work a few weeks after her surgery that she felt like herself again.
"After hair and makeup, I look at myself in the mirror, and I saw myself again," she said. "I recognized that girl looking back at me in the mirror. And I thought to myself, 'Wow, something that sounds so superficial, hair, makeup and wardrobe, it's not.'
"It's about feeling like the girl you were before you were diagnosed," she said.
It's anyone's guess whether Fashion Police will similarly bounce back from the loss of Rivers when it premieres in January. But judging by Ms. Rancic's business savvy, upbeat attitude and ability to juggle an endless amount of projects, it's safe to say she'll be pushing for the show to go on.