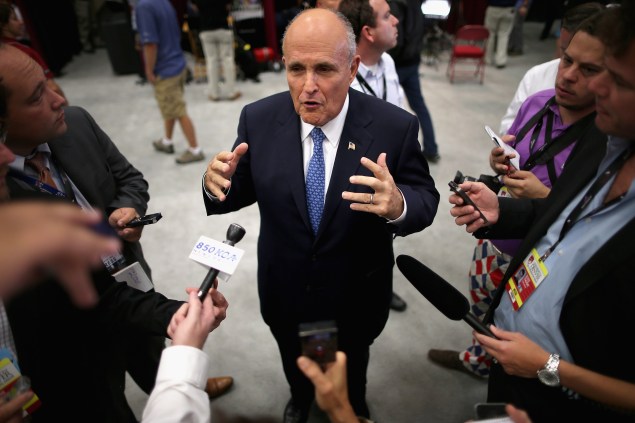 Former Mayor Rudolph Giuliani struck back at Mayor Bill de Blasio this evening for criticizing his involvement in the protest of the Metropolitan Opera's production of the controversial work "The Death of Klinghoffer"–a demonstration that Mr. de Blasio earlier today said was not "the American way."
Speaking to reporters at the hundreds-strong protest of the libretto, Mr. Giuliani claimed his successor-once-removed was guilty of a "complete distortion of the First Amendment" in his saying that the efforts to stop the show violated the free speech rights of the Metropolitan Opera.
"Don't I have a right to my freedom of speech?" Mr. Giuliani said, adding that–unlike Mr. de Blasio–he has listened to the critically-acclaimed piece. "The Metropolitan Opera have the First Amendment right to put on this opera. I have the First Amendment right, having now studied the opera–I'm not someone ignorant of the opera, I know it in detail–someone having studied the opera, I've come to the conclusion that the opera is historically inaccurate, extremely dangerous, very bad, and I'm protesting. I have a right to have that opinion."
Outcry over "The Death of Klinghoffer" has come from all political corners. Former Gov. George Pataki–a Republican, like Mr. Giuliani–has joined Democratic former Gov. David Paterson and Democratic Congressman Eliot Engel in complaining the show treats too sympathetically the Palestinian terrorists who killed wheelchair-bound Jewish-American manufacturer Leon Klinghoffer in the 1985 hijacking of the cruise ship Achille Lauro.
Mr. Giuliani echoed such arguments tonight.
"It romanticizes terrorism. I think that the storyline makes it appear as if the Palestinian people had some kind of justification for murdering Leon Klinghoffer, which they didn't have," said Mr. Giuliani, repeating the disputed claim that he personally investigated the incident as a United States attorney. "They were intending to get international attention, which they did."
The Republican said, however, that he believed it was not the mayor's place to interfere with the work of a private organization like the Metropolitan Opera–even though he said it was fine for the city's top official to try to control the content of institutions receiving city funding. Mr. Giuliani famously threatened to block funding to the Brooklyn Museum in 1999 if it went forward with an exhibit featuring an image of the Virgin Mary covered with elephant dung, and sued to have it removed.
"The mayor has no role in this. It's not up to the mayor. It's up to the people and the Metropolitan Opera," Mr. Giuliani said. "A private institution like the Metropolitan Opera has a right to do anything they want to do."
Ross Barkan contributed reporting.