Much has been made of Brooklyn's status as a literary haven and hotbed. And it is indeed in Brooklyn that many of New York's remaining brick-and-mortar bookstores persist. Fitting, then, that Paul Buckley and Ingsu Liu should make their home there, for they, as artistic directors—at Penguin US and W.W. Norton and Co., respectively—must have reason to fear, perhaps even more so than writers, the demise of the physical book. Then again, the couple could surely apply their graphic savvy to less endangered pursuits. And if city records are any indication, they've developed a knack for real estate, having just sold for $1.11 million a co-op at 525 5th Street in Park Slope, exchanging it for a $2.2 million Clinton Hill townhouse that they picked up over the summer.
Clinton Hill, of course, is more financially feasible than Park Slope for literary types these days—or at least, it was—though even if artistes find themselves largely priced out of that neighborhood, too, real estate investors are unlikely to meet the same fate.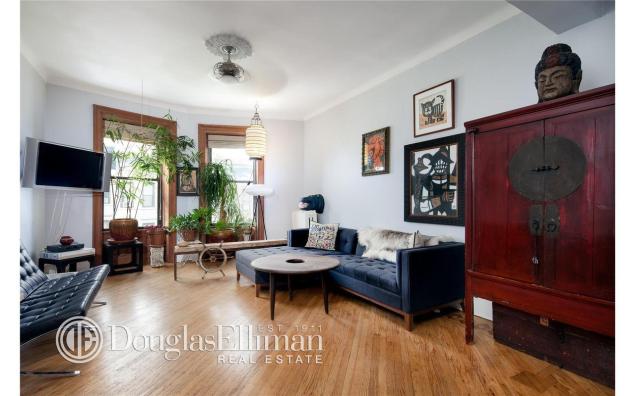 Buyers Justine Dupont-Nivet, a vice president at a Dutch bank, and Rodolfo Narvas, about whom we can determine roughly nothing, for their part, seem to be following that (relatively) new rite of passage: "The move to Brooklyn," decamping from a condo on Riverside Park. And the new place is charming indeed, " lovingly and meticulously renovated," the listing held by Douglas Elliman's Yael Kasakove notes, and "designed by art director-owners." Said owners have applied their discerning aesthetic judgments here to create a space both modern and homey, with what appear to be lovely, original hardwood floors, a fully updated kitchen and a great deal of light.
Currently configured as a two-bedroom, the co-op could accommodate three—to the spacious kitchen's detriment—which would give the third sleeping space a view of the back garden, as well as of Manhattan. Just in case, for example, the buyers get homesick.