Between the 41-story condo building at 515 East 72nd Street, which stands between York Avenue and the East River, and the nearest subway station are nearly five avenues plus an additional four blocks. It is a distance of almost a mile, a walk of some 20 minutes, a reassuring concrete moat, at last, against the motley leavings of subterranean public transport.
This effect was heightened one raw and gloomy evening last week, as the Observer trekked east to a real estate brokers' open house at the building's freshly-launched, $18.5 million penthouse. Wind gusted. A cold rain fell. Strollers splashed quivering and indignant small dogs.
Your sniffling correspondents felt glad indeed to reach the penthouse's private marbled entryway, directly off the elevator, where white-coated emissaries from the Cipriani organization offered white wine, pink bellinis, mini chicken croquettes and raw tuna on round trays.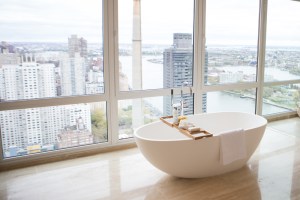 Glass in hand, we soon made contact with Elaine Diratz, a managing director with the Corcoran Sunshine group, who agreed to show us around the condo—a high-ceilinged aerie of 5,419 square feet encased in glass, which represents a gut renovation of what were shared conference rooms during the building's previous life as a rental complex.
No trace of humble origins remained.
From the entry gallery, we moved through a dining room whose formality was mostly nominal and past a glowing two-sided fireplace capable of handling logs both wooden and ceramic. It lent low, cozy light to the airy family space on the other side, which bled into a large open kitchen, paneled in light-painted wood and outfitted with thick dark stone counter tops, the makings of Wolf, Miele and Sub-Zero.
Amid staged furnishings mostly understated and modern were strewn rustic garnishes from the school of Anthropologie: oversized magnifying glasses with handles of twisted horn; a small, silvered rack of antlers; throws and rugs looking like animal skins.
Despite the weather, we could make out great shimmering city canvases from every room; those to the south arranged themselves around the night lights of the Queensborough Bridge and the Empire State Building's crown.
Another broker approached. "It's wonderful, isn't it?" she said to Ms. Diratz, in an accent that might have been Israeli. "I could see myself in it. But it would be so empty—I would need three, maybe four boyfriends! Some lucky girl is going to end up here."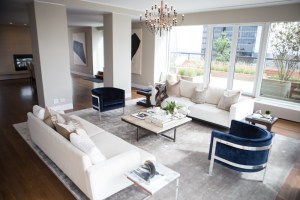 We followed Ms. Diratz through dense stands of thin, dark-suited young men, a heavily cologned crowd with an air of sullen envy. Through glass doors, we stepped onto an Ipe wood deck sprawling some 1,750 square feet, one of two. A loggia extended for perhaps five yards overhead, sheltering a pair of loungers from the weather. A floor-to-ceiling pane of glass looked north onto York Avenue, where taxis pointed their lonely lights in beams. It was difficult not to be seduced.