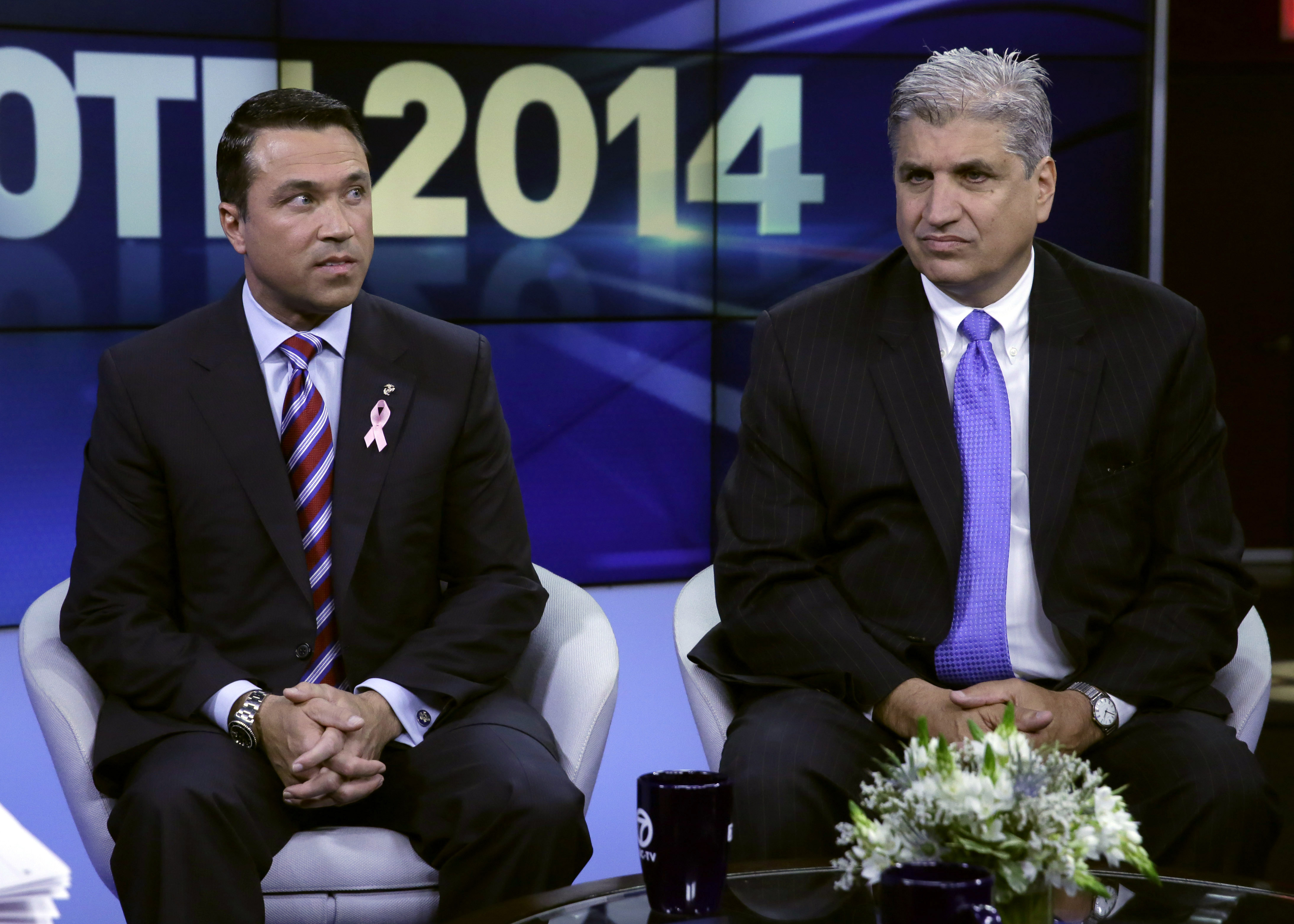 Congressman Michael Grimm slammed Mayor Bill de Blasio's administration for allowing top officials to take leave and work on political campaigns — including that of his opponent — during the city's Ebola scare.
Mr. Grimm seized on news first reported in the Observer last week that Jon Paul Lupo, director of the city's Office of City Legislative Affairs, had taken a leave from that job and was working on the flagging campaign of former Brooklyn councilman Domenic Recchia Jr., a Democrat.
"It's totally reprehensible and irresponsible that our ultra-liberal Mayor is putting politics above safety in the midst of a public health scare," Mr. Grimm, a Republican, said in a statement Monday afternoon. "At a time when city agencies and elected officials should be dedicated to keeping the people safe and informed, Mayor de Blasio is more concerned with lining up the rubber stamps for his progressive agenda — and he knows he won't find a more willing puppet than my opponent."
City Hall dismissed the remarks using the exact same statement they released in response to State Senator Dean Skelos taking a swipe at the mayor for allowing other aides — including Director of Intergovernmental Affairs Emma Wolfe — to hit the campaign trail.
"This is a sad political swipe at a time when New Yorkers should be coming together. We have all the resources we need to confront Ebola. Hundreds of City personnel are going above and beyond to keep our communities safe," spokesman Wiley Norvell said.
Mr. Grimm had nothing negative to say about Republican New Jersey Gov. Chris Christie himself skipping the Garden State this weekend to campaign in Illinois and Florida, even as controversy swirled around the forceful quarantine in a Newark hospital tent of a nurse who was en route from Sierra Leone to her home Maine.
"There's no question that the Governor has been on top of this issue and doing everything in his power to ensure that the people of his state and our region are safe and informed as this situation continues to develop, as evidenced by the prudent mandatory quarantine," Mr. Grimm told the Observer in a statement.
New York is subject to the same airport quarantine procedures as New Jersey — the governors of the two states appeared together Friday in announcing them — but Mr. de Blasio was not informed about the new policy before it was announced. That mandatory quarantine has come under fire, with Gov. Andrew Cuomo now saying it can be served at home and Mr. Christie sending a quarantined nurse back to her home state of Maine — and both insisting they weren't changing their policies at all.
Mr. Grimm has been a strident critic of the mayor — the two have never appeared at a press conference or other event together since Mr. de Blasio's election, including several events surrounding Hurricane Sandy recovery in Mr. Grimm's Staten Island district at which the congressman was conspicuously absent or not invited. Mr. Grimm, who is facing a 20-count indictment in connection with a restaurant he owned before running for office, has constantly sought to tie Mr. Recchia to the mayor, who has a dismal 25-percent approval rating in Staten Island.
Mr. Recchia, meanwhile, has tried to present Mr. Grimm as an embarrassment to the Staten Island and Brooklyn district for his legal troubles and well-reported on-air threats to a NY1 reporter. Mr. Recchia has raised considerably more money and has the support of the Democratic Congressional Campaign Committee — but Mr. Recchia has been set back considerably by a slew of embarrassing gaffes recently highlighted nationwide on the Daily Show and less-than-optimal debate performances upon which his opponent has seized. Mr. Grimm, who is slated to go to trial in February, now seems poised to hold on to his seat.
"Recchia's flailing campaign is desperately calling in lifelines from the DCCC and his puppet master Mayor de Blasio's inner circle," Grimm spokesman Nick Iacono said. "But at the end of the day…unprecedented challenges require unprecedented leadership, not unprecedented politicking."