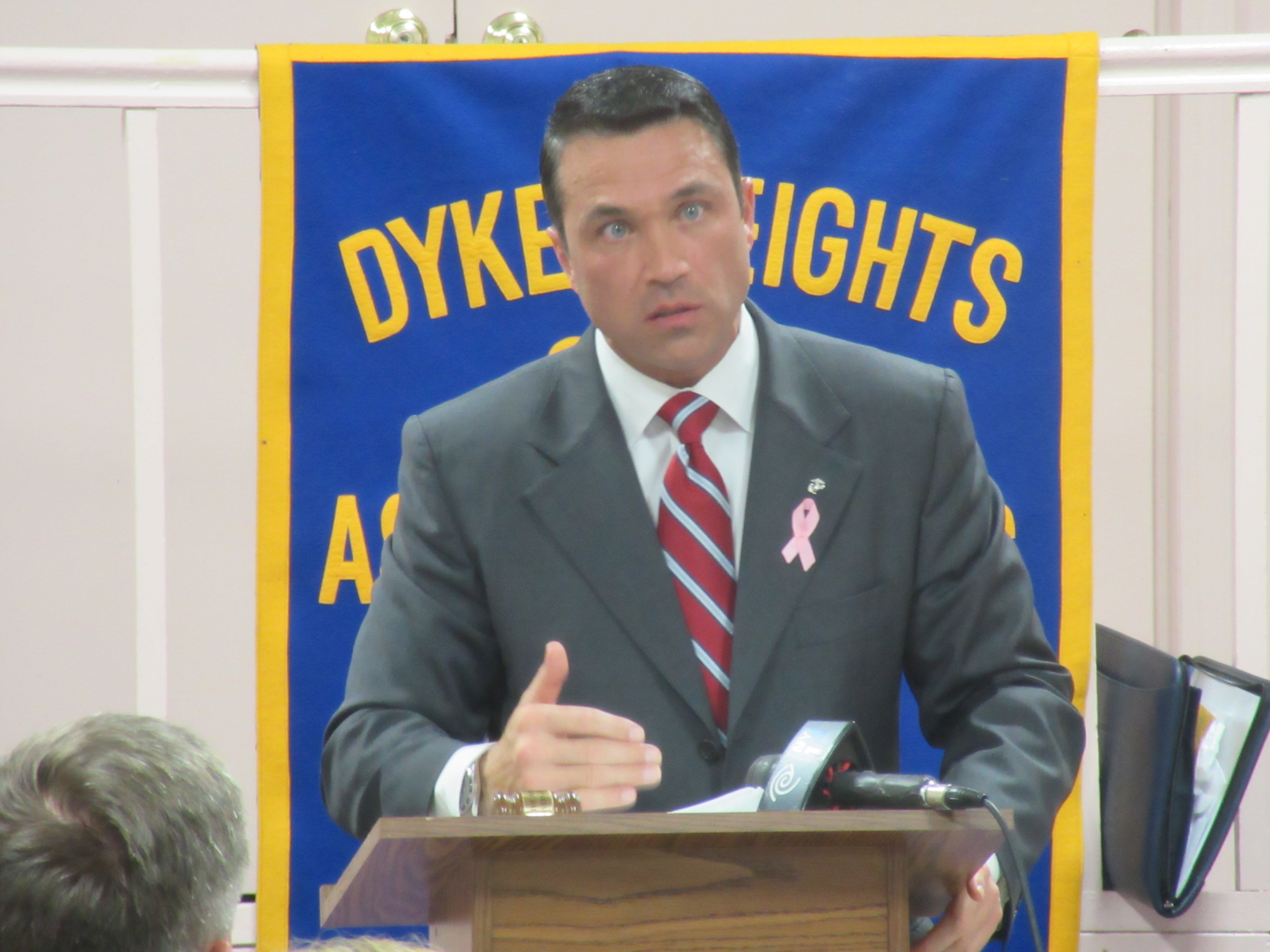 Congressman Michael Grimm has struggled to rally support from his national Republican Party colleagues since his 20-count indictment in April–but his mom's still behind him.
Voters in the Republican incumbent's Staten Island and southern Brooklyn-spanning district today began receiving an impassioned letter from Petrina Castronova-Grimm. The missive invokes many of Mr. Grimm's selling points–including his Italian-American heritage, service in the United States Marine Corps and affection for animals–in asking voters to support him despite the charges he faces for allegedly hiring undocumented immigrants at a restaurant he owned prior to his 2010 election and for allegedly lying about it to the authorities.
"First, let me say that I don't like politics," the typed italicized message begins. "I do however vote, and I vote for the person I think will do the best job regardless of political party. My son certainly has been in the news a lot, and as you know it hasn't all been pleasant, and that is why I'm writing to you."
Ms. Castronova-Grimm goes on to recall a family anecdote illustrating her son's lifelong outspokenness–when a 7-year-old Mr. Grimm complained to her parents that their Sunday gravy contained too much garlic.
"As you can imagine, his Italian grandparents–especially my mother–were not happy, but that was Michael," Ms. Castronova-Grimm writes.
The letter also fondly reminisces over a young Mr. Grimm bringing home abandoned pets, and doing volunteer work–"trying to save the world," in her words.
"I asked him once if he thought he was making that much of a difference, and he shocked me when he said 'I am to those I've been able to help,'" the letter says.
The message then recalls a harrowing incident from Mr. Grimm's service in the first Gulf War, when he led prisoners through a minefield.
"He has told me since he wasn't fearful while serving in combat because he knew God wanted him to continue his service to make the country, his community and people's lives better," Ms. Castronova-Grimm writes.
The congressman's mother then lifts a line from Mr. Grimm's recent appearance at a debate in Brooklyn, where he said he had "moved mountains" for his constituents.
"I've seen him move mountains for a lot of people, and I know how many rely on him," she writes. "I hope that you will never need his help, but I do know, if you or your family ever does, Michael will move that mountain for you, which is exactly why he is in Congress."
The letter concludes:
"I'm very proud to call Michael my son, what Italian mother isn't proud of her son? I'm also proud he is my congressman, and I hope you feel the same, and vote for Michael," Ms. Castronova-Grimm writes, before adding in a post-script that she and her daughter have lived with Mr. Grimm in his Staten Island home since his father's death.
Mr. Grimm has publicly said in the past that his mother is a Democrat.
The letter appears to be an effort to play up Mr. Grimm's family background, an important note to hit in the largely middle-class, culturally conservative district–and a difficult one for the incumbent, who is a childless divorcee. The congressman's Democratic challenger, former Brooklyn Councilman Domenic Recchia Jr., frequently includes photos of his wife and three daughters in his literature and mentions them often at public appearances.
The Grimm campaign confirmed to the Observer that it was behind the letter.