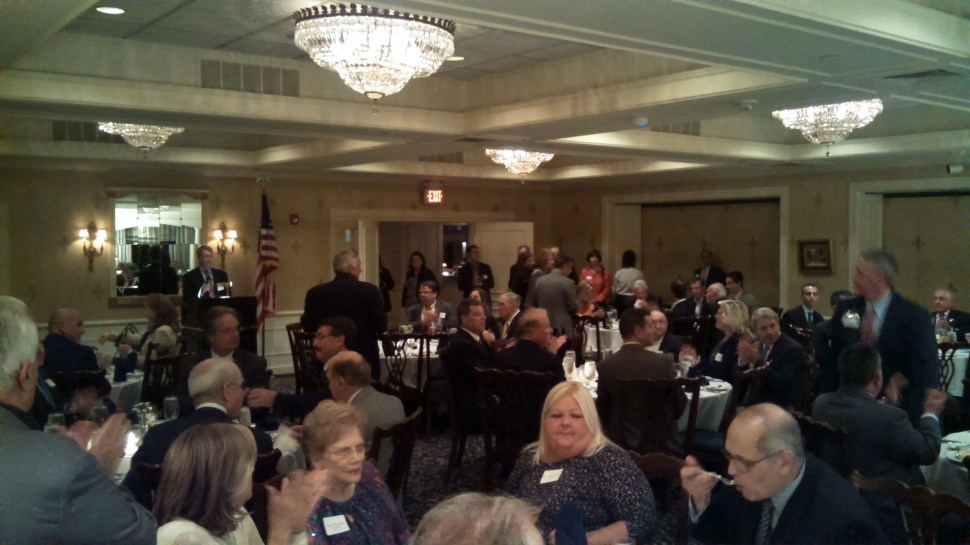 WESTFIELD – With the outcome of three different races hanging in the balance, Republicans in the room had their eyes set firmly on a point two weeks from now. But for those willing to speculate on contests still farther off in the future, last night's Union County Republican fundraiser carried with it the sort of political intrigue that's bound to outlast election day on Nov. 4th.
Featuring two — no, three — members of the state party's top leadership in the same room, it was also an early foreshadowing of one match-up New Jerseyans might see a few years down the line, namely during the Republican primary for 2017's gubernatorial election.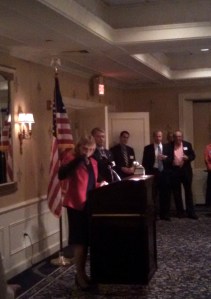 "We're 13 days away from electing the next sheriff of Union County — a Republican. We're 13 days away from putting our first foot into the Board of Chosen Freeholders. And we are 13 days from electing a Republican for the mayor of Rahway Township, alright," a boisterous and funny  Lt. Gov. Kim Guadagno declared to the roomful of guests gathered at the Echo Lake Country Club.
Arm still hung in a sling from a bicycle accident endured two weeks ago, Guadagno seemed the unofficial guest of honor at the event, brought for the express purpose of rallying the party ahead of a tough election next month. Union County Republicans see three areas where they hope to upset Democrats on Nov. 4th — with Mike Ince in the sheriff's race against Assemblyman Joe Cryan, Republican Chairman Patrick Cassio in the Rahway mayoral race, and Mark Martini in the Board of Chosen Freeholders race, where Democrats have long dominated.
All three candidates were in attendance. Nabbed by PolitickerNJ and asked how his campaign was going, Ince, a retired FBI agent, exuded optimism touched by shades of frustration as he mulled his uphill battle against Cryan, who announced his candidacy this summer with the full support of the county's Democrat establishment. "There's no comparison between resumes. Unfortunately, though, in politics, it doesn't always come down to resumes," he lamented.
Cassio, who's actually in a three way race with interim Mayor Samson Steinman and Independent Renee Thrash in Rahway, was more confident, saying his campaign raised $3,500 over the last five days with the help of social media and touting an endorsement by the Carpenter's Union, of which he's a member.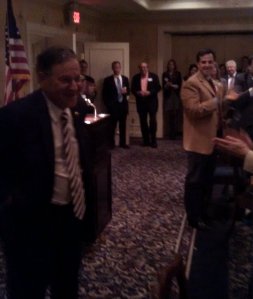 But the night was as much about the future of the party statewide as it was about the future of the Union County, with Guadagno headlining, and Senate Minority Leader Tom Kean, Jr. (R-21) and Assembly Minority leader Jon Bramnick (R-21) teaming up at the podium to praise the "unity of the Republican party." Assemblywoman Nacny Munoz (R-21) and Union County Chairman Glenn Mortimer also spoke.
"When we go down to Trenton, one of the greatest thoughts I have is knowing that we've got a team that is passionate but also is unified," Kean said. "I mean, JB and I have a unified front when it comes to approaching issues of affordability in New Jersey, We have a unified front when it comes to making sure there's opportunity for families. We have a unified front in making sure the caucuses we both lead are making a difference for people."
U.S. Congressman Leonard Lance (R-7) jumped up to assess the national scene, where Republicans are looking to expand their majority in the House of Representatives and — potentially — win over a new majority in the Senate. He also couldn't resist schooling the room in U.S. geography when, after asking which ones were Republican over this year's election cycle, he rattled off the names of all 50 states.
Then came the praise for the state's top executive.
"Christie is making nationwide opportunities and strength and hope for the people of New Jersey because people are proud around this country — they know Chris Christie," Kean said. "They know the difference he is making. He is bringing pride to the greatest state in the Union."
"You know, four years ago people said that we couldn't elect a Republican governor," Guadagno said earlier. "Four years ago because we were out registered by 700,000 votes, because we were outspent by 3-to-1, they told us we couldn't put a Republican in a blue state. And we know, we know that a Republican who can make a promise, keep a promise, pick a fight that's worth fighting for.
"No I did not get this fighting," she added quickly, holding up her sling-ed arm. "You know I'd tell you the story but then Jon would pull out his pad and try to file a lawsuit."
Ever the comedian, Bramnick fired back at Guadagno during his turn at the mic — though she had already left by the time he had got up to deliver his performance.
"Since the Lt. Gov. did get a shot at me — her bicycle safety course starts tomorrow at 8 am," he said, drawing raucous laughter from the room.