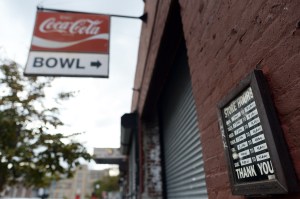 As of last night, New York has been in a state of panic over the city's first diagnosed case of Ebola. Dr. Craig Spencer, who had tested positive for the virus Thursday following his return from Guinea, started showing symptoms after taking a subway, bowling at The Gutter in Brooklyn, and taking an Uber.
The Gutter has been closed since early last night, but New York Magazine now reports that The Gutter expects to reopen today.
According to The Gutter's Facebook page, the business voluntarily closed yesterday evening. The post said: "We are working with the NYC Health Department to have the bar cleaned and sanitized under their supervision and expect to be open sometime today after that is completed. Doctors advising the Health Department have told us that our staff and customers were at no risk."
Dr. Spencer's movements before his hospitalization have many concerned. As the Observer wrote last night, certain patrons of Gutter were concerned the virus would spread through shared equipment. The New York Times crushed these concerns rather colorfully, writing, "If someone left blood, vomit or feces on a bowling ball, and the next person to touch it did not even notice, and then put his fingers into his eyes, nose or mouth" catching Ebola might be possible.
Brooklyn Vegan describes The Gutter as "a bowling alley in Williamsburg that is not Brooklyn Bowl" after initial confusion over which Williamsburg bowling alley was infected. We can assume Brooklyn Bowl was grateful that it wasn't them, but, via Twitter, they offer their "prayers and best wishes" to their neighbors.