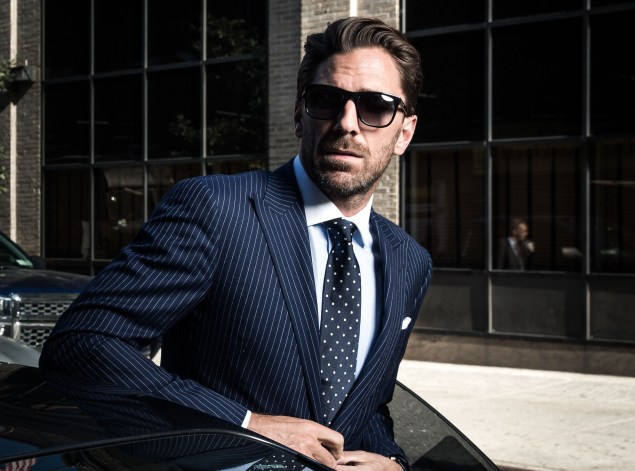 The worst part about owning a sports car in the city, Henrik Lundqvist tells me, as we turn onto the Westside Highway in his Porsche Panamera 4S, is being in the city. "It's absolutely useless," he says, clicking off the radio and merging into the leftmost lane. "The streets are awful."
Thankfully, we are heading away from Manhattan's asphalt maze and up to the New York Rangers' training facility, just off the Saw Mill River Parkway. The All-Star goaltender knows this winding stretch of road like the back of his puck-beaten hands.
During the season, Lundqvist is up at the facility almost every day. In that sense, although it is only August, he's in mid-season form: having returned from an annual summer vacation in his native Sweden only six days earlier, the Rangers' all-time leader in both wins and shutouts has already been spending large chunks of time at the facility, participating in unofficial practice sessions with a handful of equally eager teammates, like Martin St. Louis, Mats Zuccarello and Dan Boyle.
These weeks leading up to the start of training camp are meant to be downtime. On the heels of carrying the Rangers to their first Stanley Cup Finals appearance in two decades, Lundqvist knows expectations will be as high as the championship banners that hang in the Madison Square Garden rafters when the new NHL season drops its first puck. And yet: the days are just packed.
After today's skate, Lundqvist has a photo shoot downtown and then plans to attend his buddy Roger Federer's nighttime match at the U.S. Open. Since returning to NYC, he has already presided over a full-day hockey camp for kids at Chelsea Piers and competed in a charity tennis event, along with Edward Norton, Novak Djokovic and John McEnroe, who is also in Lundqvist's band (Lundqvist and McEnroe both play guitar in surprisingly able pop metal band The Noise Upstairs). New York Fashion Week, where Lundqvist, a noted clothes-horse, always seems to make an appearance, starts the following week. And then there is the official kickoff event for the Henrik Lundqvist Foundation on September 15.
This is downtime? "Yeah, I have a lot going on," he shrugs. Aside from the occasional yawn, however—a byproduct of adjusting to the time change (and a 2-year-old child adjusting to the time change)—Lundqvist seems fully refreshed after his most physically and emotionally taxing season to date, which left him face down on the ice after a double-overtime loss to the L.A. Kings.
It's no wonder Lundqvist needed two months on the Swedish coast to clear his head and put last season into perspective. But even without the calming effects of the North Sea, the 32-year-old Lundqvist, a professed car guy, manages to find peace—and this is it, this road, this drive, cruising up the Saw Mill River Parkway.
"I enjoy driving. It's relaxing," says Lundqvist, who rotates through a stable of four high-performance vehicles. (The Porsche is his "family car," with a baby carrier strapped to the backseat.) "It's like a time during the day when you just reflect a lot, thinking about last night, the game, or what's going to happen during the day, the next day. Just thinking about a lot of different things, because you are surrounded by a lot of people a lot of the time, teammates or people around the team or fans or whoever it might be."
Like a stranger riding shotgun, I suggest? "Hah, yeah," he laughs, punching the gas, as we steer toward our exit. "During the season I might not do this, but now, it's fine."
***
The man nicknamed King Henrik eventually finds some solitude when he steps onto the ice, around 10:30 a.m., several minutes ahead of the eight other players here for this voluntary skate.
With the practice rink to himself, the goalie glides around what will become his defending zone, crouching, stretching, running through footwork in the crease. Behind his pads, Lundqvist looks huge, like a boxy Transformer strapped to metal blades. He's wearing the usual goalie gear, of course, but it is still such a dramatic transformation from the man I first met in the locker room at Chelsea Piers two days earlier, as he changed out of his street clothes, revealing a sinewy build that explains his cat-like handiwork with a glove and blocker, but is still hard to reconcile with this bulky on-ice persona, like a tiny mollusk in a giant shell.
It should not come as a surprise that Lundqvist is the first to hit the ice. As he puts it, all NHL goalies compete in a team sport, but they also participate in "an individual sport within that sport." Lundqvist embraces that burden. "You're on your own," he says.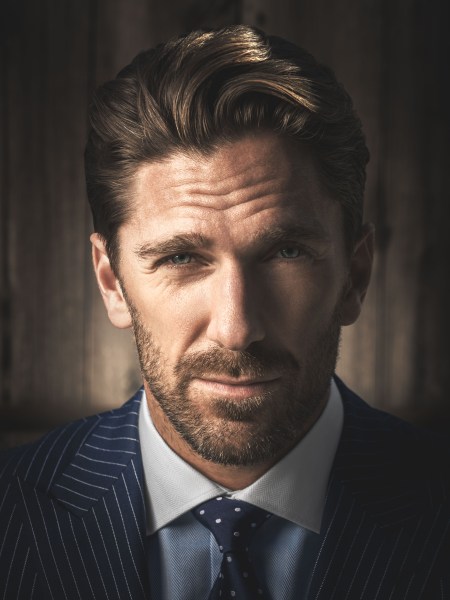 The key is proper preparation. Lundqvist has had the same pre-game routines throughout his career, from when he naps to what he eats to how he wraps tape to the American pop-punk that was once so popular in Sweden and is now immortalized on his adrenaline-pumping playlist (Blink 182 and Sum 41 are in heavy rotation). "I'm a pretty intense guy when it comes to the game," he says. "If I don't prepare, I don't have the same focus. And at this level, the difference will be how you focus, how you block things out, how you handle pressure."
The pressure soon mounts for Lundqvist as the skaters take the ice and start whipping wristers on net. Next, the goalie shouts instructions for a passing drill that results in breakaway attempts. There are nonstop shots, while an orchestra of hockey sounds fills the room—the scratch of skates, the whomp of vulcanized rubber hitting the boards. Lundqvist alternately stands tall and hunches over as the plays develop, resting his hands on his knees. In an instant, he collapses into his crouch, ready to make the save.
"That's not reflex. That's awareness and reading. You see the guy coming down with the puck, then you analyze. Is he going to shoot? Probably not. It's a bad angle. As a goalie, you analyze situations all the time. You look around a lot."
Sure enough, Lundqvist keeps his head on a swivel at the practice rink, his eyes bulging through the gaps in his facemask. While a few players glance over at me, out of curiosity—I am the only spectator—Lundqvist does not. He is zoned in, as committed to keeping pucks out of net as he will be at the home opener, even though there are no defensemen helping his cause.
Occasionally a puck squeaks through, like when Zuccarello shows off a particularly fancy backhand. But this is the exception, and the players know it, as evidenced by the left-winger pumping his fist in celebration, while raising up on one skate. Lundqvist fumes, rolling his head back in exasperation. On another goal, he screams, "Fuck!" On a third, he slams his stick over the crossbar.
In this way, even the greatest goalies seem to be defined by their lower moments rather than the highlights. If you make an amazing save, as Lundqvist does countless times during practice, jockeying from post to post, play simply goes on. It's only upon failure that the game is punctuated with a full stop and we reflect.
I ask Lundqvist whether he hates losing more than he loves winning, which would be a true New York attitude. "Hmm," he says, considering the question. "It's a fine line. I really hate losing. I get extremely upset after losses, even in the regular season. But the feeling when you win some big games, it's so rewarding. I don't know. It's almost like 50-50."
***
The New York Rangers chanced into their franchise goaltender in the 2000 NHL Draft. As the rounds ticked by, an 18-year-old Lundqvist watched his name slip down the board. Hardly anyone saw much of a future for the kid. Selected in the seventh round at pick No. 205, he wasn't the first goalie drafted or the first Ranger. He wasn't even the first goalie taken by the Rangers. Hell, he wasn't even the first Lundqvist off the board. (His twin brother, Joel, went in the third round to Dallas.)
It was only when then-Assistant GM Don Maloney caught a glimpse of the notebook of the team's top European scout—maybe the only Lundqvist supporter—that the Blueshirts' brass relented and called his name, despite the refusal of other scouts to co-sign the pick, insisting he lacked consistency.
Destined for Broadway, young Henrik (or Hank, as friends call him) honed his craft with Frölunda, a Swedish hockey club, while waiting for a call from the big club. There, he earned the Honken Trophy, awarded to Sweden's top goalie, three consecutive years, including his final season, which coincided with the 2004-2005 work stoppage, when Lundqvist bested locked-out NHL goalies that found work overseas. "I knew then I could compete on a big rink," he says. "The question was how I would adjust to smaller rinks. It's a faster game here."
From an outsider's view, the transition was seamless. In October 2005, the rookie made his NHL debut and won over Rangers fans immediately, earning 30 wins in only 53 games played, while leading the team to its first postseason berth since 1996-1997. A few months after his debut, Lundqvist manned the net as the Swedish hockey team won gold at the 2006 Winter Olympics, proving he could shine on the biggest stage.
Lundqvist credits Rangers goalie coach Benoit Allaire for changing his style of play, instructing him to stand deeper in the crease, with fewer movements and a higher stance. He has also labored to improve his puck-handling. But for all the tweaks, he's remained steady.
Lundqvist has won at least 30 games in eight of his first nine seasons, an NHL record. He holds the second-best save percentage of all time, behind Dominik Hasek, has earned three All-Star Game appearances and won the prestigious Vezina Trophy, which is given to the league's best goalie, for 2011-2012.
That season is widely regarded as the year Lundqvist ascended to the NHL's top tier. He gave up less than two goals per game and posted a career-high save percentage, en route to the team's first Conference Finals appearance in more than a decade. Lundqvist lost 13 pounds and trained harder than ever during the preceding off-season, but he disagrees that he somehow became "elite" overnight.
"I've always been working really hard," he says. "You don't just wake up one day and your feet are moving faster. It can be confidence, the way the team is playing—there are so many small things that, in the big picture, all play their part."
So it all just clicked? "Well, I feel like I've been pretty consistent since I got here," he replies. And he's right. Whatever worries scouts may have harbored in 2000, steadiness and reliability have become trademarks of the Lundqvist era.
***
But that's what makes the start of last season so perplexing. For the first 40 or so games, the Rangers hovered around .500 as they adjusted to head coach Alain Vigneault's new system, and their stalwart netminder allowed close to three goals a game—unthinkable. "It was tough," Lundqvist tells me, "probably my toughest period as a pro."
Also hanging overhead was the prospect of the Swedish star becoming a free agent after the season. "Do I think the contract situation played a little part?" he says. "Yeah, probably. I had the expectation that we'd have it done early and it didn't happen. It's not like you walk around and think about it, but if there's a couple percent of your thinking somewhere else, that can be the difference between losing and winning."
At the beginning of December, the two sides finally agreed on a seven-year extension that will assuredly make Lundqvist a Ranger for life. Not long after, the team started winning. Over the second half of the season, the Blueshirts posted a 25-12-4 record and earned the Eastern Conference's fifth seed.
Though he still occasionally grinds his teeth at night, a stress-related habit that has resulted in vision-blurring migraines—"you wake up and it feels like you've been run over by a bus"—Lundqvist embraces the big-game pressure of postseason play. "You're more nervous," he says. "Sometimes you don't feel great, but that's what makes it so special."
Unfortunately, the results have not always been kind to the King. Entering the team's first round matchup last spring, Lundqvist's postseason record stood at 30-37, and recent disappointing playoff exits were fresh in fans' minds.
Once again, the Rangers almost bowed out early, pushed to the brink by both Philadelphia and Pittsburgh, who at one point held a commanding 3-1 series lead. The Rangers bounced back in both series, with Lundqvist giving up only one goal apiece to Philly and Pittsburgh in crucial seventh games. Facing Montreal in the Eastern Conference Finals, a magical feeling started to set in, as the team took its own 3-1 lead and Lundqvist won his first games at Bell Centre in more than five years. Perhaps things were meant to be.
And then again, perhaps not. In Game 5, the Rangers gave up seven goals and Lundqvist got pulled, sparking heated conversations across the sports talk-radio dial. In the waning moments before Game 6, the Rangers' only chance to win the series on home ice, ESPN Radio's Alan Hahn laid out the situation: "This is his legacy game," the host said of Lundqvist. "Whatever happens after this, well, we can talk about that next week. But right now, right here, this moment, this is his—this is his history."
At the Garden, Lundqvist, who stood to become the team's all-time leader in playoff wins, tuned out the noise, finding comfort in his routines—in his music, his stretching, his athletic tape—ignoring everyone around him, including his teammates. "It's never a fun feeling being pulled," he says. "But going into the next game, you try to be even more focused—focus as small as possible—and try not to think about consequences, what-ifs."
When the puck dropped, Lundqvist played like a man possessed, stopping every shot he faced until the final horn sounded. With a 1-0 victory, the Rangers were heading to the Stanley Cup Finals.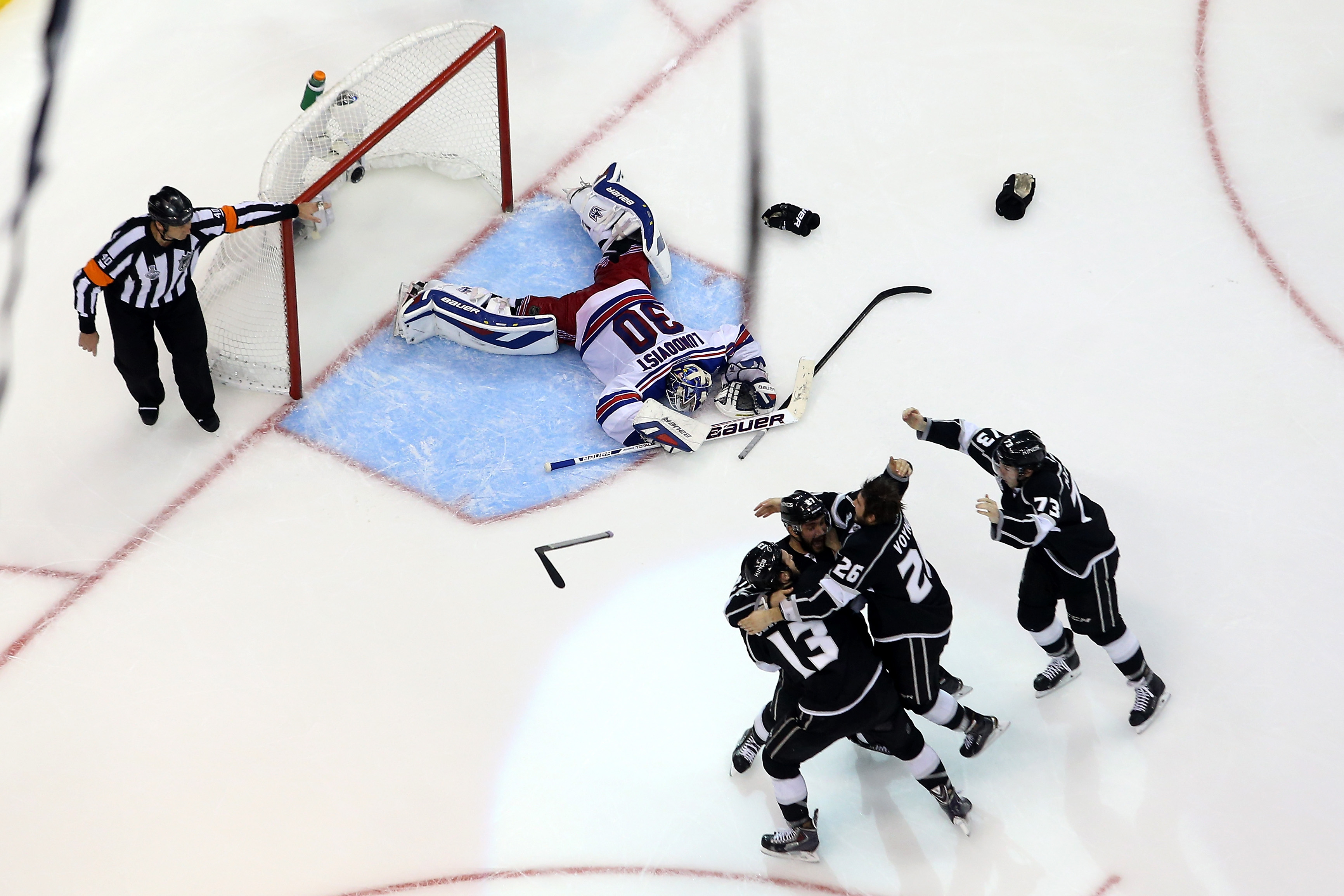 ***
Spoiler alert: The Rangers did not hoist the trophy last spring. Instead, they fell to the high-powered Kings in five not-so-short games. (Three went to overtime, including two to double OT.) It was one of the most entertaining playoff series hockey has ever seen, and Lundqvist did all he could, as his team was outshot 92 to 49 over the final two contests.
In the end, the lasting image was not of the Kings raising their arms in celebration after Alec Martinez's Cup-clinching double-overtime goal, but of Lundqvist, the King, collapsing to the ice, sprawled across the crease, like a facedown snow angel. He soon climbed to his knees, but stayed like that, dazed, head tilted back, as the L.A. players mobbed one another within a stick's reach. The contrast in emotion was enough to inspire a photo essay on Deadspin.
On the ride back to Manhattan, I ask Lundqvist what was going through his head at that moment, when the puck hit the back of the net. "When everything is over, it's a weird, empty feeling," he says, rolling up his sleeves to reveal a forearm tattoo of his daughter's name, Charlise. "It's like you have this big balloon that's about to burst, and then"—he makes an exploding sound, then sighs. "I don't know. That moment, you start to feel how tired you really are."
And, yes, in case you're wondering, he's seen the footage. "It's painful to watch," he says. "It really is, because you go through it again. It's heartbreaking when you're that close." Lundqvist pauses. He seems to become wistful, perhaps replaying one of his team's few scoring opportunities from that game in his mind's eye, as he has throughout the summer. "We were right there with them," he continues. "It's just the puck kept hitting the post."
Unlike 2012, when the Rangers lost to Martin Brodeur's Devils in the Eastern Conference Finals, Lundqvist says there are no lingering regrets in the locker room. "When we lost to the Devils, it was disappointing to feel like we didn't reach our top potential, like we had more to give," he explains. "We talked about it going into the playoffs. You want to make sure you leave everything out there, and I felt like we left it all out there. Unfortunately, it was not enough."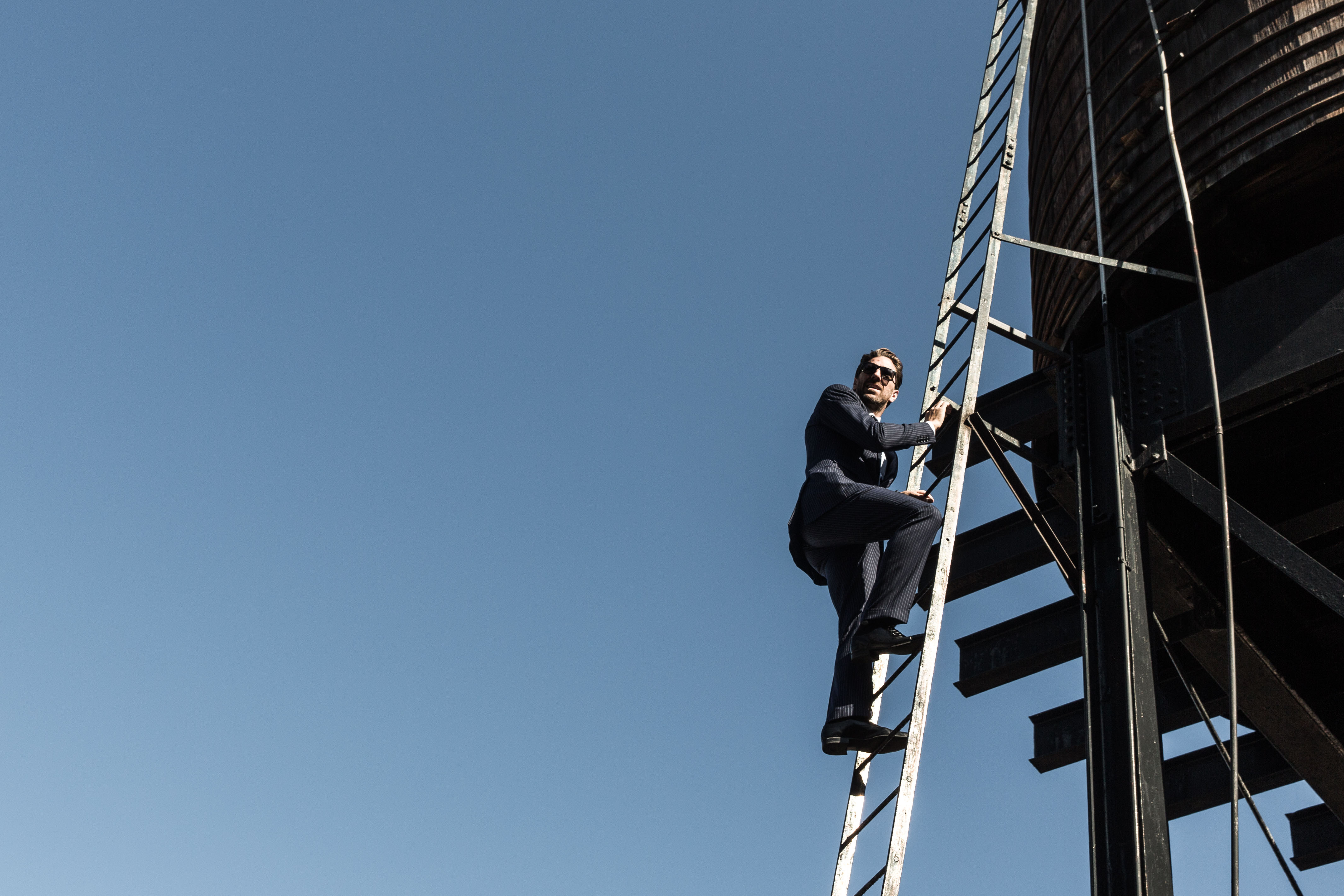 ***
Even before last season's unlikely run, Lundqvist's place as a cornerstone New York sports figure was secure. The modern Mount Rushmore would feature him, Carmelo Anthony, a retiring Derek Jeter and a resurgent Eli Manning. Some have even argued—ESPN's Ian O'Connor, most recently—that he should have the damn mountain to himself, as the city's top athlete.
Lundqvist's name has also found its way into conversations about all-time off-field icons like Walt Frazier and Joe Namath. A co-owner of Tiny's & the Bar Upstairs, a Tribeca establishment, Lundqvist has been called a "hair god" by GQ, featured in Vogue and received multiple inclusions on Vanity Fair's best-dressed list. On nights off, MSG regulars can spot him courtside, next to the likes of Justin Bieber, who Lundqvist comforted when the pop star was booed by Knicks fans.
And yet this man about town floats through the city relatively unmolested, rarely recognized. "It's pretty relaxing," he says, leaning on the horn when the car in front of us fails to turn left, back into the Manhattan grid, when the light goes green. "You can go out for dinner, go out with friends. You feel like you can be yourself. I can tell a difference now from four or five years ago, more people. But I think it's still at a very good level."
Should Lundqvist ever lift the Cup, he understands that will all change. Even non-hockey fans will know the face of King Henrik, the man behind the mask. It's a tradeoff he's willing to make, of course. That's why he puts in the extra work in August. It's why his teammates know to steer clear of his stall before a game. It's why he was so crushed when a rebounding puck found the stick of Alec Martinez.
"That's why you play, you want to win," he says, pulling into his parking garage in Hell's Kitchen. "I have a great life, doing something I love to do. But to really appreciate everything, you need to win games."
Lundqvist kills the engine and starts walking north, past a Mexican grill and an eyebrow-threading salon, disappearing into the city in which he has spent the majority of his adult life—the city that, he hopes, will one day litter lower Broadway with confetti in his honor. Until then, he waits, just another guy on the street, honking at green lights.