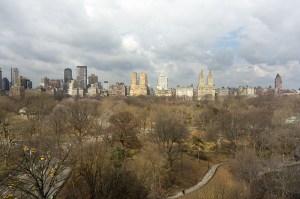 From the 11th-floor apartment at 912 Fifth Avenue that he and his wife just purchased for $7.775 million, Masahiro Honzawa will not be able to see the Nashville minor league baseball stadium where the Triple-A Oakland Athletics affiliate he co-owns—the Sounds—play. But he will be able to see Central Park. In fact, if the 30 feet of Park frontage described in the listing held by Ileen Schoenfeld and Ary Moran of Brown Harris Stevens are bonafide—and the wintry vista that accompanies it, too—Mr. Honzawa should have a dead-on view of the San Remo's iconic towers rising over the treetops from Central Park West.
But he need not be jealous. A Gross and Schwartz-designed 1925 cooperative in Italianate Renaissance style, 912 Fifth is no one's idea of a consolation prize. And besides, Mr. Honzawa is well accustomed to owning pricey property. Until 2008, together with his brother, he ran the New York arm of the Hiro Enterprise USA real estate company, whose portfolio included the Mobil Building on 42nd Street—sold for $900 million in April—and 650 Madison Avenue, the home of the Crate & Barrel store, which sold for $680 million six years ago. The American Surety Building, in the Financial District, and 655 Fifth Avenue also numbered among the firm's holdings.
Things ultimately didn't go so well for Hiro. The firm's parent company sold it off earlier this year, by which time Goldman Sachs owned a considerable share of it, and subsequently folded itself. Hiro currently owes the city and state some $17 million in unpaid taxes, though it's unclear how or from whom that money might be collected.
Now, about that pied-à-terre tax…
At any rate, the co-op, which belonged until recently to one Harriet Kittay, a sculptor, is a classic, if something of a dated one. It features a generous gallery opening on a 30-foot living room with beamed ceilings, a wood-burning fireplace and the aforementioned view. The floor plan, configured currently for three bedrooms, the listing notes, is "flexible," which means the new owners will probably want to renovate to "create the home of [their] dreams."
If you suggest that he build it, he will come, apparently.