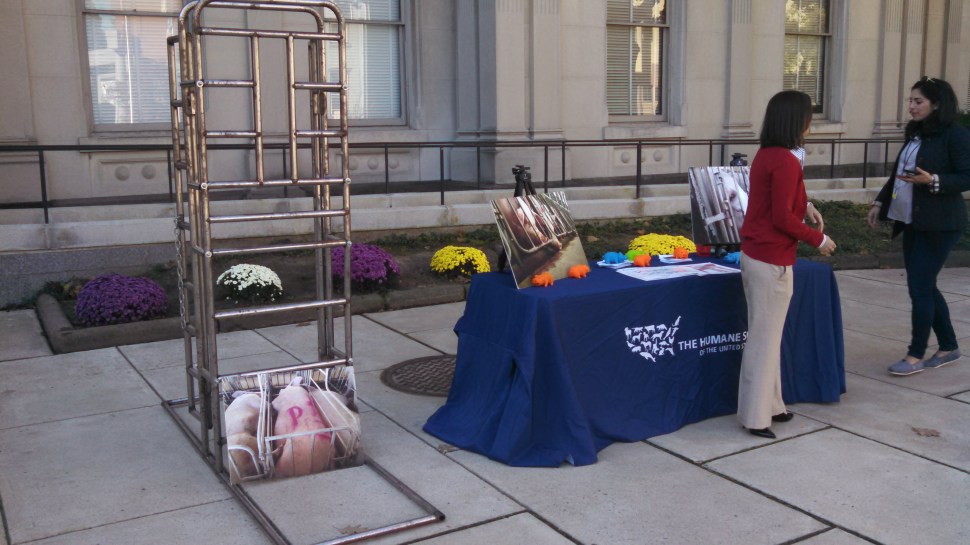 TRENTON – "Oink Oink."
That's the sound Trenton-goers might have heard this morning as they trudged up the steps to the statehouse, where members of the Humane Society held a demonstration aimed at promoting A2500, a bill that would ban the use of gestation crates on pregnant pigs in New Jersey. Handing out fliers and urging them to sign petitions, advocates encouraged passersby to spend four minutes in their "human version" of a gestation crate, a medieval-torture-trap-looking steel cage meant to simulate what it's like for pigs breeding under current confinements.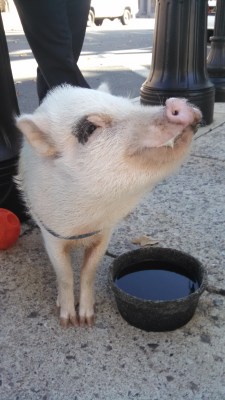 The action also featured a mascot — a live pig named "Eddie," who trotted around in a leash and harness.
"Shockingly, it's still legal in our state to confine a mother pig in a tiny metal crate so small she can't even turn around," the flier reads.
A2500 has seen considerable attention in recent weeks, both for its political implications and for the support it's received from A-list celebrities in the state like Danny DeVito and Bill Maher. Beginning late last year when he vetoed an original version of the bill sponsored by state Sen. Ray Lesniak, Gov. Chris Christie has received flak from both Democrats and animal rights activists, who see the Republican — and prospective presidential candidate — putting political ambition in front of compassion.
Christie just returned from Iowa— a 2016 primary battleground state with a massive hog industry, especially compared with New Jersey's — and political observers speculate that the Republican has a lot to gain by keeping the legislation from law, where he could risk alienating rural voters in the battleground state with a measure that could fall hard on the livelihoods of its farmers.
But supporters of the bill see hope for a change of heart, both based on the governor's latest comments regarding the measure and considering the latest version of the bill has been revised to meet some of Christie's earlier concerns. The latest bill, rather than an all-out statutory ban on gestation crates, directs the Department of Agriculture to take it upon itself to require that crate dimensions allow the animals to move more freely, including allowing them to turn around. And at a town hall in April, Christie said he would "certainly consider any additional evidence that people want to put in front of me."
"When you have a governor whose constituents feel he's abandoned them, it's important for him to sign this bill to show that he absolutely has the interests of his constituents at heart," said Matthew Dominguez, Public Policy Manager for Farm Animal Protection at The Humane Society. "When you have 93 percent of your constituents support something, the largest newspaper in the state has endorsed the bill and asked him to sign it, and nearly every A-list celebrity from New Jersey asking him to sign it, it's a no-brainer."
Dominguez said that "given the fact that the poll numbers have increased, given the fact that there's even more celebrity support for this than last year, given the fact that there's just overwhelmingly more public support than last year, and the fact that we addressed his concerns," there is "no reason" for Christie not to sign the bill.
"And if the reason he vetoed it turns out to be his presidential aspirations in 2016, the polls show that it would actually be good for him to do in Iowa, and that it would be politically smart to sign this bill," he added.