The smiling Samsung handlers were glued to us as soon as we walked in.
"Can I take a picture of you?"
"Would you like to take a selfie?"
"Would you like a picture of yourself with the Baldessari sculpture?"
This was not a party where one could be a wallflower easily. Even the most unassuming of guests were pulled into the frenzy that was the launch of Visionaire 64 ART John Baldessari—made with west coast conceptual art legend—by a flurry of Samsung Galaxy-toting event staffers. Amid a whirl of cellphones, selfie snapping, colorful freestanding metal sculptures, and even more colorful characters, were some of the art world's most familiar faces posing for flash after flash, knowing the images would soon appear on screens around the room, and spread like wildfire across social media.
All this played out in the classier than classy all-marble art deco lobby of the Chrysler Building, with a string orchestra busting out regal arrangements of Beyoncé tunes. Edward Trumbull's spectacular mural found guests craning their necks, and their camera phones, upward toward at the ceiling in awe.
But all decor is just fodder for digital content, perfectly framed to get the most likes.
"Would you like me to take a picture of you?" the chipper Samsung rep asked the second we walked in the door.
"Um, sure? But I have my own phone?"
A perfectly good iPhone, thank you very much, synced to an Instagram, synced to a Twitter, that we planned to make very good use of at the selfie-centric fete.
"Oh, I'm sure you do, but I'd like you do use this one," he said, gently pushing a Samsung Galaxy into our hands.
Fair enough. Visionaire's corporate partner for the event was there to remind us that all those tongue-out silly selfies aren't possible without tech giants. And look at the magazine: Karlie Kloss, James Franco, Drake, Miley Cyrus, and all the other contributors whose selfies were "Baldessari'd" for this issue took them with smartphones! And so will we.
We posed in front of a large purple blob, meant to evoke the marks Baldessari placed on prints of found images for his "color intervention" works. These giant sculptures could turn our selfies into Baldessaris, the colored blobs intervening with the original snapshot. We left the rep with our email so a copy could be sent to us—no reason to pass up a perfectly good selfie post on our own Twitter. And then we watch the favorites roll in. Yahtzee!
The post-selfie glow is a good time to pause and people-watch, we decided. There's Maurizio Cattelan rocking a black sports jacket with big, yellow lettering across the back that reads "SHIT N DIE." A little later, pushing through the crowd—and trying to maneuver our way around an especially imposing Baldessari blob-shaped color intervention thingy—the artist stepped on our foot. But with fast apologies, a reassuring elbow grab, and a flash of that signature smile, we forgive you Maurizio.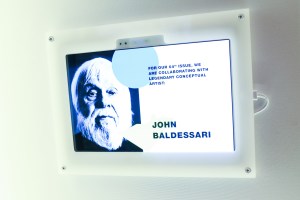 And there's MoMA PS1 director Klaus Biesenbach—perhaps the selfie prince of the art scene— making his way in with KAWS, Cecilia Alemani and husband Massimiliano Gioni, supermodels Anja Rubik and Constance Jablonski, and artists Ryan McNamara and Steve McQueen. But it was musician Michael Stipe who we caught having a meta moment over by the bar when he discovered that one of his selfies was being broadcast to the party on the screen behind him. So what did he do? Take a photo of his photo of course. And, we couldn't resist taking one step closer to a singularity, and so we snapped a photo of Mr. Stipe snapping a photo of he'd taken of himself. Screens on screens on screens.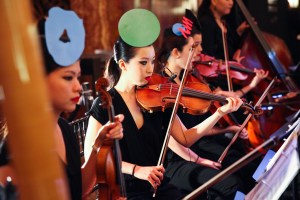 Trays of Baldessari color shaped cookies were floating around, mini versions of the sculptures on display. There was no real food, just the Baldessari cookies, so everyone devoured them ravenously. Yum, delicious art market metaphors!
Five selfies deep, we were starting to wonder if the man of the hour, Mr. Baldessari, was planning to attend his own party. He had swung by the opening of "John Baldessari: Movie Scripts/ Art," his show of new works at Marian Goodman, and was seen casually chatting with art world stalwarts, glass of white wine in hand. He was scheduled to swing by the Chrysler Building to incite a spree of phone camera clicks, but no one with the artist's billowing white beard and hulking frame walked through the door.
But then! A white-haired gentleman! Mr. Baldessari? Nope, it was OG street style shutterbug Bill Cunningham, real camera in tow. He wandered the party, snapping furiously, asking Visionaire team Cecilia Dean and James Kaliardos to pose for him and other colorfully dressed guests near appropriately matching sculptures. As he brushed past us a bit later we asked if he'd taken any selfies himself yet. "No, but I'm working!" he said with a big smile.
But we're all working, Bill. We're working on our personal brands, glued to our phones, posting new pictures at another super cool party destined to inspire raging FOMO in the hearts of our followers.
Speaking of FOMO: Though the Chrysler Building lobby had emptied out before we left, we soon realized the party was in fact still popping elsewhere—it was on Twitter, Instagram, Facebook, the digital ether. The party was online, and we were just leaving the pre-game.