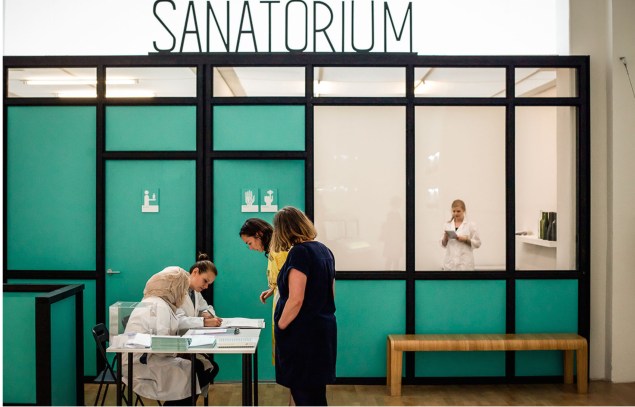 Just in case you needed an excuse to make a trip to Miami this winter, the new Institute for Contemporary Art, Miami will open to the public on December 2 with exhibitions by artists Pedro Reyes and Andra Ursuta.
Ms. Ursuta's collection of new work includes Soft Power 1 and 2 (2013), huge sculptures of fists made from quilted comforters. Mr. Reyes' installation, Sanatorium, will transform the museum's second floor into a clinic where non-professionals will interview, diagnose, and provide visitors with one of 16 types of therapy, like Gestalt or hypnosis. First staged at the Guggenheim in 2011, it's a "democratization of therapy, a 'psychological first aid,'" according to a statement from Reyes on his website. The Mexico City-based artist will be on hand to train volunteer therapists and pass on suggestions for visitors' treatment during the exhibition's opening week, which coincides with mega-show Art Basel Miami Beach from December 4 through 7.
"The exhibitions will seek to create a unique experience that's both complementary to and distinct from the fair, and the city," ICA Miami deputy director and chief curator Alex Gartenfeld told The Observer.
ICA Miami's opening comes after a dramatic spat between the board of the Museum of Contemporary Art, North Miami and the City of North Miami. In August, some MoCA staff announced their departure from the museum and their plans to reopen as ICA Miami in the Design District's Moore Building.
Mr. Gartenfeld explained that ICA Miami hopes to set itself apart from the city's art scene by focusing on emerging and experimental artists and commissioning new works. The opening exhibitions are also making use of the museum's new 12,500-square foot space in the Moore Building, donated by Miami Design District Associates. Ms. Ursuta's installations will be integrated into the architectural details found throughout the former furniture showroom's atrium gallery, added Mr. Gartenfeld.
Last week ICA Miami rounded out its leadership with the appointment of new interim director Suzanne Weaver, the former curator of modern and contemporary art at the Speed Art Museum in Louisville, Kentucky. Ms. Weaver replaced Mr. Gartenfeld, who has moved into the position of deputy director and chief curator after previously serving as interim director of MoCA.
The inaugural exhibitions will run from December 3 to March 2015 and will be free to the public. Mr. Gartenfeld wouldn't give specifics on how long admission will remain free, but said only that visitors wouldn't have to pay as long as the museum stays in the Moore Building.