It's commonly accepted that a guy's shoes say a lot about him. We wouldn't go so far as to say you can see someone's soul through their shoes, but you can certainly form some opinions on his taste, income and lifestyle.
But currently, men's sartorial habits appear to be based around one element: their pants.
With A$AP Rocky-inspired drop-crotches and ever-skinnier alt-rock denim being represented in the streets in equal measure, it seems like there are more choices for men's silhouettes now than ever. Just don't go baggy, whiskered or boot-cut, unless you want to look like a tragic, behind-the-times, third-rate club promoter.
Here's what you can tell about a guy based on the kind of pants he's wearing.
A guy who sports tailored dress pants has classic sensibilities. He was in the top 10 percent of his high school class and he has a healthy respect for authority. He might not be a creative thinker, but his paychecks from his job in finance/real estate/law/medicine/a generically parent-pleasing field make up for it. He knows all the best restaurants and can pick the right wines. He also seriously knows how to vacation. He might be a little stiff — but who needs love poems when you've got BLADE?
He might just be a dress-pants-guy on the weekend, or he might be a former jock. He's warm and friendly but not up on the latest trends; he's just stoked sweatpants are okay to wear in public again. He likes EDM and whips out facts about the Beastie Boys when he wants to seem edgy. You can find him, if you want to, at downtown sports bars and various Murray Hill locales. He has a stable job, as well as a stable of bros with whom you can set your friends up. Just don't expect the most stimulating conversations.
The guy who's still holding onto medium-to-dark-wash skinny jeans is a good sort. He's not into fashion, but he cares about his own style. He has a good sense of humor, he lives in a middling neighborhood that's just off-the-grid enough to be exciting, in a building where they have keg-party-concerts on the roof once a month. But beware the too-friendly skinny-jeaned outer borough guy; he's a bit of a coward. He's just the type to make you feel like you're on the fast track to Making It Official, then drop off the face of the earth without so much as a text.
The guy sporting tight, light-washed dad jeans is a consummate music nerd, but probably a hot one. He's so beyond trends that he's wearing dad jeans (and making you feel weird about how sexy you find them). He might have a vinyl collection spanning everything from hip hop to psychedelia to disco, but he's not overly precious about it. He still reads paperback books and he isn't necessarily too cool for a bottomless brunch, although he'll probably opt for beers over Bloodies.
This is a guy who grew up on punk rock, loves nothing more than knocking back a Brass Monkey, and still smokes cigarettes and doesn't give a fuck about the consequences. However. This is also a guy who probably bought his jeans pre-ripped. Authenticity might not be his forté.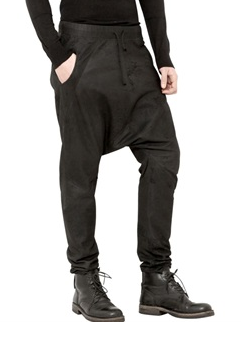 He lives in Bed-Stuy or the Lower East Side, and he's so fashionable it kind of makes you feel inadequate. He has an ambiguously creative job at which he appears never to be working. But his pants cost more than your entire outfit and when you go out, he always picks up the tab. He used to DJ. He produces his own music. He might even rap. He has a squad of hot and mysterious friends who are also wearing cool pants. You're starting to wonder if he's actually just a coke dealer. You'll never get close enough to him to find out.
Finally, here's a pants forecast: we predict that khaki pants are on their way back in a big way — they're the perfect normcore garment and they've been gone for quite a while. Expect them to show up on Tailored Dress Pants-wearers and Ironic Dad Jeans guys any minute now.